Heavy Haulers Winch Truck Transport: Services Across All of North America!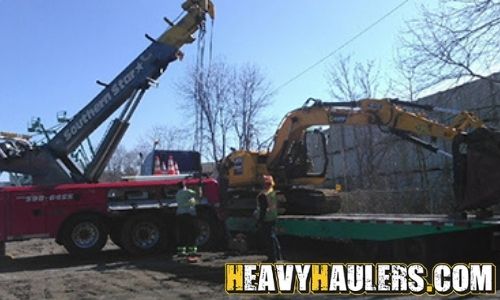 Contant Our Winch Truck
Transport Specialist Now!
(800) 908-6206
The professional logisticians at Heavy Haulers are committed to ensuring that your oversized/overweight machinery such as a winch truck is shipped to your next work site on time and safe. We have specialized in the transportation of vehicles and equipment that are too heavy for standard shipping containers. Heavy Haulers provide their shipping services across the USA, Canada, and Mexico. Our logisticians will plan the best route for your winch truck. In urban areas, they will be keen to ensure that the driver will be able to maneuver through the heavy traffic and get to your next work station on time. When it comes to rural areas, our logisticians and experienced drivers are ready to plan a route the will ensure your winch truck arrives damage-free and on time. Call our friendly customer care at (800) 908-6206 and get your Winch truck on the move with heavy Haulers.
Heavy Haulers Ships Winch Trucks Insured, Door-to-Door, Daily!
Heavy Haulers have experienced logisticians who will plan the easiest and safest route to ship your winch truck across all the 50 States in USA, Canada, and Mexico. The logisticians are also aware of the legal requirements for transporting heavy machinery and will, therefore, ensure that you are not involved in any transportation legalities. In addition, we are certified in transporting overweight and oversized machinery in every state. We are aware of the hassle of running up and down to complete the custom paper works; we will relieve you the hassle and finish all the customs paperwork for you. And guess what? Even after taking every other work with us, we will still deliver your Winch truck on time and damage free. Give us a call TODAY at (800) 908-6206 and experience the exemplary winch truck shipping services by Heavy Haulers.
Types of Winch Trucks that Heavy Hauler Transport
We do understand that there are several winch trucks that you may choose from based on the capacity. They are of different capabilities and sizes. Those with high capacity are good at lifting or pulling of heavy objects, and they are used across the globe in a wide range of applications. They also help in bringing the gas and fuel you use in your daily activities. The winches vary in size from those on the front of small vehicles to heavy machinery which weigh tons.
Recent Winch Trucks Transported by Heavy Haulers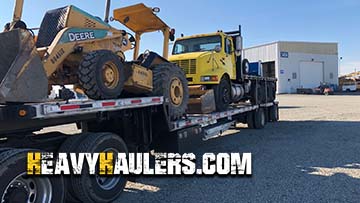 Transporting a Winch Truck with Heavy Haulers
Heavy Haulers transported this equipment load from Dunnigan, CA to Hesperia, CA for one of our repeat clients. No transport is too short or too long for Heavy Haulers. Whether you're delivering in Canada or across the street, Heavy Haulers can't be beat! We transported this 1999 international 8100 Tri Axle Flatbed and a 2005 John Deere 210LE 4x4 Skip Loader. Stephen Ladd at Heavy Haulers is ready to take on your next order: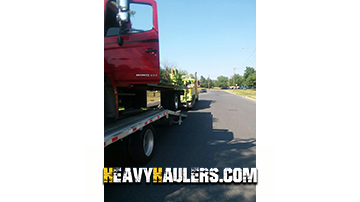 2013 Hino 258 Winch Truck Transported
This 2013 Hino 258 Flatbed Heavy Duty Tow Truck was inoperable and needed a lift for its doctors visit. Our transportation specialist, Jamie, arranged for a wrecker to come load this on the back of the trailer and helped this client get off the side of the road. It was loaded in Bethlehem, PA and delivered in Phoenix, AZ. This big red weighs over 25,000 pounds and measures 29 feet in length and is 8 feet wide and 10 feet 3 inches tall. If you need your equipment, whether inoperable or not, or have pieces of equipment that need to be transported then call Jamie at Heavy Haulers:
Transporting Hydraulic or Electric Winch Trucks
Winch trucks can either be electric and hydraulic. Both sources of power are reliable, and strong when they are well maintained. The hydraulic winches are powered by the steering pump. The electric winches, on the other hand, are powered by the electrical system of the truck and only works as long as the truck's battery is strong enough to provide the winch with the power.One advantage of using the electric winch truck is that the driver can use a remote while out of the risky area.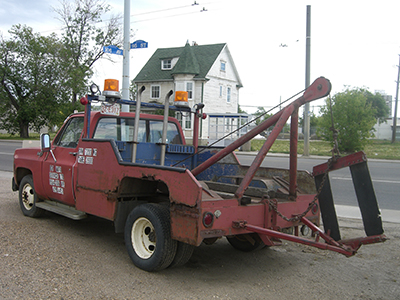 The light-duty utility winch truck has a set of cables, a drum, and gears and can be used with a flatbed trailer to pick up, transport, and unload oil field servicing or drilling machinery such as pump units, open top tanks, pipe racks, power swivels, base beams, and catwalks, among others from one location to another within the work site. The mechanical winch of the truck is used to load and unload the equipment on the truck.
The winch trucks come in different sizes and weights, but it is advisable to choose a strong and heavy winch that will serve all the purposes and is capable of encountering mud, water, or other trail hazards. Choosing the proper winch truck will secure you another chance to win a bid. It will also save you time and energy used in pulling an object regardless of the nature of the trail or size of the object being pulled. Make your choices wisely and trust Heavy Haulers to do the transportation job for you.
We transport many brands of Trucks across the country and North America
Trust Heavy Haulers to transport any brand of truck you own. We are experienced in handling all types of brands and manufacturers, we have hands-on experience shipping all truck manufacturers there is on the road! Some of the truck brands we commonly ship include:
Heavy Haulers Ships Across All 50 States
Alabama - Alaska - Arizona - Arkansas - California - Colorado - Connecticut - Delaware - Florida - Georgia - Hawaii - Idaho - Illinois - Indiana - Iowa - Kansas - Kentucky - Louisiana - Maine - Maryland - Massachusetts - Michigan - Minnesota - Mississippi - Missouri - Montana - Nebraska - Nevada - New Hampshire - New Jersey - New Mexico - New York - North Carolina - North Dakota - Ohio - Oklahoma - Oregon - Pennsylvania - Rhode Island - South Carolina - South Dakota - Tennessee - Texas - Utah - Vermont - Virginia - Washington - West Virginia - Wisconsin - Wyoming
Looking For Transport
With a Specific Trailer?

Max Weight: 150,000+ lbs. | Main Deck Length 29 ft.
| Well Width 8.5 ft. | Legal Height Limit 11.6 ft.

Max Weight: 48,000 lbs. | Max Length 53 ft.
| Max Width 8.5 ft. | Max Height 8.5 ft.
Max Weight: 48,000 lbs. Max Length 53 ft. |
Max Width 8.5 ft. | Max Height 11 ft.
Max Weight: 45,000 lbs. | Max Length 29 ft.
| Max Width 8.5 ft. | Max Height 11.5 ft.
Heavy Haulers Pilot Car Services
Are you looking for a reliable pilot car
for your transport?
Get Started