Expedited Flatbed Truck Transport
Contact Our Expert Shipping Specialists
(800) 908-6206
Our in house logistics and consignment experts will handle all the aspects of flatbed truck haulage, including any interstate permits that may be necessary. Heavy Haulers have been in the business of flatbed truck transportation for over ten years. A free no obligation shipping estimate is available to get your flatbed truck on the way with a call to (800) 908-6206 now.
Flatbed Truck Shipping Made Easy
Heavy Haulers fleet of heavy duty steel structure drop deck, flat deck and hotshot trailers have the capacity to undertake the haulage of flatbed trucks exhaustively. These conveyances have robust suspension systems and are thoroughly graded to handle substantial flatbed truck consignments. Hydraulic and mechanical spring ramps assist Heavy Haulers loaders to get your flatbed truck on and off our trailers securely.
Logistics managers calculate every angle of your flatbed truck hauling with all permits, insurance, and weight specifications. All county, state, and federal regulations are observed when we are planning and scheduling your flatbed truck haulage. Aspects such as the distance to travel, total load weight, weather and road conditions, and delivery locations are taken into account to facilitate smooth flatbed truck haulage.
We mobilize flatbed truck transportation to farms, road construction, and many
other service stations and our dispatch managers take into consideration all
stipulated schedules and timelines. Authoritative Heavy Haulers flatbed truck
shipping experts will delegate pilot and escort cars for routes that have difficult stretches.
Common Flatbed Truck Varieties Heavy Haulers Transports:
● Ford F650 Flatbed Truck
● Kenworth T270 Flatbed Truck
● Ford F450 Flatbed Landscape Truck
● Mitsubishi Fuso FE160G Flatbed Truck
● Ford F550 Flatbed Contractor Truck
● Peterbilt 337 Dump Flatbed Truck
● Ford F350 Flatbed Stake Bed Truck
● Kenworth T370 Flatbed Truck
● Ford F350 Flatbed Hauler Truck
● Fontaine 48' Infinity Flatbed Truck
● Ram 3500 Flatbed Pickup Truck
Recent Flatbed Trucks Transported by Heavy Haulers
See what you need?
Call us for a FREE Shipping Estimate at (800) 908-6206
We transport many brands of Trucks across the country and North America
Trust Heavy Haulers to transport any brand of truck you own. We are experienced in handling all types of brands and manufacturers, we have hands-on experience shipping all truck manufacturers there is on the road! Some of the truck brands we commonly ship include:
Heavy Haulers Ships Across All 50 States
Alabama - Alaska - Arizona - Arkansas - California - Colorado - Connecticut - Delaware - Florida - Georgia - Hawaii - Idaho - Illinois - Indiana - Iowa - Kansas - Kentucky - Louisiana - Maine - Maryland - Massachusetts - Michigan - Minnesota - Mississippi - Missouri - Montana - Nebraska - Nevada - New Hampshire - New Jersey - New Mexico - New York - North Carolina - North Dakota - Ohio - Oklahoma - Oregon - Pennsylvania - Rhode Island - South Carolina - South Dakota - Tennessee - Texas - Utah - Vermont - Virginia - Washington - West Virginia - Wisconsin - Wyoming
Looking For Transport
With a Specific Trailer?

Max Weight: 150,000+ lbs. | Main Deck Length 29 ft.
| Well Width 8.5 ft. | Legal Height Limit 11.6 ft.

Max Weight: 48,000 lbs. | Max Length 53 ft.
| Max Width 8.5 ft. | Max Height 8.5 ft.
Max Weight: 48,000 lbs. Max Length 53 ft. |
Max Width 8.5 ft. | Max Height 11 ft.
Max Weight: 45,000 lbs. | Max Length 29 ft.
| Max Width 8.5 ft. | Max Height 11.5 ft.
Heavy Haulers Pilot Car Services
Are you looking for a reliable pilot car
for your transport?
Get Started
HEAVYHAULERS.COM
START YOUR SHIPMENT TODAY!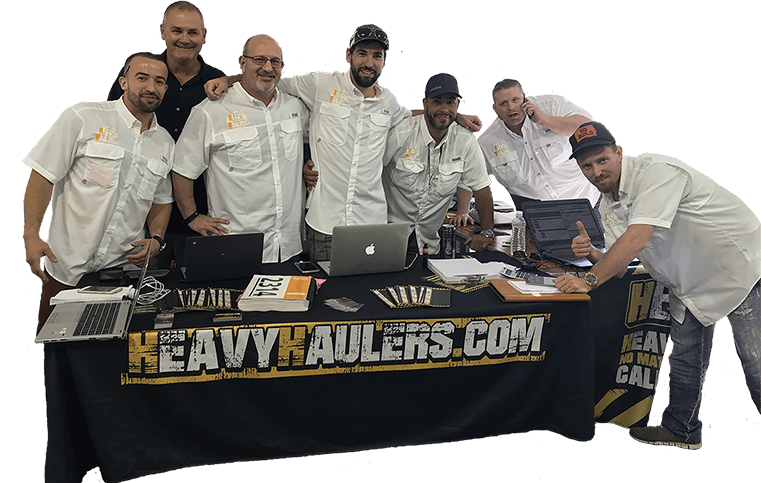 We Are Ready To Help You Haul Your Equipment!
See what you need?
Call us for a FREE Shipping Estimate at (800) 908-6206