Utility Trailer Shipping with Heavy Haulers in All 50 States, Canada, and Mexico!
Contact Our Expert Shipping Specialists


(800) 908-6206
Using a utility trailer to transport unusually sized cargo is a snap when you choose Heavy Haulers. If you have a vehicle like an ATV, lawn care equipment, or any kind of outsized machinery that you need to move from one location to the next, choose our reputable services. Your business may need to transport certain things that, while they have wheels, may not be road-rated. Buying and selling your ATV or landscaping equipment is simple with or cargo shipment services.
Utility trailers are a catch-all for trailers that can haul a variety of times that don't necessarily need enclosed shipping. Utility trailers can be enclosed or open; big or small and have numerous different features. Simply put, a utility trailer is one designed to haul pretty much anything. With Heavy Haulers, whether you need something shipped across town or Noth America, we've got you. Moving appliances, furniture, or heavier loads is a snap. A dolly can roll your items right up to the trailer, and your Heavy Haulers driver will secure your cargo, ensuring its safety in transit.
Heavy Haulers Cargo Shipping in Utility Trailers
Shipping cargo with Heavy Haulers is a simple process, whether you need consistent services for your business or just help with a one-time move or transaction. Start with a phone call to one of our professional route planners. They will determine the size and weight of your shipment and contract with one of the licensed and bonded Heavy Haulers drivers for shipment in a utility trailer. We will handle all the paperwork needed, including customs forms and weigh station documentation. We'll also plan the best route to get your items delivered safely, whether across the state or from Canada to Mexico. When you're ready to start your shipment, give us a call at (800) 908-6206 for a FREE, no-obligation quote.
Hauling a Utility Trailer With Heavy Haulers is Easy! Find Out For Yourself!
Utility trailers are used for many reasons and are a great option for heavy loads that won't fit on another vehicle. They can be used for recreational vehicles, such as ATVs and motorcycles, or for moving equipment, such as that used in landscaping. If your business has to be able to move vehicles from place to place, you need a reliable utility trailer to get the job done. Heavy Haulers provides premium utility trailer shipping services in all 50 states. Our logistics managers will provide all permits, escorts, and pilot cars needed for your shipment. Our skilled transport experts will safely and efficiently ship your utility trailer wherever you need it.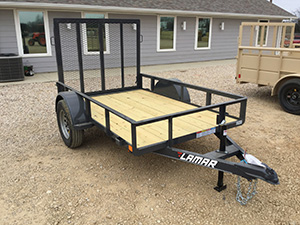 Premium Utility Trailer Hauling Services
At Heavy Haulers, we treat your utility trailer as if it were one of our own. We will properly prepare your utility trailer for shipment, so it rides safely during transit. With Heavy Haulers in charge, you can stay in continuous contact with your transport team the entire time, to avoid surprises when they arrive. Contact Heavy Haulers today and get a free quote for utility trailer shipping services.


Common Trailer Types Available from Heavy Haulers
Heavy Haulers specializes in hauling heavy loads such as construction equipment, oil field rigging and Super Loads. We are wideload experts! We offer an extensive range of trailer choices, including:
Max Weight: 48,000 lbs. | Max Length 53 ft. | Max Width 8.5 ft. | Max Height 11 ft.




Max Weight: 45,000 lbs. | Max Length 29 ft. | Max Width 8.5 ft. | Max Height 11.5 ft.
Max Weight: 150,000+ lbs. | Main Deck Length 29 ft. | Well Width 8.5 ft. | Legal Height Limit 11.6 ft.




Max Weight: 48,000 lbs. | Max Length 53 ft. | Max Width 8.5 ft. | Max Height 8.5 ft.
We transport many brands of trailers across the country and North America
Trust Heavy Haulers to transport any brand of trailer you own. We are experienced in handling all types of brands and manufacturers, we have hands-on experience shipping all trailer manufacturers there is on the road! Some of the trailer brands we commonly ship include:







11423605

MILES TRAVELED






1214292

LOADS SHIPPED







1315658103

TONS TRANSPORTED






921637

CLIENTS SATISFIED