Need to Transport a Beverage Truck? Reach Out to Heavy Haulers!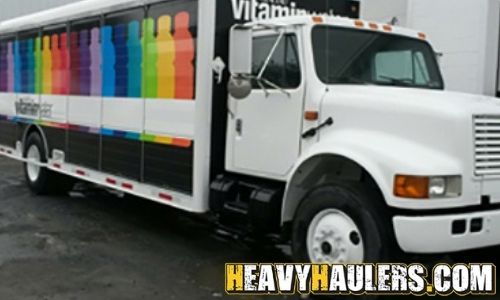 Contact Our Beverage Truck
Transport USpecialist Now!
(800) 908-6206
Heavy Haulers is a transportation company that can transport your beverage truck anywhere within the United States, Canada, and Mexico. We offer exceptional customer-oriented service that we tailor according to your specification. We are a reliable company that works all seven days a week to ensure that your beverage truck is shipped to your destination safely and securely. The transportation of heavy vehicles such as beverage trucks usually requires permits and weighing inspection when being transported across all the 50 states. Consequently, heavy haulers help in securing the paperwork that is essential in the delivery of beverage truck to your door anywhere within the 50 states of the United States. Additionally, you can take advantage of our door to door services.
Heavy haulers offer price ranges for your cargo shipment that are affordable regardless of your beverage truck size. The experts at heavy haulers help to arrange the shipping of your cargo. Besides, they match your shipment needs with the correct type of transportation. The team of experts explores a cheaper path for your shipment, figure the costs and schedule your delivery. The delivery can also be on the same day through fast loading, scheduling, and dispatching. We accept any form of payments such as pay pal, personal cheques, wire transfer, and even cash: this is to ensure you are comfortable with whichever means of payment.
Beverage Truck Shipping 101: With Heavy Haulers
At Heavy Haulers, we normally use a removable gooseneck which is essential for the transportation of heavy duty machinery. The neck part of the trailer is removable to allow the beverage truck to load onto the platform. The removable gooseneck is critical for easy load and offloading for your beverage truck. We use the RGN to transport your beverage truck. Alternatively, you can go for a flatbed trailer to carry your beverage truck, but all this depends on the size of your trailer.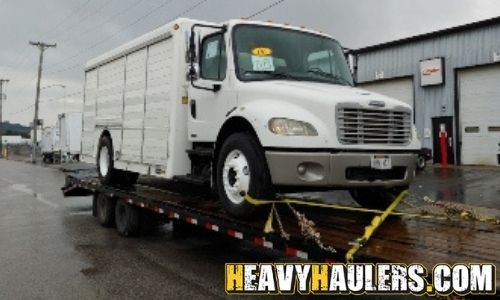 Beverage Truck Hauled From Kansas City
Origin: Kansas City, KS 66118
Destination: Yuma, AZ 85364
Specs: 2016 Beverage Truck
Types of Beverage Trucks Moved By Heavy Haulers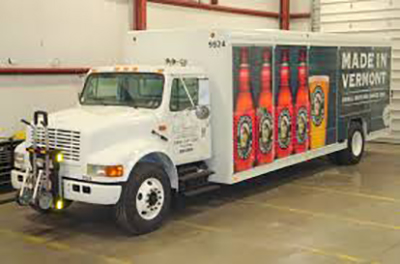 There are many beverage trucks available worldwide in the form of beverage trucks, beverage van and many more. Most of the vehicles as used as food trucks in streets to sell drinks. The choice for the kind of beverage truck depends on the size and capabilities. The big sized trucks can carry a high capacity of beverages.
Moreover, big sizes are efficient and effective for transportation. The types of beverages transported by the trucks include coffee and soft drinks. The vehicles are for the shipping of beverages to various destinations. Common beverage trucks include ten bay and van trailer.
Let our team of experts make arrangements for the shipment of your beverage truck. The skilled professionals will quote for you a price plan, your path and schedule your dispatch in just a day. We strive to offer efficient and effective transportation services. Call us TODAY at (800) 908-6206 for inquiries about our services.
Call Heavy Haulers toll free at (800) 908-6206 with any questions you might have about our service; when you're ready, request a free transport quote or set up a time for us to pick up your truck. We look forward to working for you!
We transport many brands of Trucks across the country and North America
Trust Heavy Haulers to transport any brand of truck you own. We are experienced in handling all types of brands and manufacturers, we have hands-on experience shipping all truck manufacturers there is on the road! Some of the truck brands we commonly ship include:
Heavy Haulers Ships Across All 50 States
Alabama - Alaska - Arizona - Arkansas - California - Colorado - Connecticut - Delaware - Florida - Georgia - Hawaii - Idaho - Illinois - Indiana - Iowa - Kansas - Kentucky - Louisiana - Maine - Maryland - Massachusetts - Michigan - Minnesota - Mississippi - Missouri - Montana - Nebraska - Nevada - New Hampshire - New Jersey - New Mexico - New York - North Carolina - North Dakota - Ohio - Oklahoma - Oregon - Pennsylvania - Rhode Island - South Carolina - South Dakota - Tennessee - Texas - Utah - Vermont - Virginia - Washington - West Virginia - Wisconsin - Wyoming
Looking For Transport
With a Specific Trailer?

Max Weight: 150,000+ lbs. | Main Deck Length 29 ft.
| Well Width 8.5 ft. | Legal Height Limit 11.6 ft.

Max Weight: 48,000 lbs. | Max Length 53 ft.
| Max Width 8.5 ft. | Max Height 8.5 ft.
Max Weight: 48,000 lbs. Max Length 53 ft. |
Max Width 8.5 ft. | Max Height 11 ft.
Max Weight: 45,000 lbs. | Max Length 29 ft.
| Max Width 8.5 ft. | Max Height 11.5 ft.
Heavy Haulers Pilot Car Services
Are you looking for a reliable pilot car
for your transport?
Get Started