Fuel Truck Shipping Services - Nationwide!
Heavy Haulers is the best choice to help you transport your lube truck across the country. Whether you need the truck to carry oil, fuel, grease, water or antifreeze, you'll need a shipping company with the experience and specialized equipment to ship your oversized vehicle safely and efficiently. Before transport, we take care of any special permits and Hazmat endorsements needed and check our proposed route for potential delays or weather systems. We even allow you to track the progress of your vehicle as it crosses state lines.
Recent Fuel Truck Transports by Heavy Haulers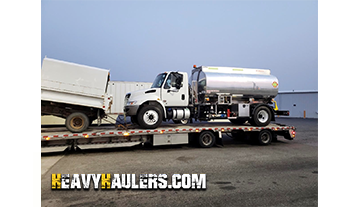 Shipping a 2019 International 4300
Origin: Kansas City, KS
Destination: Oakland, CA
Specs: 2019 International 4300 with a 3000 gallon tank; 26 feet long, 8 feet wide, 10 feet 1 inches high and weighed 12,000 pounds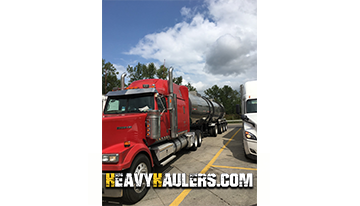 Fuel Truck Transport
Willam Thomas at Heavy Haulers recently hauled this Tank Trailer for a repeat client. Willam can get your freight transported anywhere within the United States, Mexico or Canada. Willam Thomas has been in the industry for years and can properly determine accurate pricing for each shipment. Call Willam Thomas today to get your Tank Trailer shipped! (954) 495-8427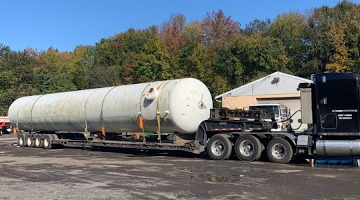 30k Gallon Fuel-Tank 67ft long hauled on RGN trailer
Origin: Carmel, NY 10512
Destination: Richford, VT 05476
Specs: 30k Gallon Tank: 67 X 9.6 X 9.6; 79,000 lbs
We transport many brands of Trucks across the country and North America
Trust Heavy Haulers to transport any brand of truck you own. We are experienced in handling all types of brands and manufacturers, we have hands-on experience shipping all truck manufacturers there is on the road! Some of the truck brands we commonly ship include:
Heavy Haulers Ships Across All 50 States
Alabama - Alaska - Arizona - Arkansas - California - Colorado - Connecticut - Delaware - Florida - Georgia - Hawaii - Idaho - Illinois - Indiana - Iowa - Kansas - Kentucky - Louisiana - Maine - Maryland - Massachusetts - Michigan - Minnesota - Mississippi - Missouri - Montana - Nebraska - Nevada - New Hampshire - New Jersey - New Mexico - New York - North Carolina - North Dakota - Ohio - Oklahoma - Oregon - Pennsylvania - Rhode Island - South Carolina - South Dakota - Tennessee - Texas - Utah - Vermont - Virginia - Washington - West Virginia - Wisconsin - Wyoming
Looking For Transport
With a Specific Trailer?

Max Weight: 150,000+ lbs. | Main Deck Length 29 ft.
| Well Width 8.5 ft. | Legal Height Limit 11.6 ft.

Max Weight: 48,000 lbs. | Max Length 53 ft.
| Max Width 8.5 ft. | Max Height 8.5 ft.
Max Weight: 48,000 lbs. Max Length 53 ft. |
Max Width 8.5 ft. | Max Height 11 ft.
Max Weight: 45,000 lbs. | Max Length 29 ft.
| Max Width 8.5 ft. | Max Height 11.5 ft.
Heavy Haulers Pilot Car Services
Are you looking for a reliable pilot car
for your transport?
Get Started
Shipping your Fuel Truck
Transporting the fuel truck successfully requires the collaboration of experts in logistics, heavy transport and mechanics. Our drivers are properly licensed and bonded to provide you with a seamless transition from the pickup location and your home business. We all carry both contingency and carrier insurance for double the protection so you can rest easy knowing your equipment will reach its destination without hassle.
Give Heavy Haulers a call today and talk with our transport agents. We'll provide you with a free shipping quote and answer any questions you might have. Call 1-(800) 908-6206!