Move Your Rollback Truck with Heavy Haulers
Rollback trucks have become of profound use in contemporary society more so when it comes to towing of wrecked cars after an accident. With their ability to tow more than one car, more people prefer to use rollback trucks rather than using other types of tow trucks. Are you worried about how you will get your rollback truck to your next job site? It's time for you to stop worrying as Heavy Haulers offer the transportation services at an affordable rate. Call us TODAY at (800) 908-6206 for a free quote.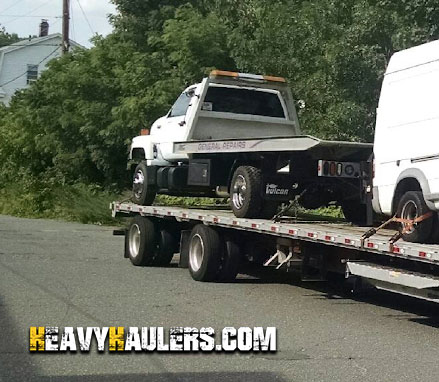 Rollback Truck Being Transported
Whether moving your rollback truck for a short or long distance within the 50 states, Canada, and Mexico, Heavy Haulers will be right next to you to relieve you the logistics burden. The route planning and scheduling services will be offered by our logistics expertise. Working with an experienced team of logicians is what makes our final work to be exceptional. Choose Heavy Haulers to ship your rollback truck on time and securely while you sit back and relax as we will also compete for the customs paperwork for you.
Heavy Haulers Also Transports with Rollback Trucks
While we transport rollback trucks when you need it, we use them to tow freight. Rollback trucks are great for towing vehicles and certain oversize loads. A transport specialist will determine whether your equipment is bet shipped with a rollback truck. At Heavy Haulers we work with the best driver and rollback truck to suit your shipping needs.
Heavy Haulers offer free quotations and consultations regarding the shipping method appropriate for your heavy rollback truck. Our customer care agents are highly trained and qualified to provide you with all details of using a rollback truck for shipping. Whether you need to tow heavy machinery or transport a car, we'll find the best rollback truck available. Let's get your rollback truck transport started! Call now! (800) 908-6206.
Common Trailer Types Available from Heavy Haulers
Heavy Haulers specializes in hauling heavy loads such as construction equipment, oil field rigging and Super Loads. We are wideload experts! We offer an extensive range of trailer choices, including:
Max Weight: 48,000 lbs. | Max Length 53 ft. | Max Width 8.5 ft. | Max Height 11 ft.




Max Weight: 45,000 lbs. | Max Length 29 ft. | Max Width 8.5 ft. | Max Height 11.5 ft.
Max Weight: 150,000+ lbs. | Main Deck Length 29 ft. | Well Width 8.5 ft. | Legal Height Limit 11.6 ft.




Max Weight: 48,000 lbs. | Max Length 53 ft. | Max Width 8.5 ft. | Max Height 8.5 ft.
We transport many brands of Trucks across the country and North America
Trust Heavy Haulers to transport any brand of truck you own. We are experienced in handling all types of brands and manufacturers, we have hands-on experience shipping all truck manufacturers there is on the road! Some of the truck brands we commonly ship include:
Local & Long-Distance Rollback Truck Shipping Services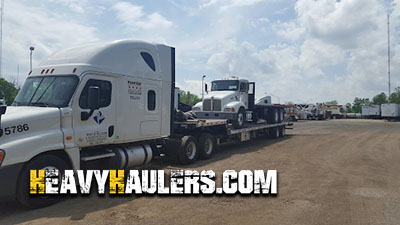 A rollback truck usually has a flat-bed, and the rear of the truck has a bed which can be hydraulically adjusted to the ground level. They are mostly used in towing vehicles after an accident or removing vehicles that are violating the traffic rules. They are good for towing a car that has been seriously damaged as it is easier to move the car onto the truck with an angled bed. They are also useful for emergency situations since the angle of the bed can be altered to better move the vehicle in different spaces and environments.
Rollback trucks have become popular in contemporary society due to their incredible capabilities. Also, there are rollback trucks that are specifically designed to transport taller loads that are over height on a standard rollback truck and would need to be hauled on a trailer. Rollback trucks come in different sizes including from the single to multi-vehicle car carriers. Some manufacturers in the market offer you with an opportunity to request for a customized rollback truck that meets your specifications.
When involved in an accident, the assistance of a rollback truck would be more efficient and cost-effective more so if more than one car was involved as rollback trucks are capable of towing more than one car. If you are stuck on a road due to a mechanical problem, ask for towing assistance from rollback truck owners.