Heavy Haulers can Transport Recycling Trucks Anywhere in North America!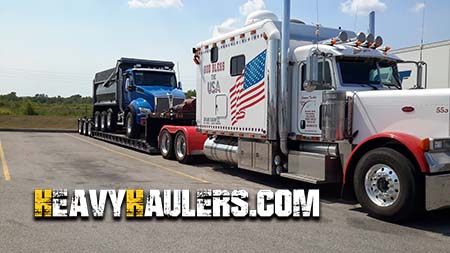 Recycling Truck Being Transported
Heavy Haulers transport heavy equipment safely and timely to all destinations across the USA, Canada, and Mexico. We have licensed drivers who are able to operate different types of trucks. Most of our drivers can operate the following trucks:
Side Loader Refuse Trucks
Front Loader Trucks
Rear Loaders
All Types of Recycling Trucks
Heavy Haulers are bonded, licensed, and insured and have over 10 years experience in hauling heavy equipment. We have a team of logistics experts that will help you to process all permits and ensure that your equipment conforms to state and federal requirements. We also have a support team that will track, monitor and reports to you on the movement of this truck throughout the delivery time.
We will pick up the truck for you, plot the cheapest and safest delivery path for you then execute the delivery to your premise. Should you require pilot cars for delivery we shall provide them on request; we also deploy escort vehicles on request. Having over 10 years experience under the belt, we know all the complexities, toll charges and freight requirements for this truck. Indeed our experts can calculate the freight insurance, permit fees and toll charges along with your chosen path early in advance for you.
Why Choose Heavy Haulers to Ship your Recycling Truck?
We have the capacity to haul any truck irrespective of the size, gross vehicle weight, height or location. We have many drivers in different states available to serve you on request. We have over ten years experience in towing heavy and oversized equipment from one location to another based on the client preferences. We offer professional transport to your commercial recycling truck of any make or model.
We will plan and schedule your route and will let you know what to expect along the way. We will provide permits; escorts and pilot cars when shipping overload sizes, such as class 5-8 recycling trucks. Our experts will safely transport your light, medium and heavyweight recycling trucks.
Our rates are negotiable, itemized and can be pre-determined on request. You can call us on 800 908 6206 from 7am through 10 pm EST, 7 days a week or reach us on email dispatch@heavyhaulers.com
Recent Recycling Trucks Transported by Heavy Haulers
Transporting a Recycling Truck with Heavy Haulers
Heavy Haulers secured a rig for this Bobtail Dump Truck within a few hours of taking the order. This new customer was left waiting for a different driver that simply ignored his calls on the scheduled pickup day. Unfortunately, we hear this story quite often and Heavy Haulers is always ready to find a solution with super duper lightning speed. This load was 22 feet long, 8 feet wide and 9 feet tall with a total weight of 16,000 pounds. We loaded this Dump Truck in Commerce City, CO and delivered in Vista, CA. Schedule your next Dump Truck haul with Eddie and avoid getting stranded! (727) 349-1113
Transporting a Mack RD8 Recycling Truck
Brian H. at Heavy Haulers strikes again! Our transportation specialist, Brian H., recently transported this 1997 Mack RD8 Dump Truck from Clairfield, TN to Riviera Beach, FL to its new home. The total weight of this shipment was 30,000 pounds. If you need your heavy equipment transported, whether it has wheels or not, Heavy Haulers has your route covered. Call Brian H. today for your next quote: (754) 203-8979
Common Trailer Types Available from Heavy Haulers
Heavy Haulers specializes in hauling heavy loads such as construction equipment, oil field rigging and Super Loads. We are wideload experts! We offer an extensive range of trailer choices, including:
Max Weight: 48,000 lbs. | Max Length 53 ft. | Max Width 8.5 ft. | Max Height 11 ft.




Max Weight: 45,000 lbs. | Max Length 29 ft. | Max Width 8.5 ft. | Max Height 11.5 ft.
Max Weight: 150,000+ lbs. | Main Deck Length 29 ft. | Well Width 8.5 ft. | Legal Height Limit 11.6 ft.




Max Weight: 48,000 lbs. | Max Length 53 ft. | Max Width 8.5 ft. | Max Height 8.5 ft.
We transport many brands of Trucks across the country and North America
Trust Heavy Haulers to transport any brand of truck you own. We are experienced in handling all types of brands and manufacturers, we have hands-on experience shipping all truck manufacturers there is on the road! Some of the truck brands we commonly ship include: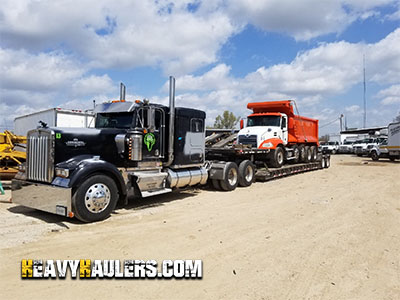 Tips for Arranging Transport for a Recycling Truck
Be sure to hire a specialized hauler for your recycling truck. At Heavy Haulers, we have specialized in hauling heavy equipment, and we understand that a recycling truck is very expensive.
Provide clear details of your recycling truck and communicate the date and time of pick up. At Heavy Haulers, we have a service line that is active from 7am through 10pm EST, 7 days a week. We also have a team of logistics experts who will attend to all your freight queries. They will ensure that you have the correct freight insurance for your truck and will assign to you an experienced driver to execute the delivery to your premise.
Let Heavy Haulers Relocate your Recycling Truck
Consider the size of the truck. Some trucks are classified as oversize and will, therefore, be subject to specific transport regulations. At Heavy Haulers, we have a team of experts who will help you determine whether the size of your truck fits this category. We also have a team that is well acquainted with the freight requirements for oversize trucks and this team will ensure that your recycling truck is correctly classified and it conforms to all freight requirements.
Do you have an experienced operator at the destination? Heavy Haulers will provide an experienced driver who knows how to operate your recycling truck. Our drivers have excellent communication and training skills and will provide training to your staff on request.