Heavy Haulers Provides Shipping Services for Vacuum Trucks in All 50 States
Are you worried about how you will get your Vacuum Trucks to your next job site or from the manufacturer to your State or country? Worry no more as Heavy Haulers will provide both shipping and transportation services for your Vacuum trucks across all the 50 States, Canada, and Mexico. Heavy Haulers respect the fact that time is money and therefore, our trained and experienced logistics specialists will ensure they save you both. We are committed to ensuring that your Vacuum truck arrives at the scheduled destination on time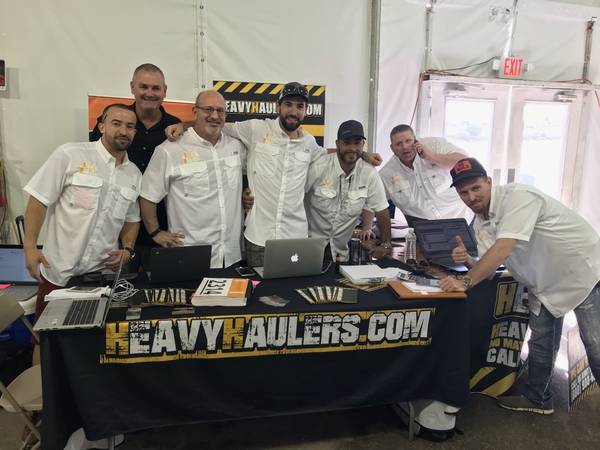 Meet the Heavy Hauler Crew
To ensure safety during traffic, we analyze the traffic patterns that enable us to get your Vacuum truck on time and safe in urban areas. For transportation in the rural areas, we carefully plan how to deliver your commercial Vacuum Truck safely. Our professional drivers ensure that each load is secure and assists in both loading and offloading to ensure that no damage is caused on the heavy machinery.
Heavy Haulers' Experienced Transportation Services
Heavy Haulers has been of great transportation service to cleaners in all the 50 States, Canada, and Mexico. With the experience of more than 20 years in loading and transporting Vacuum trucks in both the urban and the underdeveloped rural areas, we understand how to transport your vacuum truck to your preferred destination safely. Being aware of the commercial use of vacuum tracks, we are always ready to serve you by transporting your Vacuum track from one job site to the next on time and safely. Choosing Heavy Haulers for your Vacuum truck transportation starts with a phone call or a visit to one of our logistics specialists. The logistics specialists are trained and have ample experience in analysing the size and weight of your Vacuum truck as well as the types of trailers that will conveniently move the equipment. The specialists also plan the route for transporting your Vacuum truck and ensure that every street is capable of taking the load.
Recent Vacuum Trucks Transported by Heavy Haulers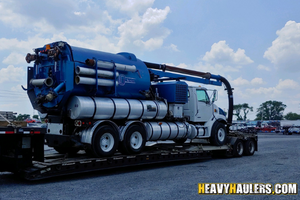 2006 Sterling Vac Truck Loaded on an RGN Trailer
Origin: MECHANICSBURG, PA 17055
Destination: HALLANDALE BEACH, FL 33009
Specs: 2006 Sterling Vac Truck; 29 FT. LONG, 8 FT. WIDE, 13 FT. HIGH; 35000 LBS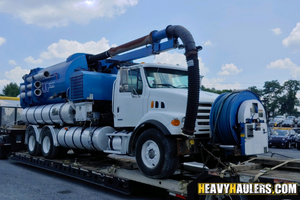 2006 Sterling Vac Truck Shipped on an RGN Trailer
Origin: MECHANICSBURG, PA 17055
Destination: HALLANDALE BEACH, FL 33009
Specs: 2006 Sterling Vac Truck; 29 FT. LONG, 8 FT. WIDE, 13 FT. HIGH; 35000 LBS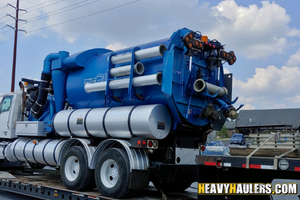 2006 Sterling Vac Truck Transported to Hallandale Beach, FL
Origin: MECHANICSBURG, PA 17055
Destination: HALLANDALE BEACH, FL 33009
Specs: 2006 Sterling Vac Truck; 29 FT. LONG, 8 FT. WIDE, 13 FT. HIGH; 35000 LBS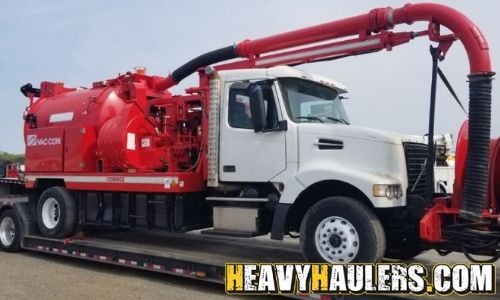 Vac-Con Volvo VHD Vacuum Truck Hauled on an RGN Trailer
Origin: North East, MD 21901
Destination: Troy, VA 22974
Specs: 2002 Volvo VHD Vacuum Truck; 41,000lbs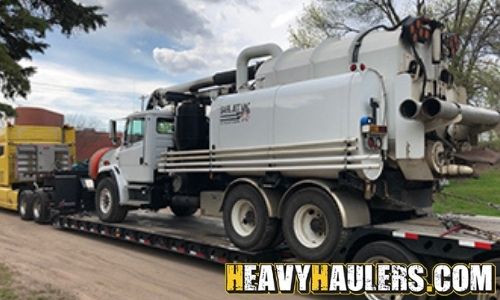 Freightliner FL80 Vacuum Truck Transported on an RGN Trailer
Origin: Eau Claire, WI
Destination: Patchogue, NY 11772
Specs: 2002 Freightliner FL80 Vacuum Truck; 36L X 12H X 8.6W; 37,800lbs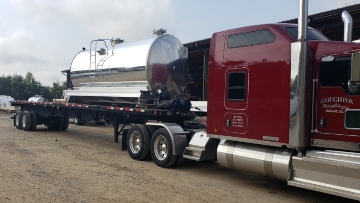 5000 gallon aluminum vacuum tank loaded on a flatbed trailer
Origin: Gretna, VA 24557
Destination: Kansas City, KS 66111
Specs: 5000 gallon aluminum vacuum tank; 22L X 8W X 8H; 5,500 lbs
Oversize or Overweight Vacuum Trucks
If your vacuum truck is oversize or overweight, do not beat yourself for it, and trust us to transport the machinery for you. Heavy Haulers are licensed to transport an oversize or overweight load in any state across the nation. We will hire professional drivers and crew, contract with escort vehicles and watch over the whole operation. We will be responsible for taking care of all your permits. For oversize or overweight shipping, trust Heavy Haulers, and we will surely leave you smiling.
Heavy Haulers offers:
Door-to-door transport
24/7 Customer Service
Free Cancellations
Contingency Insurance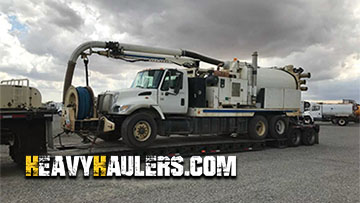 Transporting a hydrovac vacuum truck
Our agent Brian recently had the job to coordinate the move of this 2004 international 7400 Hydrovac truck. The 23,000 pound machine traveled on top of a lowboy from Dunnigan, CA to Davenport for a total of 157 miles. A long reroute had to be done due to California's wildfire, but a timely and safe delivery was achieved. Do you need to move a Hydrovac truck? Let us handle it, call Brian he will be happy to get you a free quote (ext 806).
Transporting a Guzzler CL Vacuum Truck
Heavy Haulers recently transported this Guzzler CL Vacuum Truck from Longview, Texas, to Edmonds, Washington. The trip was 2,250 miles long. Call Heavy Haulers today to ship your work truck anywhere in the US, Canada or Mexico. Weight: 66,000 pounds. Length: 36 feet. Width: 8 feet 6 inches. Height: 13 feet 3 inches. To ship your vacuum truck, call Willam Thomas at Heavy Haulers directly at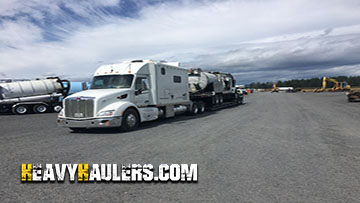 Shipping a 2008 International 7400 Vacuum Truck
Heavy Haulers agent Jamie recently transported this 2008 International 7400 vacuum truck. This International vacuum truck was picked up in Chehalis, WA and delivered to Anderson, CA. This vacuum truck was 40,000 pounds, 37 feet in length, 8 feet 6 inches in width and 12 feet 6 inches in height! Jamie at Heavy Haulers can handle any Internationals you may need transported! Call Jamie today for your free estimate: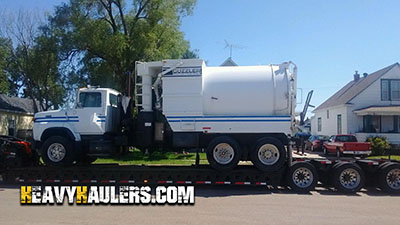 Importance of Vacuum Truck
We understand that a Vacuum truck is an extremely valuable and useful commercial vehicle that takes on the task of assisting people to live in a serene environment that is clean and waste-free. The trucks are required everywhere hence the need for seeking a transportation company for transporting the trucks to different counties or countries.Heavy Haulers are always a call away to ensure that you do not miss on your commercial opportunity as we will transport your Vacuum truck on time. Let us help you keep our environment clean by transporting your Vacuum truck to your required destination.
Vacuum trucks come in different sizes and weights depending on the manufacturer as well as the use and type. Our experienced staffs are aware of the different state and local regulations regarding weights and transportation and will ensure that your Vacuum track is transported on the right roads to adhere to the transportation regulations. We also take the responsibility of conducting the weigh station paperwork as well as the customs forms.
We transport many brands of Trucks across the country and North America
Trust Heavy Haulers to transport any brand of truck you own. We are experienced in handling all types of brands and manufacturers, we have hands-on experience shipping all truck manufacturers there is on the road! Some of the truck brands we commonly ship include:
Heavy Haulers Ships Across All 50 States
Alabama - Alaska - Arizona - Arkansas - California - Colorado - Connecticut - Delaware - Florida - Georgia - Hawaii - Idaho - Illinois - Indiana - Iowa - Kansas - Kentucky - Louisiana - Maine - Maryland - Massachusetts - Michigan - Minnesota - Mississippi - Missouri - Montana - Nebraska - Nevada - New Hampshire - New Jersey - New Mexico - New York - North Carolina - North Dakota - Ohio - Oklahoma - Oregon - Pennsylvania - Rhode Island - South Carolina - South Dakota - Tennessee - Texas - Utah - Vermont - Virginia - Washington - West Virginia - Wisconsin - Wyoming
Looking For Transport
With a Specific Trailer?

Max Weight: 150,000+ lbs. | Main Deck Length 29 ft.
| Well Width 8.5 ft. | Legal Height Limit 11.6 ft.

Max Weight: 48,000 lbs. | Max Length 53 ft.
| Max Width 8.5 ft. | Max Height 8.5 ft.
Max Weight: 48,000 lbs. Max Length 53 ft. |
Max Width 8.5 ft. | Max Height 11 ft.
Max Weight: 45,000 lbs. | Max Length 29 ft.
| Max Width 8.5 ft. | Max Height 11.5 ft.
Heavy Haulers Pilot Car Services
Are you looking for a reliable pilot car
for your transport?
Get Started