Trust Heavy Haulers to Transport Your Yard Spotter Anywhere in North America
Yard spotter is an economical type of truck used in hauling trailers more so in warehouses. As you intended to increase the productivity of your company by purchasing a yard spotter, trust Heavy Haulers to handle the logistics process for you. Heavy Haulers has been in the industry for many years and has won numerous awards for their tremendous transportation services. Whether it is a short distance or long distance transportation within the 50 states, Canada, or Mexico, Heavy Haulers will be there when you need us. Just give us a call at (800) 908-6206.
With over a decade of experience in transporting trucks, Heavy Haulers specialists believe in first meeting the specifications of the job at hand. Whether your yard spotter has special considerations to be taken into account when hauling it, we will offer you versatile and reliable services. Let our team of specialists direct you to the transportation method that will get your yard spotter where you want it to be. We have seven branches throughout the United States and it is high time you contact one of our logistics coordinators to get started.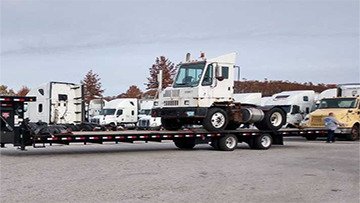 Yard Truck Being Transported
Learn About Yard Spotters & How to Transport One
The yard spotters are specifically designed to move trailers with ease and efficiency. The yard spotter has a fifth wheel that enables the driver to back up, use a lever to lower or raise the trailer on the spot. It is also fitted with a rear sliding door that gives the driver an allowance to alight and a couple as well as uncouples the electric and airlines effectively. Additionally, the yard spotter has some safety features that enable it to be a more effective trailer mover. The spotter's cab is fitted with windows all round to ensure better visibility when hauling the trailers.
The yard spotters tend to increase productivity as they are faster compared to other trucks used in hauling trailers. It is capable of dropping off one trailer in two minutes which is much faster as compared to a semi-truck which uses around six minutes and thirty seconds to drop off a single trailer. With a short wheelbase and automatic transmission and power steering features of a yard spotter, the truck is able to make fast movements as well as sharp turns.

Recent Yard Spotter Transports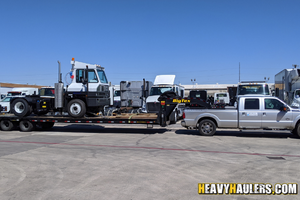 Shipping a Yard Spotter
Origin: DALLAS, TX 75247
Destination: WACO, TX 76712
Specs: Yard Spotter;20 FT. LONG, 8 FT. WIDE, 11 FT. HIGH; 15000 LBS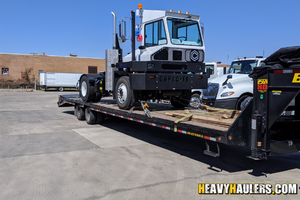 Yard Spotter Haul
Origin: DALLAS, TX 75247
Destination: WACO, TX 76712
Specs: Yard Spotter;20 FT. LONG, 8 FT. WIDE, 11 FT. HIGH; 15000 LBS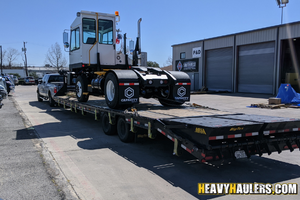 Transporting a Yard Spotter
Origin: DALLAS, TX 75247
Destination: WACO, TX 76712
Specs: Yard Spotter;20 FT. LONG, 8 FT. WIDE, 11 FT. HIGH; 15000 LBS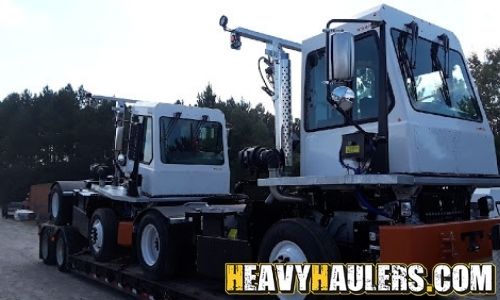 2019 TICO Spotter Trucks Hauled on an RGN Trailer
Origin: Ridgeland, SC 29936
Destination: Des Moines, IA
Specs: 2019 TICO Spotter Trucks;17L X 8.6W X 10.4H; 16,500lbs
Looking For Transport
With a Specific Trailer?

Max Weight: 150,000+ lbs. | Main Deck Length 29 ft.
| Well Width 8.5 ft. | Legal Height Limit 11.6 ft.

Max Weight: 48,000 lbs. | Max Length 53 ft.
| Max Width 8.5 ft. | Max Height 8.5 ft.
Max Weight: 48,000 lbs. Max Length 53 ft. |
Max Width 8.5 ft. | Max Height 11 ft.
Max Weight: 45,000 lbs. | Max Length 29 ft.
| Max Width 8.5 ft. | Max Height 11.5 ft.
We transport many brands of Trucks across the country and North America
Trust Heavy Haulers to transport any brand of truck you own. We are experienced in handling all types of brands and manufacturers, we have hands-on experience shipping all truck manufacturers there is on the road! Some of the truck brands we commonly ship include:
Experience Excellent Customer Services at Heavy Haulers
If you feel that your business is in need of increasing productivity when hauling trailers, purchase a yard spotter and let Heavy Haulers transport it for you to your yard. Heavy Haulers offers outstanding hauling services in the transportation industry. We pride ourselves in excellent customer care services and safe and on-time delivery of loads.
Our committed logicians offer exemplary services including planning the best, easiest and cheapest route for your yard spotter, provide you with a free quotation, and truck the transportation of the load for you. Heavy Haulers guarantee safety of your yard spotter and will ensure that the load gets to your preferred destination in the same manner it left.
The transportation process is not easy due to custom paperwork that needs to be completed. Most of the people tend to hire people to handle paperwork for them. Do not let custom paperwork or any other legal process worry you as Heavy Haulers provides you with their excellent services at no cost. The logicians will complete the paperwork for you so you will not incur any cost or waste time doing the same. Did that make you smile? If it did, trust us to transport the yard spotter for you and we assure safety and on-time delivery.
Call Heavy Haulers toll free at (800) 908-6206 with any questions you might have about our service; when you're ready, request a free transport quote or set up a time for us to pick up your truck. We look forward to working for you!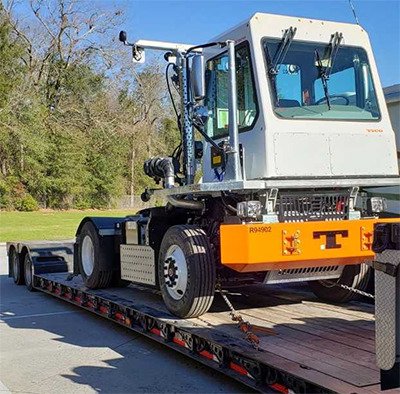 Tico Pro Spotter Truck Transported
We recently answered the call to transport his 6000 pounds Tico Pro Spotter Truck. The brand new truck needed to be hauled from Ridgeland, SC to Otsego, MN for a total of 1,360 miles on top of a stretch double-drop trailer. Our agent Jamie plan and schedule accordingly to achieve a successful hauling trip. The oversized load was 16'.8" long, 8'.6'' wide by 10.1 high. Do you have heavy machinery to be hauled? Give Jamie a call at (800) 908-6206 ext. 798.