Dynamic Passenger Van Transport with Heavy Haulers
Contact Our Expert Shipping Specialists
(800) 908-6206
Heavy Haulers offers a broad and dynamic set of passenger van transport solutions. Created with the safety and security of your passenger van in mind, we follow local and federal regulations for all of our heavy haul shipping cargoes. Whether you are moving a non-working passenger van, or need to get a fleet shipped out, Heavy Haulers can get it taken care of with ease. Call now and let's get started. (800) 908-6206
Passenger vans for transport can comprise a drive unit or the full, complete accessorized bundle. Heavy Haulers undertake singular and large consignments of passenger vans with a free no obligations valuation. With one of the most competitive price-to-ship indexes in the country, Heavy Haulers will procure the permits required for some interstate or inter-country passenger van shipments.
Route plans take into consideration such aspects of your passenger van transport as logistics or delivery within your preferred schedule. Heavy Haulers specialists observe all the manufacturer guidelines when handling your passenger van to provide secure and safe haulage transport preparation. Whether there are angles in the transit process of your passenger vans that seems impossible, we shall work out a viable haulage plan.
Passenger vans are designed with interiors that are people-friendly as opposed to those with cargo haulage fittings. With customized seats and over 18 inches of reclining space, passenger vans provide the most affordable, comfortable, and effective way to transport humans. Roof height variations in passenger vans can be from 80 to 100 inches, which accommodates from 8 to 15 passengers.
Common Passenger Vans We Transport at Heavy Haulers
● Ram Promaster 2500 Passenger Van
● Ford Transit 150 XLT Mid Roof 10 Passenger Van
● Mercedes-Benz Metris Passenger Van
● Toyota Sienna
● Ford Transit Passenger Van
● Mercedes-Benz Sprinter 2500 Passenger Van
● Honda Odyssey
● Nissan NV Passenger Van
● Ford Transit Connect Passenger Van
● Chevrolet Express 2500 Passenger Van
● GMC Savana Passenger Van
● Ford Transit 350 XLT Mid Roof 11 Passenger Van
We transport many brands of Trucks across the country and North America
Trust Heavy Haulers to transport any brand of truck you own. We are experienced in handling all types of brands and manufacturers, we have hands-on experience shipping all truck manufacturers there is on the road! Some of the truck brands we commonly ship include:
Heavy Haulers Ships Across All 50 States
Alabama - Alaska - Arizona - Arkansas - California - Colorado - Connecticut - Delaware - Florida - Georgia - Hawaii - Idaho - Illinois - Indiana - Iowa - Kansas - Kentucky - Louisiana - Maine - Maryland - Massachusetts - Michigan - Minnesota - Mississippi - Missouri - Montana - Nebraska - Nevada - New Hampshire - New Jersey - New Mexico - New York - North Carolina - North Dakota - Ohio - Oklahoma - Oregon - Pennsylvania - Rhode Island - South Carolina - South Dakota - Tennessee - Texas - Utah - Vermont - Virginia - Washington - West Virginia - Wisconsin - Wyoming
Looking For Transport
With a Specific Trailer?

Max Weight: 150,000+ lbs. | Main Deck Length 29 ft.
| Well Width 8.5 ft. | Legal Height Limit 11.6 ft.

Max Weight: 48,000 lbs. | Max Length 53 ft.
| Max Width 8.5 ft. | Max Height 8.5 ft.
Max Weight: 48,000 lbs. Max Length 53 ft. |
Max Width 8.5 ft. | Max Height 11 ft.
Max Weight: 45,000 lbs. | Max Length 29 ft.
| Max Width 8.5 ft. | Max Height 11.5 ft.
Heavy Haulers Pilot Car Services
Are you looking for a reliable pilot car
for your transport?
Get Started
HEAVYHAULERS.COM
START YOUR SHIPMENT TODAY!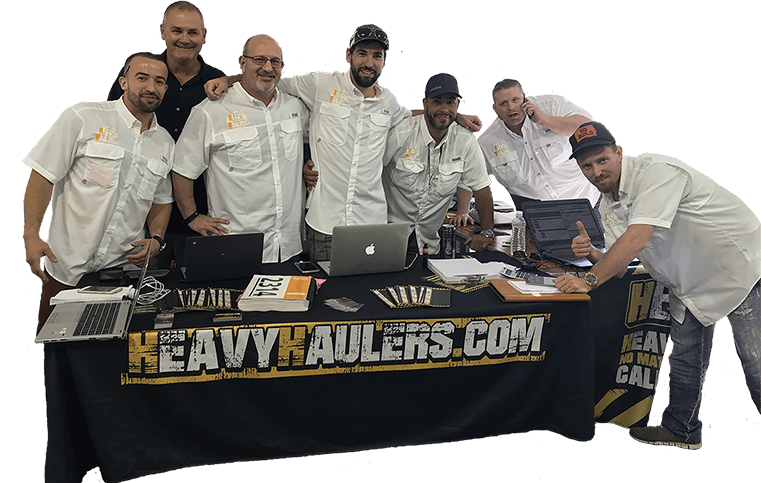 We Are Ready To Help You Haul Your Equipment!