Air Mover Truck Transport Services by Heavy Haulers
Our heavy capacity tractor-trailer configurations are ready to be deployed for your air mover truck shipping, from any location within the US, Canada, and Mexico. Heavy Haulers has over a decade of expertise in the large size and over-dimensional air mover truck transportation. Let our dispatchers perform a free no obligations load valuation for feasible air mover truck carriage on (800) 908-6206.
Air Mover Truck Handling and Transport Logistics at Heavy Haulers
The large shipments of air mover vacuum trucks require permits, exceptional handling, and seamless logistics. Heavy Haulers air mover truck shipping services involves load specification specialists backed by an extensive fleet of heavy haul trailers. We shall pick up and safely drop off your air mover truck consignment at your desired location within stipulated time deadlines.
Contact Our Expert Shipping Specialist's
(800) 908-6206
Air mover or vacuum trucks are designed to pump air up to 6,000 CFM and come with bag chambers with filters. A cyclone separator and a vacuum tank complement most air mover truck models to enhance performance with other components that include; Our expert determination will select the correct bonded and insured rig to safely and expeditiously deliver air mover trucks. We use trailer loading ramps attached to our lowboy and flat decks to smooth the rolling on or off-air mover trucks.
Air Mover Truck on Trailer Transport for Cost-Efficient Transport
We offer affordable and cost convenient options for air mover truck shipping at heavy hauler. Let a safety aware loading expert handle your air mover vacuum trucks within a favorable cost to freight index. Call Heavy Haulers dispatchers now on (800) 908-6206, and a trailer will be at your location for air mover carriage today.
Common Air Movers We Transport Frequently:
• Hydraulic boom
• Advanced pump systems
• Unloading options

• Detachable separator
• Rail wheels
• Sound suppression systems
See what you need?
Call us for a FREE Shipping Estimate at (800) 908-6206
See More Of Our Air Mover Truck Shipments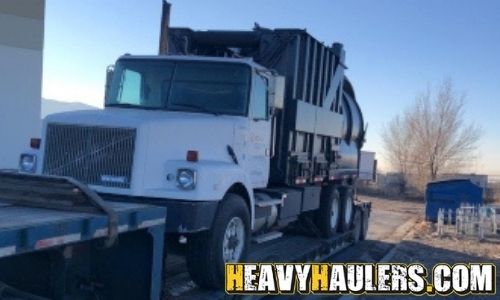 Transporting a GMC Air Mover Commercial Truck from UT to AZ
Origin: North Salt Lake, UT
Destination: Bagdad, AZ
Specs: 1991 GMC Air Mover Commercial Truck; 32L x 8.6W x 12.9H; 42,500lbs