Hassle-Free Concrete Pump Truck Transport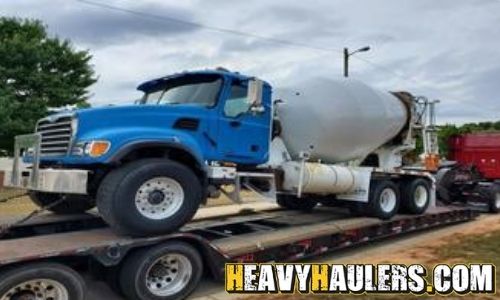 Contact Our Concrete Pump Truck
Transport Specialist's
(800) 908-6206
Concrete pump truck transport doesn't have to be a hassle. Our elite logistics team will pair you with an experienced driver to make shipping your concrete pump truck easy. We ship concrete pump trucks on our drop deck, RGN double drops, and flatbed substantial capacity trailers for the best delivery results. We take all your transport needs seriously and pride ourselves in customer satisfaction.
It's better to have your concrete pump trucks hauled on a trailer as opposed to driving them all the way to a construction site in or out of state. This conserves their power mechanics from wear before they are needed for heavy duty concrete pumping operations. Heavy Haulers will get your concrete pump from any location within the US, Canada, or Mexico for seamless delivery where your clients need them.
A concrete pump truck is perfect for transferring liquid concrete. A concrete pump truck can
have an articulated robotic boom or be of the line pump trailer mounted variety. Many large
construction projects rely on the concrete boom and line pump trucks due to the volume and
speed of transferring slur to form slabs.
Minimize the risks which will ultimately cut your costs of concrete pump truck
shipping with Heavy Haulers. A dispatcher will process any specialized permits for
sizeable concrete pump truck assemblies for secure shipping.
Concrete Pump Truck Gotten On Your Way By
Heavy Haulers Carriers
We handle all loads of freight responsibly at Heavy Haulers while emphasizing safety
and maintaining the condition of your concrete pump truck cargo. Extended
lowboy trailers, coupling, or stacking options are available for affordable concrete
pump truck shipping. Call now for a free shipping quote. (800) 908-6206.
See what you need?
Call us for a FREE Shipping Estimate at (800) 908-6206
HEAVYHAULERS.COM
START YOUR SHIPMENT TODAY!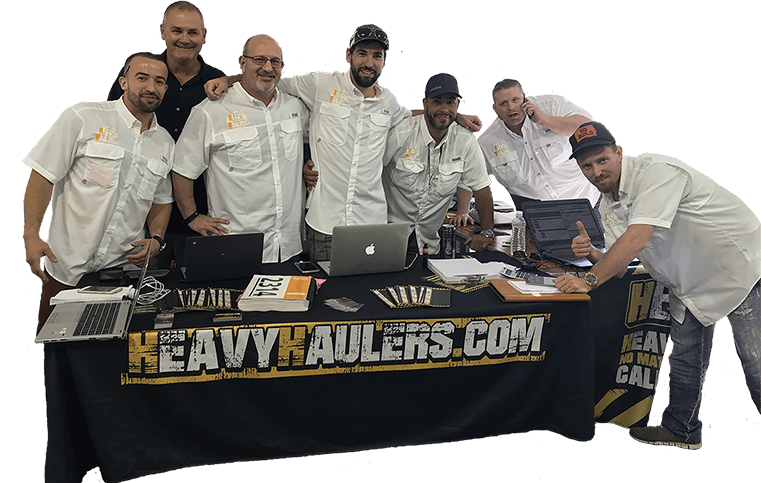 We Are Ready To Help You Haul Your Equipment!
We transport many brands of Trucks across the country and North America
Trust Heavy Haulers to transport any brand of truck you own. We are experienced in handling all types of brands and manufacturers, we have hands-on experience shipping all truck manufacturers there is on the road! Some of the truck brands we commonly ship include:
Heavy Haulers Ships Across All 50 States
Alabama - Alaska - Arizona - Arkansas - California - Colorado - Connecticut - Delaware - Florida - Georgia - Hawaii - Idaho - Illinois - Indiana - Iowa - Kansas - Kentucky - Louisiana - Maine - Maryland - Massachusetts - Michigan - Minnesota - Mississippi - Missouri - Montana - Nebraska - Nevada - New Hampshire - New Jersey - New Mexico - New York - North Carolina - North Dakota - Ohio - Oklahoma - Oregon - Pennsylvania - Rhode Island - South Carolina - South Dakota - Tennessee - Texas - Utah - Vermont - Virginia - Washington - West Virginia - Wisconsin - Wyoming
Looking For Transport
With a Specific Trailer?

Max Weight: 150,000+ lbs. | Main Deck Length 29 ft.
| Well Width 8.5 ft. | Legal Height Limit 11.6 ft.

Max Weight: 48,000 lbs. | Max Length 53 ft.
| Max Width 8.5 ft. | Max Height 8.5 ft.
Max Weight: 48,000 lbs. Max Length 53 ft. |
Max Width 8.5 ft. | Max Height 11 ft.
Max Weight: 45,000 lbs. | Max Length 29 ft.
| Max Width 8.5 ft. | Max Height 11.5 ft.
Heavy Haulers Pilot Car Services
Are you looking for a reliable pilot car
for your transport?
Get Started
See what you need?
Call us for a FREE Shipping Estimate at (800) 908-6206