Shipping an Emergency Truck with Heavy Haulers
In house Heavy Haulers consignment and logistics experts will exhaustively handle all aspects of emergency truck shipping and delivery, including all the paperwork. We have the requisite authority on emergency truck transport due to being key players in the North American trucking sector for the last ten years. A Heavy Haulers dispatcher is available to perform a free shipping valuation and estimate on (800) 908-6206 now.
Emergency Trucks Secure Moving on Heavy Haulers Capacity Trailers
Our flatbed, drop deck or RGN hotshot trailers have heavy-duty steel structures and robust suspension systems to take on any shape or size of emergency trucks. Heavy Haulers trailers are graded to handle substantial fire and emergency trucks consignments with the assistance of loading or unloading ramps for increased safety.
Contact Our Expert Shipping Specialist's
(800) 908-6206
Emergency trucks are vehicles designed and designated to convey first responders in emergency situations. Operated by agencies and arms of government, emergency trucks are also run by private companies such as hospitals and charitable organizations. Vehicle deemed emergency response trucks can break conventional highway codes and exceed speed limits within regard for public safety.
Heavy Haulers' fleet of heavy-duty steel structure drop-deck, flat deck and hotshot trailers have the capacity to undertake the haulage of emergency trucks exhaustively. These conveyances have robust suspension systems and are thoroughly graded to handle substantial emergency trucks consignments. Hydraulic and mechanical spring ramps assist Heavy Haulers loaders to get your emergency truck on and off our trailers securely.
Emergency Trucks Hauled with Ease
Heavy Haulers ensures that all paperwork is taken care of, including permits, licensing, and insurance information. We observe county, state, national, and international standard regulations to facilitate smooth emergency trucks conveyance. Dispatch coordinators are ready to start a free no obligations emergency trucks shipping estimate. (800) 908-6206.
See what you need?
Call us for a FREE Shipping Estimate at (800) 908-6206
HEAVYHAULERS.COM
START YOUR SHIPMENT TODAY!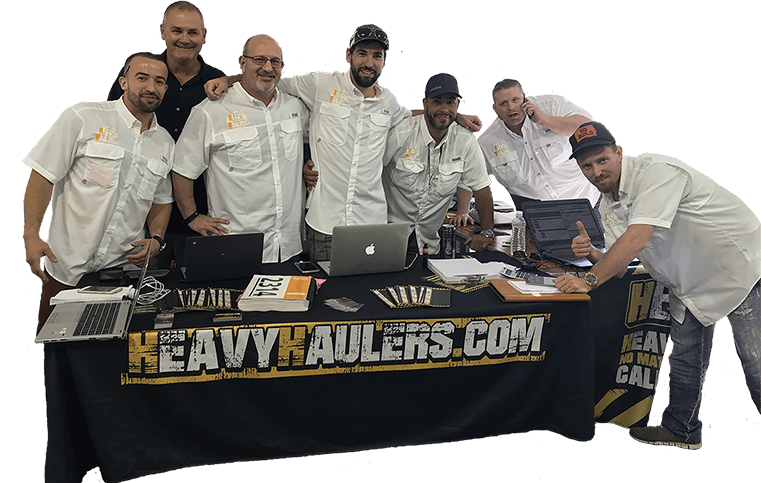 We Are Ready To Help You Haul Your Equipment!
We transport many brands of Trucks across the country and North America
Trust Heavy Haulers to transport any brand of truck you own. We are experienced in handling all types of brands and manufacturers, we have hands-on experience shipping all truck manufacturers there is on the road! Some of the truck brands we commonly ship include:
Heavy Haulers Ships Across All 50 States
Alabama - Alaska - Arizona - Arkansas - California - Colorado - Connecticut - Delaware - Florida - Georgia - Hawaii - Idaho - Illinois - Indiana - Iowa - Kansas - Kentucky - Louisiana - Maine - Maryland - Massachusetts - Michigan - Minnesota - Mississippi - Missouri - Montana - Nebraska - Nevada - New Hampshire - New Jersey - New Mexico - New York - North Carolina - North Dakota - Ohio - Oklahoma - Oregon - Pennsylvania - Rhode Island - South Carolina - South Dakota - Tennessee - Texas - Utah - Vermont - Virginia - Washington - West Virginia - Wisconsin - Wyoming
Looking For Transport
With a Specific Trailer?

Max Weight: 150,000+ lbs. | Main Deck Length 29 ft.
| Well Width 8.5 ft. | Legal Height Limit 11.6 ft.

Max Weight: 48,000 lbs. | Max Length 53 ft.
| Max Width 8.5 ft. | Max Height 8.5 ft.
Max Weight: 48,000 lbs. Max Length 53 ft. |
Max Width 8.5 ft. | Max Height 11 ft.
Max Weight: 45,000 lbs. | Max Length 29 ft.
| Max Width 8.5 ft. | Max Height 11.5 ft.
Heavy Haulers Pilot Car Services
Are you looking for a reliable pilot car
for your transport?
Get Started
See what you need?
Call us for a FREE Shipping Estimate at (800) 908-6206