Complete Portable Restroom Trucks Transport Transit
Our heavy-duty and large capacity transporters are near you to simplify your portable restroom truck's transition. Heavy Haulers is fully authorized to pick up and drop off your compact restroom trucks from or to any location all around the US, Canada, and Mexico. Our logistics team is on standby to provide you with a free shipping estimate. Call now! (800) 908-6206
Portable Restroom Truck Shipping is Hassle-Free
A comprehensive shipping contract with Heavy Haulers for portable restroom truck delivery will involve our deployment of weight and height compatible load trailers. We have been certified, licensed, and insured to handle your portable restroom truck transport and will go into rugged terrain or busy urban neighborhoods. A Heavy Haulers dispatch manager will procure all the paperwork and permits that moving portable restroom trucks across states or countries entails.
Contact Our Expert Shipping Specialist's
(800) 908-6206
Portable restroom trucks consist of a vacuum tank mounted on the chassis of choice depending on capacity and the manner of service. These work-ready vehicles carry 600 to 1200 gallon water tanks assisted by another for freshwater that is operated on by accompanying vacuum pumps. High capacity workhorse models of portable restroom trucks also carry portable toilets and have complete washer jet systems.
Portable Restroom Trucks on Trailer Transport with Heavy Haulers
Move your fleet of the manufacturer or dealer portable restroom trucks aboard our extended or coupled Heavy Haulers flat decks or lowboys. The oversize portable restroom truckload might require Heavy Haulers escort outriders or pilots to navigate the interstates and turnpikes. Our services have no hidden costs, and we engender to maximize affordability with the secure delivery of portable restroom trucks, available now. (800) 908-6206.
See what you need?
Call us for a FREE Shipping Estimate at (800) 908-6206
HEAVYHAULERS.COM
START YOUR SHIPMENT TODAY!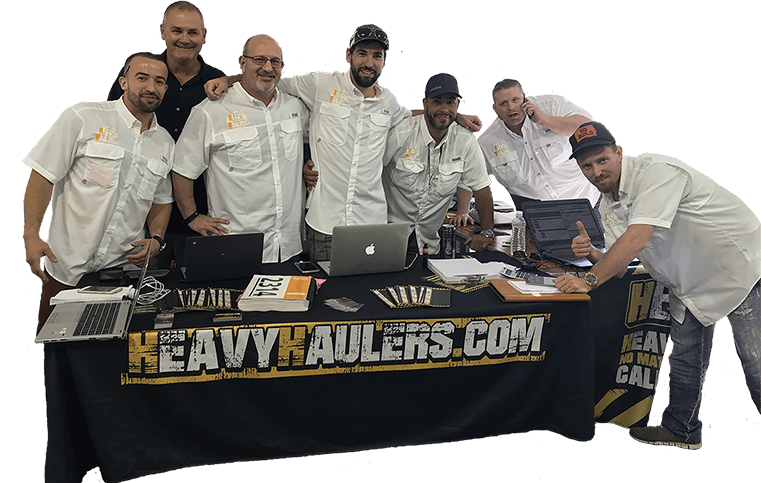 We Are Ready To Help You Haul Your Equipment!
We transport many brands of Trucks across the country and North America
Trust Heavy Haulers to transport any brand of truck you own. We are experienced in handling all types of brands and manufacturers, we have hands-on experience shipping all truck manufacturers there is on the road! Some of the truck brands we commonly ship include:
Heavy Haulers Ships Across All 50 States
Alabama - Alaska - Arizona - Arkansas - California - Colorado - Connecticut - Delaware - Florida - Georgia - Hawaii - Idaho - Illinois - Indiana - Iowa - Kansas - Kentucky - Louisiana - Maine - Maryland - Massachusetts - Michigan - Minnesota - Mississippi - Missouri - Montana - Nebraska - Nevada - New Hampshire - New Jersey - New Mexico - New York - North Carolina - North Dakota - Ohio - Oklahoma - Oregon - Pennsylvania - Rhode Island - South Carolina - South Dakota - Tennessee - Texas - Utah - Vermont - Virginia - Washington - West Virginia - Wisconsin - Wyoming
Looking For Transport
With a Specific Trailer?

Max Weight: 150,000+ lbs. | Main Deck Length 29 ft.
| Well Width 8.5 ft. | Legal Height Limit 11.6 ft.

Max Weight: 48,000 lbs. | Max Length 53 ft.
| Max Width 8.5 ft. | Max Height 8.5 ft.
Max Weight: 48,000 lbs. Max Length 53 ft. |
Max Width 8.5 ft. | Max Height 11 ft.
Max Weight: 45,000 lbs. | Max Length 29 ft.
| Max Width 8.5 ft. | Max Height 11.5 ft.
Heavy Haulers Pilot Car Services
Are you looking for a reliable pilot car
for your transport?
Get Started
See what you need?
Call us for a FREE Shipping Estimate at (800) 908-6206