Shipping Your Cargo in a Pneumatic Trailer with Heavy Haulers Can Be Easy! Find Out For Yourself!
Contact Our Expert Shipping Specialists


(800) 908-6206
Pneumatic Trailers are in high demand, due to their ability to fill an empty with a hose and vacuum seal. A Pneumatic Tanker is a large body tank trailer that empties via a pump and forced air. It is primarily used to transport building materials, food products, and chemical products. With Heavy Haulers, transporting your cargo is simple. We provide door-to-door service in a pneumatic trailer, from the production facility to a factory for packaging, or from one job site to the next.
Many industries use large body tank trailers, such as construction or industrial contractors, to haul cement, sand, ash, and lime; food production to transport flour, sugar, grains, and, starch; and the chemical industry, hauling plastic pellets, industrial alcohol, dry and liquid chemicals. With Heavy Haulers, we can move your cargo across town, from one job with to the next to keep it on schedule. Or, we can transport your cargo from the agricultural fields to a production facility. Our drivers are licensed and bonded, talented at navigating large pneumatic trailers along the nation's highways and through busy city streets.
Your Heavy Haulers Transport Experience
Moving cargo in a pneumatic trailer begins with a phone call to Heavy Haulers. Our route planners will determine the best journey for your goods and handle all of the paperwork, such as for customs and weigh stations. For chemicals or other hazardous materials, we can also help with permitting, taking one more worry off your shoulders. You'll receive door-to-door service from a licensed, bonded driver and a unique code to track your shipment in real-time. When you're ready to get started, call one of our logisticians at (800) 908-6206 for a FREE, no-obligation quote.
The Right Way to Move a Pneumatic Trailer in All 50 States, Canada, and Mexico!
Pneumatic trailers come variety of sizes to fit the needs of different loads. With rounded sloping interiors and steep hoppers, pneumatic and vacuum pneumatic trailers unload quickly and cleanly, making the demand for them high. Available in large or small cube format, dry bulk/pneumatic trailers can range from a 550 cubic feet design, with a single hopper, to a 2800 cubic feet design, boasting 6 hoppers. When you need to transport your trailer, you need to make sure you have a professional shipping company with experience moving a pneumatic trailer, so your investment is protected.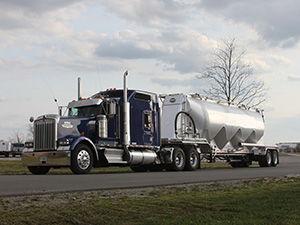 Heavy Haulers Offers Pneumatic Trailer Shipping in All 50 States
Many shipping companies are limited to where or how far they can transport a pneumatic trailer. Wherever you need your trailer shipped in this great nation, Heavy Haulers can get it there. We have the experience you need to properly prepare, load, and haul a pneumatic trailer safely and the knowledge necessary to get it there efficiently. We will provide all the permits and escorts required for moving your pneumatic trailer, so you can avoid the hassle. And you can stay in continual contact with the transport vehicle throughout the trailer transport, so you know how the trip is going the whole time.


Common Trailer Types Available from Heavy Haulers
Heavy Haulers specializes in hauling heavy loads such as construction equipment, oil field rigging and Super Loads. We are wideload experts! We offer an extensive range of trailer choices, including:
Max Weight: 48,000 lbs. | Max Length 53 ft. | Max Width 8.5 ft. | Max Height 11 ft.




Max Weight: 45,000 lbs. | Max Length 29 ft. | Max Width 8.5 ft. | Max Height 11.5 ft.
Max Weight: 150,000+ lbs. | Main Deck Length 29 ft. | Well Width 8.5 ft. | Legal Height Limit 11.6 ft.




Max Weight: 48,000 lbs. | Max Length 53 ft. | Max Width 8.5 ft. | Max Height 8.5 ft.
We transport many brands of trailers across the country and North America
Trust Heavy Haulers to transport any brand of trailer you own. We are experienced in handling all types of brands and manufacturers, we have hands-on experience shipping all trailer manufacturers there is on the road! Some of the trailer brands we commonly ship include:







11423605

MILES TRAVELED






1214292

LOADS SHIPPED







1315658103

TONS TRANSPORTED






921637

CLIENTS SATISFIED