Shipping Cargo on a Roll Top Conestoga Trailer in All 50 States, Canada, and Mexico!
Contact Our Expert Shipping Specialists


(800) 908-6206
Oversized, expensive cargo can be shipped with ease using a Roll Top Conestoga Trailer. At Heavy Haulers, our Conestoga Trailers utilize a moveable tarp network on the trailer to maximize space for a wide variety of loads, for many different industries and personal sales. The flexibility and usefulness of a Conestoga have made these specialized trailers one of the most popular in the cargo transport industry today.
Specialty shipping of delicate cargo is one of the reasons that the team at Heavy Haulers may recommend transporting your belongings in a Conestoga trailer. The trailer's rolling tarp-on frame structure is designed to protect oversized and specialized goods during shipment, keeping your cargo safe from external factors without compromising on paint, finishes, delicate equipment or other aspects of your cargo that may get damaged if a tarp is placed over the load.
Your Heavy Haulers Transport Experience Can Be Easy! Find Out For Yourself!
When you contract service through Heavy Haulers, you'll be asked about your cargo, its size, and its value. Our professional transport specialists will recommend the right type of trailer for your goods. For items that may require multiple forklifts to load or unload, a Conestoga trailer is a viable option. Conestoga Trailers can be independently accessed from all sides thus allowing drivers to add extra loads to the trailer, but without interrupting access to the freight which is already on the trailer yet to be delivered. Once we've determined how to ship your cargo, Heavy Haulers will plan your route, taking into account whether to navigate through tight urban areas or fly along the nation's highways. We also handle all the paperwork, including permits, weigh station forms, and customs documents. Ready to get started? Give us a call today at (800) 908-6206 for a FREE, no-obligation quote.
What to Consider Before Transporting a Roll Top Conestoga Trailer
Shipping a roll top Conestoga trailer will be a much easier process if you consider a few key facts. First, the dimensions of your trailer will figure in greatly when choosing the route for your transport to take. Also, the states your roll top Conestoga trailer travels through will determine the need for any permits or escorts required by state law. Height, weight, and width of your trailer are needed to check against the state allowances. A professional roll top Conestoga trailer shipping company will be aware of the differences in the state limits and what is required to keep your transport vehicle within the letter of the law. They should know the proper permits and escorts that you may need in each state.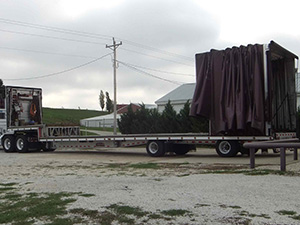 Heavy Haulers Offers Roll Top Conestoga Trailer Shipping to All 50 States
Many trailer shipping companies offer only limited shipping areas, causing problems especially when hauling a roll top Conestoga trailer over a long distance. With Heavy Haulers, there's no need to worry about being limited with your shipment because we will transport a roll top Conestoga trailer anywhere in the United States. We know what the dimensional allowances are for every state and will provide any permits or escorts that are needed for your trailer transport vehicle. You will also be in continual contact with your trailer transport team the entire way.


Common Trailer Types Available from Heavy Haulers
Heavy Haulers specializes in hauling heavy loads such as construction equipment, oil field rigging and Super Loads. We are wideload experts! We offer an extensive range of trailer choices, including:
Max Weight: 48,000 lbs. | Max Length 53 ft. | Max Width 8.5 ft. | Max Height 11 ft.




Max Weight: 45,000 lbs. | Max Length 29 ft. | Max Width 8.5 ft. | Max Height 11.5 ft.
Max Weight: 150,000+ lbs. | Main Deck Length 29 ft. | Well Width 8.5 ft. | Legal Height Limit 11.6 ft.




Max Weight: 48,000 lbs. | Max Length 53 ft. | Max Width 8.5 ft. | Max Height 8.5 ft.
We transport many brands of trailers across the country and North America
Trust Heavy Haulers to transport any brand of trailer you own. We are experienced in handling all types of brands and manufacturers, we have hands-on experience shipping all trailer manufacturers there is on the road! Some of the trailer brands we commonly ship include: