Heavy Haulers Ships Cargo in Belt Trailers in All 50 States, Canada, and Mexico!
Cargo belt trailers are useful for a variety of industries. These self-unloading trailers use a chain or a flap assembly running lengthwise along the bottom of the trailer. These specialty trailers are ideal for heavier loads with smaller dimensions, with belt widths that range from 25 to 61 inches. Industries from agricultural to construction can make use f belt trailers, as they're capable of chipping for products, municipal waste, or construction debris.
These trailers can unload in as little as 5 minutes, with an open-top that allows ease of loading. For larger jobs that require a great amount of loose cargo to be moved and unloaded quickly, a belt trailer is an excellent choice. Heavy Haulers provides belt trailers in different sizes, all in great working condition to keep your job on schedule and track.
Contact Our Expert Shipping Specialists


(800) 908-6206
Learn About Your Belt Trailer Shipping Experience With Heavy Haulers
Start with a phone call to one of our route planning specialists. They'll contract with a Heavy Haulers driver and select the right sized belt trailer for your needs. We work with you, helping yo move large loose cargo from one job site and delivering it to your destination, whether it's a landfill, processing plant, or anywhere else you need it delivered. Our door-to-door services work on your timeline, and we even complete all the paperwork necessary for your delivery, from weigh stations to custom. Our services include all of North America, including Canda and Mexico. We'll give you a FREE, no-obligation quote. Give us a call today at (800) 908-6206 for a custom quote!
Shipping a Conveyor Belt Trailer is Easy! Find Out For Yourself!
There are some important things to think about before you move your conveyor belt trailer, so your hardest working trailer can arrive in the best condition possible. The trailer will have to be properly prepared and loaded for the trip, no matter how many miles it must travel. The trailer transport specialists at Heavy Haulers have the training and experience to get your conveyor belt trailer to its destination safely. We will prepare and secure your conveyor belt trailer according to industry standards, for the safety of your investment and everyone involved.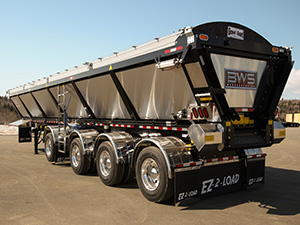 Heavy Haulers Offers Conveyor Belt Trailer Shipping Services to All 50 States!
No matter where you need your conveyor belt trailer moved to in this great nation, Heavy Haulers can get it there safely. Our conveyor belt trailer shipping experts are very knowledgeable about the laws for every state and their years of experience in trailer transport are ready to work for you in all 50 states. So, no matter how far you need to move your conveyor belt trailer, we are your best trailer transport option, no matter where you are.


Common Trailer Types Available from Heavy Haulers
Heavy Haulers specializes in hauling heavy loads such as construction equipment, oil field rigging and Super Loads. We are wideload experts! We offer an extensive range of trailer choices, including:
Max Weight: 48,000 lbs. | Max Length 53 ft. | Max Width 8.5 ft. | Max Height 11 ft.




Max Weight: 45,000 lbs. | Max Length 29 ft. | Max Width 8.5 ft. | Max Height 11.5 ft.
Max Weight: 150,000+ lbs. | Main Deck Length 29 ft. | Well Width 8.5 ft. | Legal Height Limit 11.6 ft.




Max Weight: 48,000 lbs. | Max Length 53 ft. | Max Width 8.5 ft. | Max Height 8.5 ft.







11423605

MILES TRAVELED






1214292

LOADS SHIPPED







1315658103

TONS TRANSPORTED






921637

CLIENTS SATISFIED
We transport many brands of trailers across the country and North America
Trust Heavy Haulers to transport any brand of trailer you own. We are experienced in handling all types of brands and manufacturers, we have hands-on experience shipping all trailer manufacturers there is on the road! Some of the trailer brands we commonly ship include: