Transporting Cargo in a Belly Dump Trailer with Heavy Haulers is Easy! Find Out For Yourself!
Heavy Haulers works with many different industries to help move large amounts of loose cargo in a belly dump trailer. Everything from agricultural services to construction and contractors uses belly dump trailers, and the crew at Heavy Haulers are one of the most reputable shipping services in North America. We use well-working trailers and certified bonded rivers to move your loose cargo from one location to the next, allowing you to stay on target with your job's timeline.
Belly dump trailers average 24 cubic yards of hauling capacity and have an open top for fast loading. To unload, the trailer is equipped with a hydraulic gate at the bottom, dumping the full trailer fast or to spread large amounts of loose materials, such as gravel or fill dirt, gradually over a particular area. They're most commonly used to haul heavy use of loose materials. This can be useful for mining and excavation industries, to move large loads of dirt and sludge fast, or agricultural businesses, loading up large loads of dross and moving it out of the way. Even gravel and lose rocks can be easily removed using a belly dump trailer.
Contact Our Expert Shipping Specialists


(800) 908-6206
Belly Dump Transport Services Provided in All 50 States, Canada, and Mexico!
Choosing Heavy Haulers to help you move your larger loose cargo in our belly dump trailers can save you money for having to purchase your equipment. The team at Heavy Haulers has the professional expertise to determine the correctly rated belly dump trailer to move your items, working according to your specifications for pick-up and delivery. Our licensed, bonded drivers arrive where you need them, when you need them, working with your crew to complete your project on your timeline.
Our expert logisticians will plan the route that your belly dump shipment travels, taking into account government regulations, handling weighs station paperwork and ensuring that you don't have to worry about timely delivery. We offer a FREE, no-obligation quote. Give us a call today at (800) 908-6206 to get started!
Belly Dump Trailers Offer Hauling Versatility
There are so many things you can use your belly dump, or bottom dump, trailer to move that you may wonder how you ever got along without it. Whether you have a massive amount of gravel, sand, construction debris, or other payload, your belly dump trailer is your most reliable piece of equipment. But what do you do when your belly dump trailer is what you need to transport? Heavy Haulers is your number one choice when it comes to moving the big equipment that others aren't prepared to handle. When you trust us, your belly dump trailer is practically there, wherever you need it.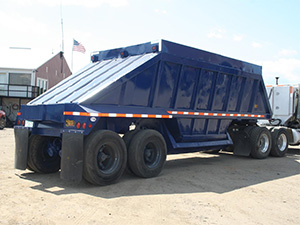 Heavy Haulers Provides Belly Dump Trailer Transport Services in All 50 States!
When its time to move your belly dump trailer, there's no need to worry. Heavy Haulers offers belly dump trailer shipping to every state in the nation. And, since moving heavy equipment is our specialty, we know the dimensional allowances for each state. That means that there will be no unwanted surprises during transport. You will be in continual contact with the transport team, so you always know how the trip is going. Wherever you want to move your trailer to, our professional staff, years of experience, and affordable rates will make the transport so much easier.


Common Trailer Types Available from Heavy Haulers
Heavy Haulers specializes in hauling heavy loads such as construction equipment, oil field rigging and Super Loads. We are wideload experts! We offer an extensive range of trailer choices, including:
Max Weight: 48,000 lbs. | Max Length 53 ft. | Max Width 8.5 ft. | Max Height 11 ft.




Max Weight: 45,000 lbs. | Max Length 29 ft. | Max Width 8.5 ft. | Max Height 11.5 ft.
Max Weight: 150,000+ lbs. | Main Deck Length 29 ft. | Well Width 8.5 ft. | Legal Height Limit 11.6 ft.




Max Weight: 48,000 lbs. | Max Length 53 ft. | Max Width 8.5 ft. | Max Height 8.5 ft.
We transport many brands of trailers across the country and North America
Trust Heavy Haulers to transport any brand of trailer you own. We are experienced in handling all types of brands and manufacturers, we have hands-on experience shipping all trailer manufacturers there is on the road! Some of the trailer brands we commonly ship include: