We offer Cargo Shipping Using Live Bottom Trailers in All 50 States, Canada, and Mexico!
Live bottom trailers can be used for a variety of industries, from construction to agriculture. Moving loose, unpacked cargo such as rocks, gravel, or even potatoes is efficient with the live bottom transport from Heavy Haulers. Live bottom trailers are used in place of a dump trailer or an end dump trailer. These piece of equipment have a conveyor belt that pushes the cargo out at a measured pace. This is especially useful when you need to spread your cargo over a wider area, versus dumping in a pile.
Contracting cargo shipping services from Heavy Haulers includes using our professionally rated live bottom trailers, kept in working order to smoothly unload your cargo where you need it when you need it. These trailers have a lower center of gravity than regular dump trailers, making them ride smoother, especially in and out of rough areas.
Contact Our Expert Shipping Specialists


(800) 908-6206
Live Bottom Shipping with Heavy Haulers is Easy! Find Out For Yourself!
Booking your cargo chipping services with Heavy Haulers is simple. Start with a phone call to one of our professional route planners, including the amount of product you need to be transported, the weight, and the destination. We'll contract with one of our licensed, bonded drivers to provide door-to-door delivery of your cargo on time and on your schedule. We'll handle the weigh station forms for you, as wells customs paperwork – we can ship across North America, including Canada and Mexico.
Heavy Haulers gives you a code to track your cargo in real time. We understand that for many industries, shipping cargo quickly keeps you on the timeline for completion of your jobs. Give Heavy Haulers a call today at (800) 908-6206 for a FREE no-obligation quote.
What You Should Know Before Shipping a Live Bottom Trailer
A live bottom trailer is the perfect option for hauling any loose materials, like gravel, sand, grain, asphalt, and others. It is often the preferred alternative to the standard dump truck because of the way the load is dispersed. Typically, there is a conveyor belt, operated by a hydraulic system on the trailer tub bottom. This pushes the shipment out the back, at a pace that you control, meaning that the tub doesn't have to be lifted to be unloaded. Trailer roll over is basically eliminated, increasing overall operator safety. Before you get ready to move a live bottom trailer, you need to know its basic dimensions.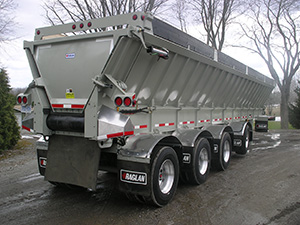 Heavy Haulers Provides Live Bottom Trailer Transport in All 50 States
When you need to haul a live bottom trailer, you need the expertise of the leaders in the trailer shipping industry. With Heavy Haulers in charge of moving a live bottom trailer, you can relax and let the experts take care of the details. We are skilled specifically in the shipment of live bottom trailers, and we know how to handle any size or type of live bottom trailer. We will provide any permits and escorts required to ship your live bottom trailer, no matter where in the U.S. you need it. And you will be in continual contact with your transport crew the entire way. We have the experience needed to properly prep, load, and haul your live bottom trailer across the state or across the nation.


Common Trailer Types Available from Heavy Haulers
Heavy Haulers specializes in hauling heavy loads such as construction equipment, oil field rigging and Super Loads. We are wideload experts! We offer an extensive range of trailer choices, including:
Max Weight: 48,000 lbs. | Max Length 53 ft. | Max Width 8.5 ft. | Max Height 11 ft.




Max Weight: 45,000 lbs. | Max Length 29 ft. | Max Width 8.5 ft. | Max Height 11.5 ft.
Max Weight: 150,000+ lbs. | Main Deck Length 29 ft. | Well Width 8.5 ft. | Legal Height Limit 11.6 ft.




Max Weight: 48,000 lbs. | Max Length 53 ft. | Max Width 8.5 ft. | Max Height 8.5 ft.
We transport many brands of trailers across the country and North America
Trust Heavy Haulers to transport any brand of trailer you own. We are experienced in handling all types of brands and manufacturers, we have hands-on experience shipping all trailer manufacturers there is on the road! Some of the trailer brands we commonly ship include:







11423605

MILES TRAVELED






1214292

LOADS SHIPPED







1315658103

TONS TRANSPORTED






921637

CLIENTS SATISFIED