Using Heavy Haulers to Ship Cargo in a Hopper Bottom Trailer is Easy!
When it's time to move a large amount of loose cargo, trust the experts at Heavy Haulers. We work with you to ship your cargo in our Hopper Bottom trailers, whether it's across town – or across North America. Hopper bottom trailers are used mainly for agricultural needs, usually hauling loose grain. Hopper trailers feature a loose tarp on top for easy loading and a dump feature allowing the cargo to be quickly unloaded. When it's harvest time, or when you need to ship your grain from storage to a processing facility, count on the team at Heavy Haulers to move your grain or other cargo.
Contact Our Expert Shipping Specialists


(800) 908-6206
Learn To Ship Cargo in a Hopper Trailer
When you choose Heavy Haulers to ship your cargo, you receive door-to-door service, including use of our top-of-the-line trailers. Simply load your cargo into the Heavy Haulers trailer, and then, once it's full, our licensed, bonded drivers will transport your cargo to its destination. Starting your shipment is as simple as a phone call to one of our professional route planers. They will determine the right driver for your cargo and plan a fast delivery, including arranging to permit and weigh station paperwork. For shipments that need to cross borders, we can complete customs paperwork, as well. When you're ready to get started, give us a call today at (800) 908-6206 for a FREE, no-obligation quote.
What You Should Know Before You Transport a Hopper Bottom Trailer
It's a smart idea to acquaint yourself with a few basic facts before you ship your hopper bottom trailer. The dimensions are essential to planning an accurate route for shipping your hopper bottom trailer properly. In addition, knowledge of the state limits for shipping is crucial information to understand, as is obtaining all the necessary permits for the transport. It can be a bit overwhelming to try to do it all yourself. That's why you need the help of the hopper bottom trailer shipping specialists at Heavy Haulers. We know the dimensional allowances for every state, so you don't have to worry about keeping your transport legal. We will provide any necessary permits and escorts that are needed to move your hopper bottom trailer.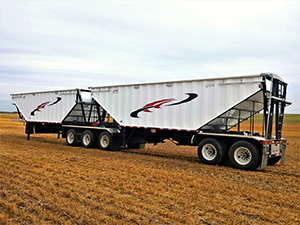 Heavy Haulers Transports Hopper Bottom Trailers in All 50 States!
No matter where in this entire country you need a hopper bottom trailer shipped, Heavy Haulers has got you covered! We provide the best in trailer transport services for you, wherever you are. No trailer transport provider knows as much about hauling hopper bottom trailers as we do. We understand the different shipping allowances in every state and can easily manage the needs of your trailer transport through any state. Let our years of experience work for you when it's time to move your hopper bottom trailer, regardless of how far it needs to travel.


Common Trailer Types Available from Heavy Haulers
Heavy Haulers specializes in hauling heavy loads such as construction equipment, oil field rigging and Super Loads. We are wideload experts! We offer an extensive range of trailer choices, including:
Max Weight: 48,000 lbs. | Max Length 53 ft. | Max Width 8.5 ft. | Max Height 11 ft.




Max Weight: 45,000 lbs. | Max Length 29 ft. | Max Width 8.5 ft. | Max Height 11.5 ft.
Max Weight: 150,000+ lbs. | Main Deck Length 29 ft. | Well Width 8.5 ft. | Legal Height Limit 11.6 ft.




Max Weight: 48,000 lbs. | Max Length 53 ft. | Max Width 8.5 ft. | Max Height 8.5 ft.







11423605

MILES TRAVELED






1214292

LOADS SHIPPED







1315658103

TONS TRANSPORTED






921637

CLIENTS SATISFIED