Moving Your Heavy Machinery on A Tri Axle Trailer
Shipping heavy equipment on a tri-axle trailer offers a versatile experience and allows shipments to be loaded from any side. When equipment won't fit into standard enclosed trailers, the tri-axle trailer will properly secure these items. When shipping large pieces of heavy equipment, a few extra thousand pounds can make an oversize load which means there will be oversize load fees. Tri-axle trailers offer wide axle spreads and extra weight capability.
Shipping heavy equipment on a tri axle trailer takes specific skills. We perform shipping evaluations to determine what your cargo should be safely transported on. Once we figure this out, we decide which route is best. Before we ship the cargo, we will discuss the price with you and offer a free estimate upfront. We provide you will all of the information so we can make the best decisions when it comes to your cargo. Call now for a free shipping estimate! (800) 908-6206
Contact Our Expert Shipping Specialist's
(800) 908-6206
Domestic and International Tri Axle Trailer Transport
We ship heavy machinery and equipment between all 50 states including Alaska, Hawaii, Canada, and Mexico. Heavy Haulers have the licenses and permits to avoid any trouble with the transportation industry since cities and states have different rules and regulations that need to be followed.
A tri axle trailer refers to the number of driving axles the vehicle possesses. Dump trucks, tow trucks, and other trucks that specialize in transporting, hauling, and shipping heavy equipment use a tri axle design. Tri-axle trailer transport can ship the heaviest pieces of equipment for a cost-effective price. It's one of the most common types of transportation methods for oversize loads and Heavy Haulers will get your cargo where it needs to be safely and on time.
Types of Heavy Equipment Transported on a Tri Axle Trailer
• Dump Trucks
• Boom Lifts
• Forestry Equipment
• Motor Graders
• Power Generators
• Water Tanks

• Lumber
• Rock Trucks
• Buses
• Gas Plant Equipment
• Scissor Lifts
• Cranes
How to Ship a Tri Axle Trailer with Heavy Haulers
We are large machinery equipment transport specialists who move dump trucks and other excavation rigs of all sizes across the U.S, Canada, and Mexico. Whether you want to transport one vehicle or an entire fleet, we can plan your route carefully. Shipping a tri axle trailer will entail a full-size truck to pull it and we will provide a driver with a bobtail rig to assist you with transporting your trailer. If you're in need of a driver and a full trailer system, we can provide that for you as well.
When you use Heavy Haulers' services, we will update you every step of the way and you can also use the unique tracking code to see the status of your tri axle trailer. We also take care of the paperwork for weigh stations and loading and unloading. To get the transportation of your tri axle trailer started, a quick phone call with us will start the process.
Looking For Transport
With a Specific Trailer?

Max Weight: 150,000+ lbs. | Main Deck Length 29 ft.
| Well Width 8.5 ft. | Legal Height Limit 11.6 ft.

Max Weight: 48,000 lbs. | Max Length 53 ft.
| Max Width 8.5 ft. | Max Height 8.5 ft.
Max Weight: 48,000 lbs. Max Length 53 ft. |
Max Width 8.5 ft. | Max Height 11 ft.
Max Weight: 45,000 lbs. | Max Length 29 ft.
| Max Width 8.5 ft. | Max Height 11.5 ft.
HEAVYHAULERS.COM
START YOUR SHIPMENT TODAY!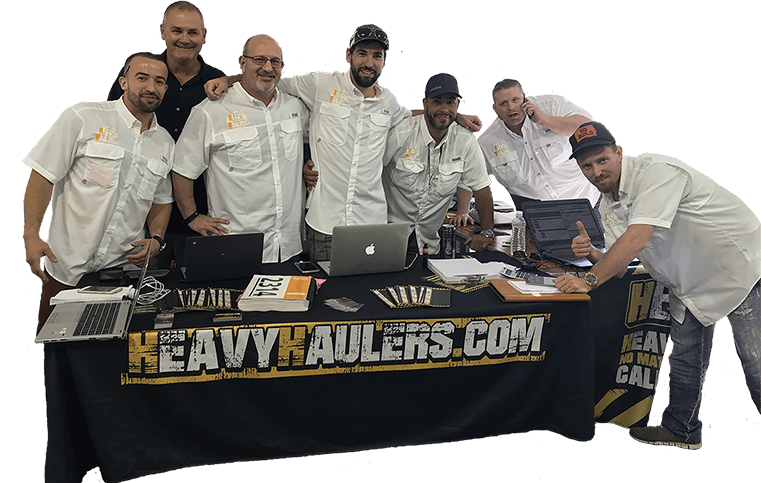 We Are Ready To Help You Haul Your Equipment!
We transport many brands of trailers across the country and North America
Trust Heavy Haulers to transport any brand of trailer you own. We are experienced in handling all types of brands and manufacturers, we have hands-on experience shipping all trailer manufacturers there is on the road! Some of the trailer brands we commonly ship include:
See what you need?
Call us for a FREE Shipping Estimate at (800) 908-6206