Using Heavy Haulers Curtain Top Trailer Services is Easy! Find Out For Yourself!
Heavy Haulers has a variety of flatbed shipping options for your cargo. Many flatbed loads require tarping for protection from the elements as well as security. Any driver who regularly manhandles tarps can tell you about heaving a 65 to 100-pound canvas cover over a load, adjusting its position, tucking in corners, and tying it all down neatly with straps and bungees. This painstaking, arduous process adds at least an hour to the driver's schedule at every pick-up. In bad weather, it can be hazardous work as well.
Your cargo may ship better using a structured curtain trailer, and the team at Heavy Haulers uses ones that are in great condition to protect your goods. Our licensed, bonded drivers have strong rigs and curtain trailers that combine the advantages of a flatbed with the covering and containment benefits of an enclosed trailer. These can be used for many different industries, and one fo the main benefits of these types of shipments is speedy loading and unloading. When your shipment requires fast delivery time and quick, efficient unloading, then Curtain Trailer shipping services for Heavy Haulers is for you.
Contact Our Expert Shipping Specialists


(800) 908-6206
Your Curtain Trailer Delivery Experience Starts Today!
Whether you're shipping paletted loads, crated goods, or even oddly shaped items, Heavy Haulers is the best choice for your curtain trailer shipping needs. You'll start with a call to one of our professional route planners. They'll determine the best way for your shipment to travel, using a licensed, bonded Heavy Haulers driver and a curtain trailer in great condition. We provide door-to-door service, picking your goods up from one location and delivering them on your timeline, wherever you need them to go. You'll even get a code in real-time to allow you to track your shipment. And don't worry about customs or weigh station paperwork – we can handle those, as well. Ready to get started? Give us a call today at (800) 908-6206 for a custom quote!
Curtain Van Trailer Shipping in All 50 States, Canada, and Mexico!
The specific process for moving a curtain van trailer depends largely on a few facts regarding dimensional measurements. It can be easy to overlook the height of a shipment when getting ready for transport, but it will come in very handy when it comes to planning the route and getting all the permits and escorts ready to travel. Each state develops its own transport allowances, and they can be very different. For your trailer shipment, especially if you must travel through more than one state, you will need to make certain that you are within the legal limits or provide the necessary provisions for shipping in every state. Heavy Haulers can make your curtain van trailer transport run safely and efficiently, whether you travel through one state or ten. We know the shipping laws of every state and can provide all permits and escorts that will be needed for the trip, so you can save yourself the hassle. Our professionals know how to move a curtain van trailer and are ready to transport one whenever you need us.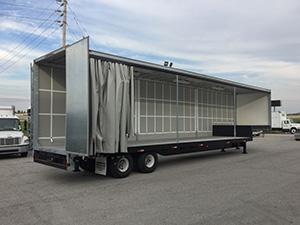 Heavy Haulers Transports Curtain Van Trailers in All 50 States!
Regardless of whether you need your curtain van trailer shipped across the state or across the country, Heavy Haulers can get it there safely and efficiently. We offer premium curtain van shipping services at affordable prices. So, the next time you find a great deal on curtain van trailers at an online auction, you know who to contact to get it where you need it. Heavy Haulers is the nation's top choice for trailer shipping for a lot of good reasons, but our attention to detail, excellent service, and affordable rates keep them coming back.


Common Trailer Types Available from Heavy Haulers
Heavy Haulers specializes in hauling heavy loads such as construction equipment, oil field rigging and Super Loads. We are wideload experts! We offer an extensive range of trailer choices, including:
Max Weight: 48,000 lbs. | Max Length 53 ft. | Max Width 8.5 ft. | Max Height 11 ft.




Max Weight: 45,000 lbs. | Max Length 29 ft. | Max Width 8.5 ft. | Max Height 11.5 ft.
Max Weight: 150,000+ lbs. | Main Deck Length 29 ft. | Well Width 8.5 ft. | Legal Height Limit 11.6 ft.




Max Weight: 48,000 lbs. | Max Length 53 ft. | Max Width 8.5 ft. | Max Height 8.5 ft.
We transport many brands of trailers across the country and North America
Trust Heavy Haulers to transport any brand of trailer you own. We are experienced in handling all types of brands and manufacturers, we have hands-on experience shipping all trailer manufacturers there is on the road! Some of the trailer brands we commonly ship include: