Shipping Cargo in a Double Flatbed Trailer with Heavy Haulers is Easy! Find Out For Yourself! Call (800) 908-6206
Double flatbed trailers are used for oversized cargo, heavier, outsized loads that require special shipping services. Using a regular transport service for loads that require extra trailers can be tricky – the extra trailer makes driving the load tricky and requires drivers that are trained professionally to safely handle the vehicles and ensure your cargo arrives on time, safely. The team at Heavy Haulers has the experience and expertise to help move oversized cargo, such as multiple containers, large or longer equipment, and oversized cargo such as pipes, logs, or even turbine blades.
Double flatbed trailers can maneuver in enclosed spaces, making them useful for a variety of industries from excavation to pipeline construction, manufacturing, and agricultural or logging. The drivers at Heavy Haulers can deliver into a rough country or busy urban areas.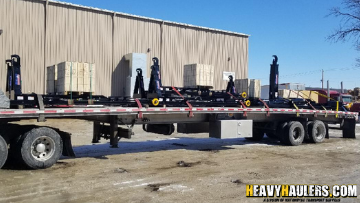 Contact Our Expert Shipping Specialists


(800) 908-6206
Double Flatbed Cargo Shipping in All 50 States, Canada, and Mexico!
For clients with outsized cargo, the best option may be a double flatbed trailer. Heavy Haulers works with you to determine the best route for your cargo, including ensuring that it passes through low clearance zones. Our logistics experts can plan your route to deliver door-to-door service on time, every time.
The bonded, certified drivers at Heavy Haulers understand how to safely negotiate your load, from rural roads to tight city streets. We also handle our of the weigh station paperwork, including customer,s permits, and even wide load or escort convoys where required. When you're ready to get started, call us today for A FREE, no-obligation quote at (800) 908-6206.
What to Know About Transporting Maxi or Double Flatbed Trailers
A double flatbed trailer is simply made of two flatbed trailers that are connected. Double flatbeds are versatile for shipping a variety of types of bulk freight and provide easier loading and unloading. They are also easier to maneuver in enclosed or restricted spaces, making them a prime choice for many different businesses. Being aware of the structure and dimensions of your trailer will help the professional trailer shipping team prepare your shipment correctly, so they can provide all the permits and escorts you will need for the maxi trailer transport. It will also help them plan the most efficient route for moving a double flat trailer.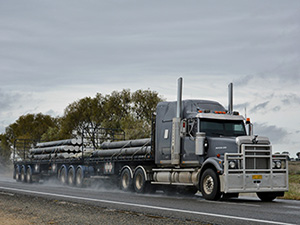 Heavy Haulers Offers Maxi and Double Flatbed Trailer Shipping in All 50 States
When it comes to shipping maxi trailers, no one knows than Heavy Haulers. From preparing double flatbed trailer for shipping to getting it where you need it on schedule, we are the country's number one choice. We will provide all necessary permits and escorts, so you don't have to bother. Plus, with Heavy Haulers in charge, you will have continual contact with your trailer transport vehicle. We have the experience and knowledge needed to move a double flat trailer anywhere in the United States, and our attention to safety precautions means your trailer will receive the best care possible while it is in our hands.


Common Trailer Types Available from Heavy Haulers
Heavy Haulers specializes in hauling heavy loads such as construction equipment, oil field rigging and Super Loads. We are wideload experts! We offer an extensive range of trailer choices, including:
Max Weight: 48,000 lbs. | Max Length 53 ft. | Max Width 8.5 ft. | Max Height 11 ft.




Max Weight: 45,000 lbs. | Max Length 29 ft. | Max Width 8.5 ft. | Max Height 11.5 ft.
Max Weight: 150,000+ lbs. | Main Deck Length 29 ft. | Well Width 8.5 ft. | Legal Height Limit 11.6 ft.




Max Weight: 48,000 lbs. | Max Length 53 ft. | Max Width 8.5 ft. | Max Height 8.5 ft.
We transport many brands of trailers across the country and North America
Trust Heavy Haulers to transport any brand of trailer you own. We are experienced in handling all types of brands and manufacturers, we have hands-on experience shipping all trailer manufacturers there is on the road! Some of the trailer brands we commonly ship include: