Heavy Haulers Transports Water Tank Trailers
Heavy Haulers transports your water tank or water tank trailer across town, from one job site to the next, or across North America. Water tanks are heavy, and unlike some other heavy machinery and equipment that Heavy Haulers ships, can't be disassembled for easier shipment. Instead, water tanks are loaded onto properly rated trailers, strapped down to avoid shifting in transit, and carefully routed to their destination. Lower overpasses, narrow tunnels, or tight city streets are all taken into account when determining how to best ship your water tank or trailer.
Water tanks are large storage containers for holding water. This can be for cities in case of an emergency drought or other applications such as irrigation, supplementing water supplies in undeveloped areas or construction or for watering livestock. Water tanks can also be used for food preparation and chemical applications. With such a diverse array of industries that use this equipment, transporting water tanks means moving heavy loads just about everywhere from Alaska and Canada, across the U.S., and to Mexico.
The expert logisticians at Heavy Haulers can determine the fastest way to ship your water tank or just the trailer. If you choose to ship one or more water tanks, we can haul them using our trailers and rigs. Or, you may simply need the trailer for the water tank moved from one location to another. Heavy Haulers can handle those loads, too. Our trained drivers can navigate through construction zones, tight city streets, and safely along the country's interstates. Discover the difference a professional heavy shipping company makes. Give us a call at (800) 908-6206 for a FREE, no-obligation quote.
Contact Our Expert Shipping Specialist's
(800) 908-6206
Water Tank Trailers Heavy Haulers Ships
Our drivers have plenty of experience shipping all types of water tanks and trailers. Here are examples of some of the trailers we've shipped:
● 1949 BUTLER 7000 All Steel Wheels; Tandem Axle; Steel Composition
● 1900 CERTIFIED EQUIPMENT MFG
● 1991 ADVANCE TRIDEM ALUMINUM W/10' REAR DECK 2 Compartments; Aluminum Composition
● 1987 ADVANCE TANDEM ALUMINUM W/10' REAR DECK 2 Compartments; Aluminum Composition
● 1993 FRUEHAUF 9200 DC Aluminum Composition; Fixed Tandem Axle
● 1985 HEIL 9200 GALLON
Shipping Your Water Tank Trailer with Heavy Haulers
Door-to-door shipment form Heavy Haulers can include every type of water tanks and their trailers. The water tanks that Heavy Haulers ships include:
Flat Bottomed Utility Tanks:
The Flat Bottom Utility tank can be used for many applications. It is the perfect choice when looking for a tank to put in the bed of a pickup truck.
Horizontal Leg Tanks:
Horizontal Leg Tanks are used primarily for transport and nursing applications, horizontal leg tanks feature molded-in legs that act as "baffles" to reduce sloshing.
Elliptical Leg Tanks:
Elliptical Leg Tanks are designed to provide the greatest capacity with the lowest center of gravity, making it the best design available for transporting larger volumes.
Low Profile Water Hauling Tanks:
The low profile design of this water hauling tank makes it ideal for use on trailers or in the back of a truck. The slosh reduction ribs provide excellent structural support. It can also be used as a stationary water storage tank.
Pick-up Truck Tanks:
Pickup Truck Tanks are designed to fit full-size and mid-size pickups. Pickup Truck Tanks are available in 210 Gallons, 325 Gallons, and 425 Gallons.
PCO Tanks:
The PCO is well suited for nursery, agricultural and lawn care applications. These tanks feature self-supporting legs and do not require any saddles or steel supports.
Spot Strayers:
Norwesco Spot Sprayers feature threaded inserts on the bottom of the tank for mounting purposes, on one side for wand placement and on the top for a 12-volt pump.
Each of these types of tanks needs to be shipped in different ways, from loading in the back of a heavy-duty construction pick-up truck to a multi-axle flatbed trailer pulled by a semi-truck.
How To Ship a Water Tank Trailer
Begin with a phone call to one of our logistics experts. We'll plan the journey that our trailer or cargo will take, taking into account the weight of the trailer and gathering all weigh station and customs paperwork. We promise door-to-door delivery, from warehouse or plant to distributors or grocery stores. Experience the best in heavy transportation. When you're ready to get started, simply give us a call at (800) 908-6206 for your FREE custom estimate!
See what you need?
Call us for a FREE Shipping Estimate at (800) 908-6206
Looking For Transport
With a Specific Trailer?

Max Weight: 150,000+ lbs. | Main Deck Length 29 ft.
| Well Width 8.5 ft. | Legal Height Limit 11.6 ft.

Max Weight: 48,000 lbs. | Max Length 53 ft.
| Max Width 8.5 ft. | Max Height 8.5 ft.
Max Weight: 48,000 lbs. Max Length 53 ft. |
Max Width 8.5 ft. | Max Height 11 ft.
Max Weight: 45,000 lbs. | Max Length 29 ft.
| Max Width 8.5 ft. | Max Height 11.5 ft.
HEAVYHAULERS.COM
START YOUR SHIPMENT TODAY!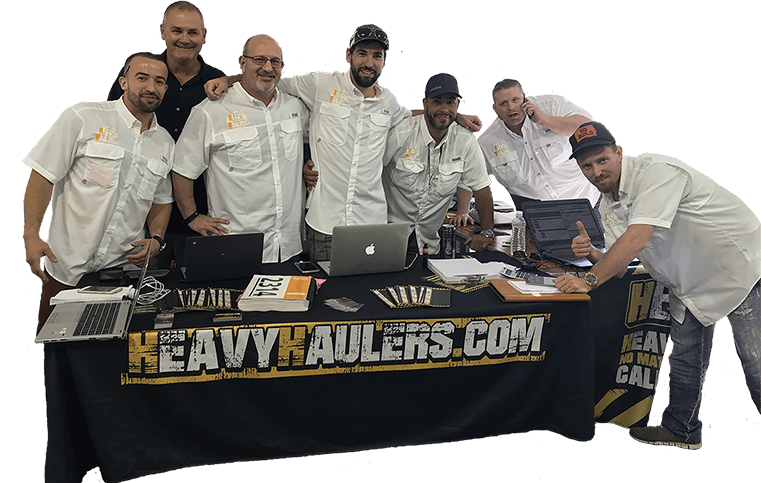 We Are Ready To Help You Haul Your Equipment!
Common Equipment Heavy Haulers Transports
Trust Heavy Haulers to transport any brand of equipment you own. Most of our drivers are experienced heavy-machinery operators who can safely maneuver your loads aboard our trailers. Some of the brands we have shipped include:
See what you need?
Call us for a FREE Shipping Estimate at (800) 908-6206