Beam Trailer Shipping with Heavy Haulers is Easy! Find Out For Yourself!
Beam trailers are a flexible shipping trailer that many different industries use. Extremely heavy loads, those in excess of 20,000 pounds, as well as large items such as pipe pieces, I-beams, or turbine blades. These extra-tall, very heavy items require a trailer that is very low to the ground allowing the load to be in full compliance with government regulations. In these cases, a beam trailer is a popular option for getting as low to the ground as possible is a 4-ft.-wide beam deck.
Heavy Haulers uses beam trailers to reduce the gross weight of your cargo, as well. Since it is only a pair of beams you don't have the sides, you don't have the wood, flooring, you don't have a lot of things adding weight to your combination. These trailers are used for oversized items tat don necessarily need the extra structure or protection of a traditional trailer.
Contact Our Expert Shipping Specialists


(800) 908-6206
Learn About Your Beam Trailer Shipping Services from Heavy Haulers
Construction and contracting companies use Heavy Haulers to move their outsized items from one place to the next. The team at Heavy Haulers uses rigs with the proper amount of power and the right-sized beam trailer to move your larger items. Our route planners will determine the weight and dimensions of your load and choose a trailer with the correct number of axels to carry it. We work with you to determine the best route for your shipment to travel, taking into account low clearance areas, bridges, and local and state regulations for weights. Your route planner will also handle the paperwork for your shipment, including weigh station and customs paperwork, and an escort or wide load permit where needed, taking the task off your plate. When you're ready to get started, give us a call for a FREE, no-obligation quote at (800) 908-6206 today!
What You Should Know About Shipping Beam Trailers in All 50 States, Canada, and Mexico!
Your beam trailer is essential to your way of life, so when you need to move it, you want to make sure it is done right. Knowing a few things about your beam trailer will help the professionals plan the most efficient route for your needs. It is important to have correct measurements, including height, before you ship your trailer. Each state creates its own laws governing shipping allowances and height is a crucial issue. The beam trailer shipping experts at Heavy Haulers will make certain that your beam trailer has been properly prepped and loaded before the move begins. We will make certain you have all permits and escorts that are necessary, so your trailer transport can go smoothly.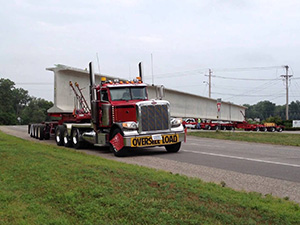 Heavy Haulers Provides Beam Trailer Shipping to All 50 States!
Whether you need your beam trailer shipped 10 miles or across 10 states, you deserve a team of trailer transport specialists handling your move. Heavy Haulers ships beam trailers in every state in the country, so we can get you all the way to your destination, no matter the distance, safely and efficiently. Save yourself the hassle of shipping a beam trailer and let the professional trailer shipping specialists at Heavy Haulers take care of it for you.


Common Trailer Types Available from Heavy Haulers
Heavy Haulers specializes in hauling heavy loads such as construction equipment, oil field rigging and Super Loads. We are wideload experts! We offer an extensive range of trailer choices, including:
Max Weight: 48,000 lbs. | Max Length 53 ft. | Max Width 8.5 ft. | Max Height 11 ft.




Max Weight: 45,000 lbs. | Max Length 29 ft. | Max Width 8.5 ft. | Max Height 11.5 ft.
Max Weight: 150,000+ lbs. | Main Deck Length 29 ft. | Well Width 8.5 ft. | Legal Height Limit 11.6 ft.




Max Weight: 48,000 lbs. | Max Length 53 ft. | Max Width 8.5 ft. | Max Height 8.5 ft.
We transport many brands of trailers across the country and North America
Trust Heavy Haulers to transport any brand of trailer you own. We are experienced in handling all types of brands and manufacturers, we have hands-on experience shipping all trailer manufacturers there is on the road! Some of the trailer brands we commonly ship include: