Military Truck Shipping Provided By Heavy Haulers Across All of North America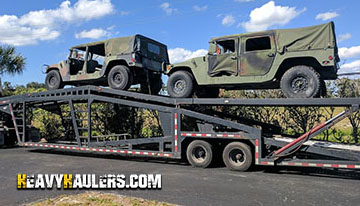 Two 1990 AM General in Transport
Heavy Haulers are the choice movers for military trucks that are used by the US armed forces. We have the transport and dispatching capabilities, with specialist military truck movers that have haulage industry experience of over a decade. Our fleet carriers have the capabilities to accommodate trucks use as a command post, support Trucks, field ambulances and heavy artillery carriers by the US military.
The capability for military utility Truck loads shipping is due to our use of conventional and specialized trailer trucks. The Heavy Haulers price to ship index is one of the most competitive in the country to complete military truck transport within time or cost safely. Military troop and weapon carrier trucks are often also demilitarized and sold to civilian individuals and corporations at army surplus stores.
See what you need?
Call us for a FREE Shipping Estimate at (800) 908-6206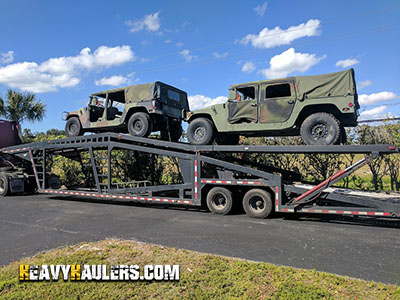 Military Trucks that are shipped by Heavy Haulers:
Designed for heavy military supplies, troop and fuel transport, military trucks can either be gasoline or diesel engine powered. Delivering support for the army or marines, military trucks are well adapted to any manner of the road or the lack thereof. Trucks in the military consist mainly of a cab tractor with a chassis that supports load placement trailers.
Heavy Haulers moves the trucks that carry military tanks and smaller Trucks or ordinances. These Tactical and heavy extended mobility systems are an integral part of the modern US armed forces iron-fisted battle horses. Military trucks come in various sizes and applications; usually with four, six, ten or twelve wheels of heavy-duty metal jacket combat Truck that include;
Common Types of Military Trucks We Transport
● Medium Tactical Vehicle Replacement
● Heavy Expanded Mobility Tactical Truck
● LARC-V Truck
● Palletized Load System
● Commercial Utility Cargo Vehicle
● M 1070 Heavy Equipment Transport
● High-Mobility Multipurpose Wheeled
● M 35 2½ Ton Cargo Truck
● R 11 Refueler Truck
● RG 31 MRAP Truck
● M 939 Truck
● M 970 Truck
● Heavy Expanded Mobility Tactical Truck
● Buffalo Mine-Protected Route Clearance Vehicle
● M 142 High Mobility Artillery Rocket System (Truck)
Haul Military Trucks Safely on a Heavy Haulers Carrier:
We have shipped military truck consignments all over the US, Canada, and Mexico. Heavy Haulers are on call right now at (800) 908-6206. Escort pilots and recovery options are available for the safe conveyance of your military truck during demanding stretches of the roadway or the night. Call our services logisticians who will provide all the aspects of your military truck transport within an affordable budget.
More Military Truck Transports by Heavy Haulers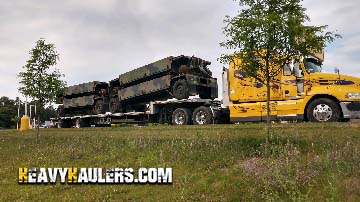 Transporting a 2000 DRS M989A1 HEMAT
Heavy Haulers recently transported these HEMAT Trailers for one of our new clients. Unfortunately, a different company left this customer stranded and in the trenches. Our Heavy Haulers specialist, Jason, was able to secure a solid driver within the hour of taking the order. If a competitor leaves you high and dry you need to call the leaders in the industry ...we never leave a team member behind!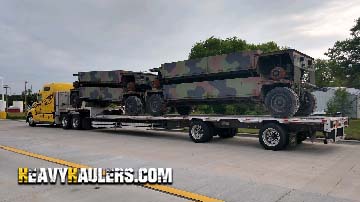 Shipping a 2000 DRS M989A1 HEMAT on a step deck trailer
Heavy Haulers recently transported these 2000 DRS M989A1 HEMAT Trailers for a very special group of men and women. Jason scheduled to have all four of these trailers loaded and delivered within 48-hours! These HEMAT Trailers were picked up in Sparta, WI and delivered to an undisclosed location in NY. If you need your trailers hauled, whether military or not, anywhere in the United States, Canada or Mexico call Jason at Heavy Haulers for your quick quote and to experience our A+ rating on BBB for yourself.
Common Trailer Types Available from Heavy Haulers
Heavy Haulers specializes in hauling heavy loads such as construction equipment, oil field rigging and Super Loads. We are wideload experts! We offer an extensive range of trailer choices, including:
Max Weight: 48,000 lbs. | Max Length 53 ft. | Max Width 8.5 ft. | Max Height 11 ft.




Max Weight: 45,000 lbs. | Max Length 29 ft. | Max Width 8.5 ft. | Max Height 11.5 ft.
Max Weight: 150,000+ lbs. | Main Deck Length 29 ft. | Well Width 8.5 ft. | Legal Height Limit 11.6 ft.




Max Weight: 48,000 lbs. | Max Length 53 ft. | Max Width 8.5 ft. | Max Height 8.5 ft.
HEAVYHAULERS.COM
START YOUR SHIPMENT TODAY!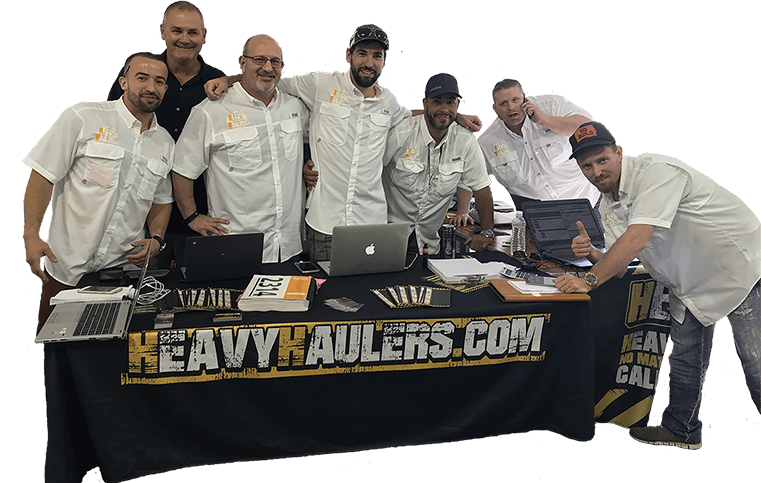 We Are Ready To Help You Haul Your Equipment!
Heavy Haulers Ships Across All 50 States
Alabama - Alaska - Arizona - Arkansas - California - Colorado - Connecticut - Delaware - Florida - Georgia - Hawaii - Idaho - Illinois - Indiana - Iowa - Kansas - Kentucky - Louisiana - Maine - Maryland - Massachusetts - Michigan - Minnesota - Mississippi - Missouri - Montana - Nebraska - Nevada - New Hampshire - New Jersey - New Mexico - New York - North Carolina - North Dakota - Ohio - Oklahoma - Oregon - Pennsylvania - Rhode Island - South Carolina - South Dakota - Tennessee - Texas - Utah - Vermont - Virginia - Washington - West Virginia - Wisconsin - Wyoming
We transport many brands of Trucks across the country and North America
Trust Heavy Haulers to transport any brand of truck you own. We are experienced in handling all types of brands and manufacturers, we have hands-on experience shipping all truck manufacturers there is on the road! Some of the truck brands we commonly ship include:
See what you need?
Call us for a FREE Shipping Estimate at (800) 908-6206