Piggyback Truck Transport Explained
Truck Piggybacking is safe and legal. Our Heavy Haulers piggyback trucking crews are the most experienced in the industry. We strive to provide the best shipping solutions to fit your needs. A common shipping solution to moving many trucks at once is piggyback trucking. Named for the nostalgic childhood action, this mode of transport is used more than you might think.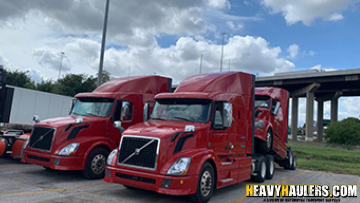 Piggybacking Truck Transport
Piggybacking trucks is cost-effective and resource-saving method of heavy truck transportation. Heavy Haulers has years of experience deploying this form of shipping. One of the great things about truck piggybacking is that a single driver and team can handle it. Once the trucks are secured, piggyback style, the driver or team will be on their way.
As with all forms of transport, piggybacking trucks has restrictions. Based on the length and weight, no more than four trucks can be piggybacked at one time. This applies to the U.S., Canada, and Mexico. The crew mounts the trucks, with or without their front wheels, onto the back of the first rig. Fifth wheel, combination or frame saddles can be used to give grip to the mounted truck's front wheels.
Everything You Need to Know About Piggybacking Trucks
Heavy Haulers has over a decade of experience when it comes to piggybacking trucks. Our dedicated specialists have expanded from local and domestic transport to shipping overseas. We pride ourselves on finding the best shipping solutions to fit your needs. That includes utilizing truck piggybacking when you need it.
Our logistics team will also handle route planning, scheduling, and permits. We take care of each detail so you can have a confident and quality truck piggybacking transport. As the experts in heavy haul, we provide the best solutions for your shipping needs. Call now and let's get started! (800) 908-6206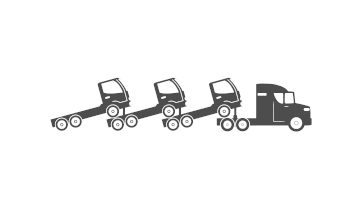 Here's How to Do Piggyback Truck Transport
Piggyback truck transport is when a semi truck carries one or more trucks on its back. The driver mounts the front of one semi truck to the back of another. This type of transport allows up to four trucks to be "piggybacked" on the original vehicle. It creates a chain of semi trucks for a cost effective shipping solution.
Is Piggybacking Truck Transport Your Best Shipping Solution?
A Heavy Haulers specialist will speak to you about the number of trucks in your transport. Piggyback trucking is often used for new truck transport. There are also other times it may be beneficial. When you speak to a logistics agent, they'll be able to determine if this is the best shipping method.
Speaking with a representative is the best way to get your free shipping estimate. They'll be able to calculate accurate costs based on your needs. We care about the quality of transport, so we'll do our best to find you the best prices for shipping. Call now and let's get started! (800) 908-6206
HEAVYHAULERS.COM
START YOUR SHIPMENT TODAY!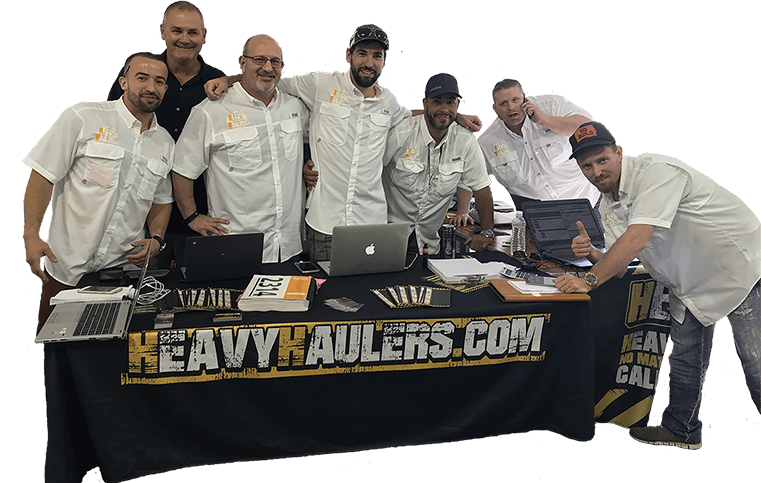 We Are Ready To Help You Haul Your Equipment!
We transport many brands of Trucks across the country and North America
Trust Heavy Haulers to transport any brand of truck you own. We are experienced in handling all types of brands and manufacturers, we have hands-on experience shipping all truck manufacturers there is on the road! Some of the truck brands we commonly ship include:
Heavy Haulers Ships Across All 50 States
Alabama - Alaska - Arizona - Arkansas - California - Colorado - Connecticut - Delaware - Florida - Georgia - Hawaii - Idaho - Illinois - Indiana - Iowa - Kansas - Kentucky - Louisiana - Maine - Maryland - Massachusetts - Michigan - Minnesota - Mississippi - Missouri - Montana - Nebraska - Nevada - New Hampshire - New Jersey - New Mexico - New York - North Carolina - North Dakota - Ohio - Oklahoma - Oregon - Pennsylvania - Rhode Island - South Carolina - South Dakota - Tennessee - Texas - Utah - Vermont - Virginia - Washington - West Virginia - Wisconsin - Wyoming
Looking For Transport
With a Specific Trailer?

Max Weight: 150,000+ lbs. | Main Deck Length 29 ft.
| Well Width 8.5 ft. | Legal Height Limit 11.6 ft.

Max Weight: 48,000 lbs. | Max Length 53 ft.
| Max Width 8.5 ft. | Max Height 8.5 ft.
Max Weight: 48,000 lbs. Max Length 53 ft. |
Max Width 8.5 ft. | Max Height 11 ft.
Max Weight: 45,000 lbs. | Max Length 29 ft.
| Max Width 8.5 ft. | Max Height 11.5 ft.
Heavy Haulers Pilot Car Services
Are you looking for a reliable pilot car
for your transport?
Get Started
Your Piggybacking Truck Shipping Begins at Heavy Haulers
One of the great things about piggybacked trucking is that it's cost effective. Shipping many trucks on individual trailers will take more time and money. By piggybacking trucks, you save the need for multiple drivers and teams. It's all done in an easy, affordable way. It's time to get started. Call now! (800) 908-6206