Piggybacking Trucks with Heavy Haulers | Learn About Piggybacking
Truck Piggybacking is neither unsafe nor illegal. Our Heavy Haulers truck piggybacking crews are the most experienced in the industry, with numerous transportation forms under the belts of their CDL licenses and certifications. The best way to deliver several trucks to a retailer or customer is by piggybacking them onto one convoy.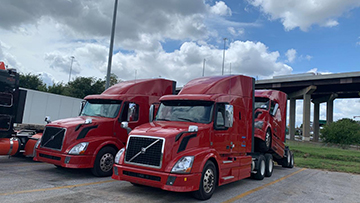 Piggybacking Trucks
Piggybacking is a cost-effective and resource-saving method of heavy truck transportation, which Heavy Haulers proudly employs skillfully. Any numbers of rigs that are being moved do not have to require separate crews and differing logistics. A single driver and team can piggyback many trucks and make the transport in single comprehensive haulage.
There are weight and length restrictions for the number of trucks that can be piggybacked, making those familiar in the US, Canadian and Mexican roads not more than four. The trucks are mounted with or without their front wheels onto a first rig that's being driven. Fifth wheel, combination or frame saddles can also be used to give grip to the mounted truck's front wheels.
Piggybacking 101: Move With Heavy Haulers
Heavy haulers have been in the business of truck piggybacking for over ten years with a robust network extending over borders. Our drivers and logistics managers employ significant expertise when pulling a piggybacked truck train to your designation. Our dedicated staff pools more than two decades worth of experience when handling your piggybacked truck transport.
Route plans and schedules also accompany the relevant permits for truck piggybacking transport. The Heavy Haulers truck piggybacking crews that are expertly responsible for your transportation will find the shortest delivery time for this extremely oversized loads.
How Heavy Haulers Selects the Best Piggyback Method for Your Truck Transport?
Our systems will select the pertinent piggybacked truck transport for you within your consignment's specifications. Your truck types, dimensions, and sizes will determine the legality of your piggybacked truck train. Affordable packages will be offered for your piggybacked truck cargo with flexible options that depend on timeframes and storage requirements.
Heavy haulers also accord you a free no obligations quotations which facilitate quick and easy shipping estimates. Expert determinations enable the piggybacked trucks to circumnavigate steep terrain or populated residential neighborhoods safely. You are in safe hands at Heavy Haulers where all our endeavors are insured for your safety and peace of mind. Call now on (800) 908-6206 to initiate your piggybacked truck move on a Heavy Haulers transport today.
Common Trailer Types Available from Heavy Haulers
Heavy Haulers specializes in hauling heavy loads such as construction equipment, oil field rigging and Super Loads. We are wideload experts! We offer an extensive range of trailer choices, including:
Max Weight: 48,000 lbs. | Max Length 53 ft. | Max Width 8.5 ft. | Max Height 11 ft.




Max Weight: 45,000 lbs. | Max Length 29 ft. | Max Width 8.5 ft. | Max Height 11.5 ft.
Max Weight: 150,000+ lbs. | Main Deck Length 29 ft. | Well Width 8.5 ft. | Legal Height Limit 11.6 ft.




Max Weight: 48,000 lbs. | Max Length 53 ft. | Max Width 8.5 ft. | Max Height 8.5 ft.
We transport many brands of Trucks across the country and North America
Trust Heavy Haulers to transport any brand of truck you own. We are experienced in handling all types of brands and manufacturers, we have hands-on experience shipping all truck manufacturers there is on the road! Some of the truck brands we commonly ship include:
HEAVYHAULERS.COM
START YOUR SHIPMENT TODAY!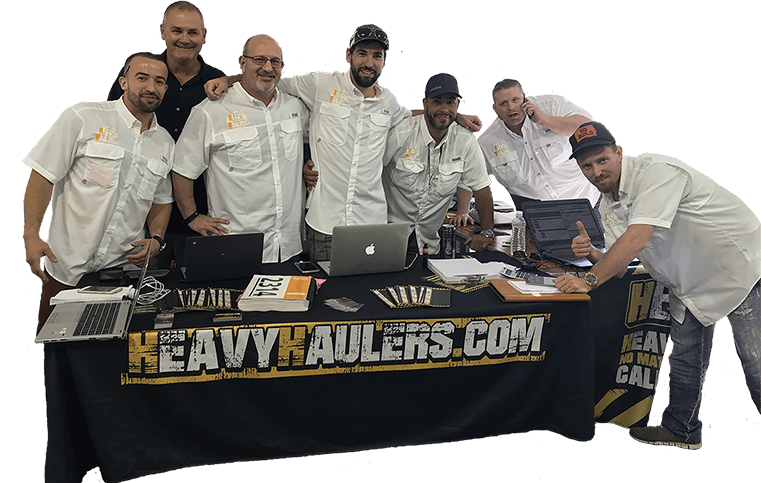 Start your Piggybacking Truck Transport Solution Search at heavyhaulers.com
Your new fleet of trucks will be expensive to transport singly on a heavy duty hauler. Piggybacked truck transport is the perfect solution that is both time and cost effective. Heavy haulers have the expertise and equipment necessary to initiate your piggybacked truck transport. Call now on (800) 908-6206 and speak to a logistical dispatch an expert who will have your piggybacked truck cargo secured and transported within the day.