Cost-Effective Truck Stacking Transport at Heavy Haulers
Contact Our Expert Shipping Specialist
We offer the seamless transport of multiple truck cab chassis on a single high-capacity step deck trailer. For over a decade Heavy Haulers has been leading the transport industry in truck stack shipping. A member of our logistics team is ready to guide you through the truck stacking shipping process, and can give you all the information on the benefits of drop deck trailers.
Learn to Stack Trucks and Save Money with Our Logistics Specialists
Truck stacking with drop deck trailers is more cost effective than shipping individually. This is especially true if you've got a fleet of semi trucks for transport. At Heavy Haulers, we save you money by using a drop deck trailer for truck stacking operation. With a total length of 47 to 53 feet, our step deck heavy duty trailers will take on combined truck weights of up to 50,000 pounds.
The drop deck trailers that we employ for truck stacking allows us to haul the slightly taller double-stacked truck cab and chassis loads. We keep truck fleet shipping costs to a minimum by utilizing the two in one freight stacking method.
The Heavy Haulers truck stacking division is augmented by two deck level platform
trailers without sides or top that makes up our drop deck fleet.
Behind the tractor cab, a step deck trailer has a 10 to 11-foot upper level before a
drop to a lower bed, which extends to between 37 and 40 feet. Due to a
lower center of gravity, a Heavy Haulers drop deck's lower platform supports the
combined stacked truck heavy load while simplifying loading with drive-on ramps.
How Skilled Loaders at Heavy Haulers Stack Trucks onto Drop Decks
Our loaders at Heavy Haulers use ramps to load the first truck cab and chassis onto the upper level of a step deck trailer with its cab facing our tractor. A tow wrecker is employed to winch the rear chassis part of the initial truck over the lower deck platform while the second truck is backed up the ramps from the rear. Since our drop decks give loads a height advantage of more than 10 feet, the first truck's rear wheels are secured onto the chassis of the second truck that's facing in the opposite direction.
The forward down step before the lower main deck is called the transition area and allows 20 or more inches meaning that various sizes of cab chassis can be hauled in this manner. This entire cargo is then safely secured on the step deck trailer either with rigging, chain strapping and skirting. All the stacked trucks wheels are load locked and braced with blocks for extra stability during haulage.
This operation would not be possible with a regular flatbed trailer, and multiple step-deck trailers can be hitched in tandem. Costs to freight indexes at Heavy Haulers fall to budget-friendly heights for our customers, for whom we employ the stacked trucks method of delivery to their door.
Truck Stacking by Heavy Haulers Step Deck Rigs That Save You Money
Move your flatbed trucks or day cabs and chassis affordably with a Heavy Haulers stacking solution today. We shall pick up and drop the load of the stacked trucks in any location, and capable logistics managers will source oversize load permits. Have an experienced and skilled truck stacking operator plan your routes and load schedules now. (800) 908-6206.
See what you need?
Call us for a FREE Shipping Estimate at (800) 908-6206
HEAVYHAULERS.COM
START YOUR SHIPMENT TODAY!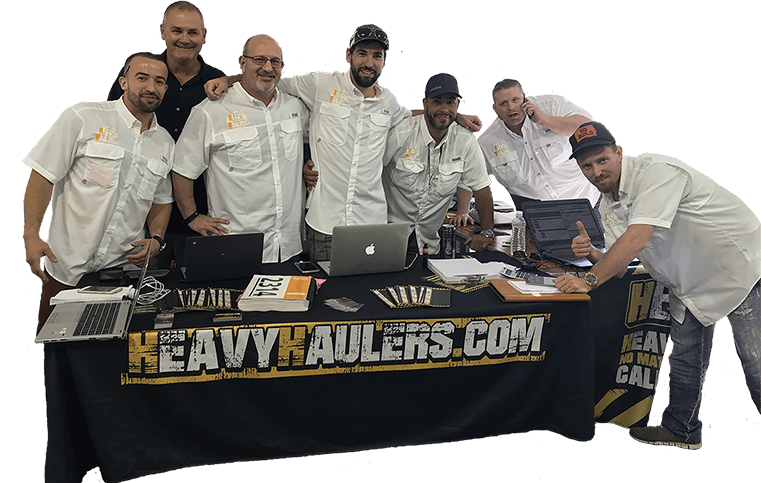 We Are Ready To Help You Haul Your Equipment!
We transport many brands of Trucks across the country and North America
Trust Heavy Haulers to transport any brand of truck you own. We are experienced in handling all types of brands and manufacturers, we have hands-on experience shipping all truck manufacturers there is on the road! Some of the truck brands we commonly ship include:
Heavy Haulers Ships Across All 50 States
Alabama - Alaska - Arizona - Arkansas - California - Colorado - Connecticut - Delaware - Florida - Georgia - Hawaii - Idaho - Illinois - Indiana - Iowa - Kansas - Kentucky - Louisiana - Maine - Maryland - Massachusetts - Michigan - Minnesota - Mississippi - Missouri - Montana - Nebraska - Nevada - New Hampshire - New Jersey - New Mexico - New York - North Carolina - North Dakota - Ohio - Oklahoma - Oregon - Pennsylvania - Rhode Island - South Carolina - South Dakota - Tennessee - Texas - Utah - Vermont - Virginia - Washington - West Virginia - Wisconsin - Wyoming
Looking For Transport
With a Specific Trailer?

Max Weight: 150,000+ lbs. | Main Deck Length 29 ft.
| Well Width 8.5 ft. | Legal Height Limit 11.6 ft.

Max Weight: 48,000 lbs. | Max Length 53 ft.
| Max Width 8.5 ft. | Max Height 8.5 ft.
Max Weight: 48,000 lbs. Max Length 53 ft. |
Max Width 8.5 ft. | Max Height 11 ft.
Max Weight: 45,000 lbs. | Max Length 29 ft.
| Max Width 8.5 ft. | Max Height 11.5 ft.
Heavy Haulers Pilot Car Services
Are you looking for a reliable pilot car
for your transport?
Get Started
See what you need?
Call us for a FREE Shipping Estimate at (800) 908-6206