Utility Truck Transport Services: with Heavy Haulers
Heavy Haulers is a 5-star utility truck shipping company with over ten years in the transportation industry. We offer transportation between all the 50 states in America. Furthermore, we also offer shipping services in Canada and Mexico. We have experience, and you can trust us to deliver your utility truck to and from your state. At Heavy Haulers, we are time conscious, and we pick your utility truck and deliver it to you at an affordable price.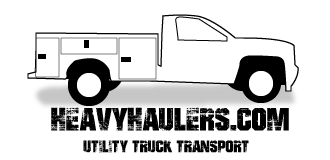 We have a team of experts that handle the necessary paperwork to deliver your utility truck. The transportation of heavy-duty trucks usually requires oversized permits and regular weight inspection across different states. Moreover, the professionals ensure transportation of shipment is within the highways regulations.
Additionally, at Heavy Haulers, your cargo is safely taken care of and delivered to your doorstep securely. Other services that we offer are door to door and port to port services. Our experienced drivers will take care of your load during loading and offloading as well as during transit.
We Offer Everything You Need When it Comes to Shipping a Utility Truck
We also offer same day loading, scheduling, dispatch and delivery of your cargo to your destination. Be sure that we will conveniently deliver your utility truck to you as fast as possible. You need not to worry about the mode of payment as we accept any such as PayPal, cash, personal cheques and many more. Furthermore, Heavy Haulers logistic team will explore the cheapest route as well as the necessary wide load paperwork for the shipment of your truck. You can also have escort drivers who will guide your load during the transportation in any of the fifty states of the United States including Mexico and Canada.
You can also track your cargo during transit. The service is to enable you to monitor your utility truck while on transit from wherever you are until it arrives at your doorstep. We work closely with you to ensure the safe transportation of your cargo. Let Heavy Haulers transport your utility truck today anywhere in USA, Canada, and Mexico. Call us to get your free quote (800) 908-6206.
Recent Utility Truck Moves by Heavy Haulers
1991 Ford F-700 Utility Truck Transport
Heavy Haulers' agent Brian G. recently transported this classic 1991 Ford F-700 Utility Truck from Houston, TX to Sparta, IL. The total length of this Ford F-700 was 30 feet 6 inches, the width was 8 feet 5 inches, the height was 12 feet 1 inch and the total weight was 20,000 pounds. This haul was over 800 miles. If you need your Ford utility truck transported call Brian G. to receive your next quote: (754) 203-9267
Transporting a Ford F550 Utility Truck
When this 2015 Ford F550 utility truck had to be moved from Ellsworth, KS to Tulsa, OK, e stepped in to get it done. Our agent Jason was in charged of overlooking the logistics planning. The truck traveled a total of 289 miles on top of a lowboy trailer. Despite harsh weather condition, a timely and safe delivery were achieved thanks to Jason's effective routing. Do you need to move your utility truck for next project? Let us handle it, call (877) 278-3135 and ask Jason for a free quote (ext. 783).
2004 Mack 612 Dump Truck on a Long Distance Run
Truck Transport recently hauled this 2004 Mack 612 Dump Truck from Covington, Tennessee, to South Jordan, Utah. The trip was nearly 1,570 miles long. Weight: 13,000 pounds. Length: 10 feet. Width: 7 feet 9 inches Height: 8 feet 6 inches. To ship your dump truck anywhere in the US, Canada or Mexico, contact Mike at Truck Transport directly at: (754) 203-8914.
Insured and Door-to-Door Utility Truck Transportation provided in All 50 States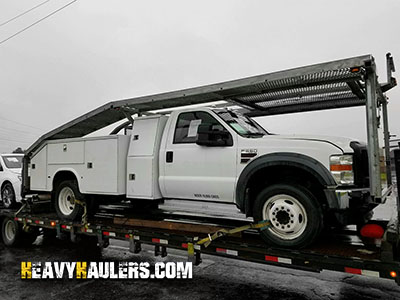 Recent Utility Truck Transport
Heavy Haulers Company is licensed and bonded to transport your utility truck in the 50 states of America. Also, we are insured to transport any heavy machinery equipment that you may need. The drivers that handle your shipment are also insured and licensed; hence they are experienced professionals who will use modern technology to load and offload your utility truck securely.
Heavy Haulers know how much your utility truck means to you, that is why we take pride in having insurance for your transportation. The insurance covers your truck during the transportation period, and you can get compensation in the eventuality of an accident. Moreover, the insurance covers damage to your vehicle during transit, theft of your cargo during transit, loss of your cargo during transit or any other specialized situations that may occur during transportation. We work with insurance companies such as Contingent cargo insurance, Bond insurance and motor carrier license. Call our customer service today at (800) 908-6206 to know more about our services.
Heavy Haulers is a trustworthy and reliable shipping company that makes fast deliveries. We have excellent experts who will ensure that your utility truck and all logistics are in order. You can contact us today and let us ship your utility truck at an affordable price to your next location. Give us a call at (800) 908-6206 so we can transport your utility truck.
Common Trailer Types Available from Heavy Haulers
Heavy Haulers specializes in hauling heavy loads such as construction equipment, oil field rigging and Super Loads. We are wideload experts! We offer an extensive range of trailer choices, including:
Max Weight: 48,000 lbs. | Max Length 53 ft. | Max Width 8.5 ft. | Max Height 11 ft.




Max Weight: 45,000 lbs. | Max Length 29 ft. | Max Width 8.5 ft. | Max Height 11.5 ft.
Max Weight: 150,000+ lbs. | Main Deck Length 29 ft. | Well Width 8.5 ft. | Legal Height Limit 11.6 ft.




Max Weight: 48,000 lbs. | Max Length 53 ft. | Max Width 8.5 ft. | Max Height 8.5 ft.
We transport many brands of Trucks across the country and North America
Trust Heavy Haulers to transport any brand of truck you own. We are experienced in handling all types of brands and manufacturers, we have hands-on experience shipping all truck manufacturers there is on the road! Some of the truck brands we commonly ship include:
Types of utility Trucks Moved by Heavy Haulers
Most utility trucks are usually typical trucks with utility body uplift to suit its functions. Heavy Hauler transports a variety of these trucks from one site location to another. The different utility trucks transported by Heavy Haulers include flatbed work trucks, truck-mounted hydraulic puller, service truck, propane mechanics utility truck and many more.
Consequently, no matter the size of your utility truck Heavy Haulers will ship it to the next location and pairing it with the appropriate trailer for transportation. Contact us today at (800) 908-6206 and let Heavy Haulers take care of the rest.
The benefits of transporting your utility truck with Heavy Haulers
Door-to-door transport
24/7 Customer Service
Free Cancellations
Cargo monitoring and tracking
Port to Port transportation
Contingency Insurance
Any form of payments accepted