Heavy Haulers Pilot Car Services in Alabama
At Heavy Haulers, we provide an extensive network of pilot cars in Alabama to help with any oversized, overweight, or superload shipping requirements. Our pilot car transport services range from providing one escort vehicle for equipment delivery to supplying multiple vehicles for delivery services in Alabama that meet superload transport requirements. Our escort car service network is extensive, full of dedicated escort vehicle specialists waiting to assist you with timely, safe delivery services.
Choose the experts at Heavy Haulers, and we'll make sure you've got local expertise and equipment that complement your oversized delivery project. When you're shipping oversized equipment with us, we'll calculate the exact Alabama escort vehicle service requirements as part of our comprehensive delivery service. Our escort vehicle delivery service team can provide an accurate Alabama pilot car service quote to get you started.
The Heavy Haulers pilot car transport experts provide a pilot vehicle service throughout the Yellowhammer State and beyond. Whether you're looking to travel the busiest highways or need an escort car delivery service that can accompany your shipment to remote destinations, our pilot car services are here to help. All of our pilot vehicle drivers are experienced, insured, and highly-skilled escorts. Call now and let's get started! (954) 302-9094
Contact Our Expert Shipping Specialist's
(954) 302-9094
Escort Vehicle Requirements in Alabama
When undertaking oversized equipment deliveries, it's crucial to know if and when you'll need a pilot vehicle in Alabama. The logistics professionals at Heavy Haulers know precisely when a pilot car will be required, and you can rely on us to provide an appropriate escort vehicle for any oversized machinery delivery that needs an Alabama pilot car escort. Our Heavy Haulers pilot car services in Alabama connect you to appropriately outfitted Alabama escort cars that meet all essential requirements.
Pilot vehicle transport in Alabama must be a registered passenger-class vehicle that travels alongside heavy equipment delivery services. For heavy machinery over 12ft wide, two escort vehicles are required at a distance of 500ft. Depending on if your oversized machinery shipment has a front or rear overhang, it may be essential to have a single pilot car in front of or behind the heavy equipment carrier. Height poles are required to signify a bulky equipment delivery of more than 16ft in height, and other restrictions may apply to your Alabama escort vehicle delivery route. For more information regarding pilot escort delivery requirements, contact our team for a personalized quote. (954) 302-9094
Common Equipment that Requires Escort Vehicles in Alabama:
• Aircraft Frames


• Bridge Beams


• Bulldozer Machines


• Cranes


• Construction Scraper


• Excavators


• Front End Loaders


• Industrial Furnaces


• Tugboats


• Wheel Loaders


Pilot Cars and Escort Vehicles Near Me in Alabama
Heavy Haulers provides pilot cars and escort vehicles everywhere in Alabama. We're ready to go in every town and city. We make sure to provide the best oversize load pilot cars. All escort vehicles in Alabama are vetted to make sure they have the proper credentials for a safe wide load journey. Whether you're moving a load to or from Alabama, we always have "pilot cars near me" to get you where you need to go. Call now! (954) 302-9094
See what you need?
Call us for a FREE Shipping Estimate at (954) 302-9094
HEAVYHAULERS.COM
START YOUR SHIPMENT TODAY!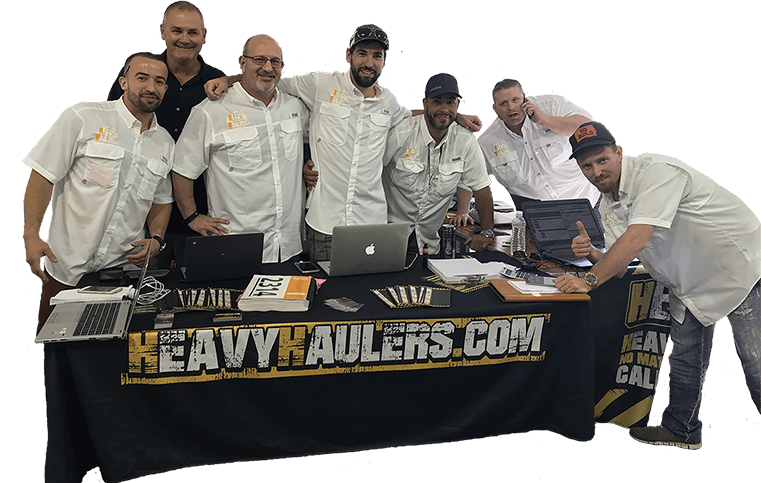 We Are Ready To Help You Haul Your Equipment!
Common Equipment Heavy Haulers Transports
Trust Heavy Haulers to transport any brand of equipment you own. Most of our drivers are experienced heavy-machinery operators who can safely maneuver your loads aboard our trailers. Some of the brands we have shipped include:
Looking For Transport
With a Specific Trailer?

Max Weight: 150,000+ lbs. | Main Deck Length 29 ft.
| Well Width 8.5 ft. | Legal Height Limit 11.6 ft.

Max Weight: 48,000 lbs. | Max Length 53 ft.
| Max Width 8.5 ft. | Max Height 8.5 ft.
Max Weight: 48,000 lbs. Max Length 53 ft. |
Max Width 8.5 ft. | Max Height 11 ft.
Max Weight: 45,000 lbs. | Max Length 29 ft.
| Max Width 8.5 ft. | Max Height 11.5 ft.
See what you need?
Call us for a FREE Shipping Estimate at (954) 302-9094