Quality Escort Vehicle Services in Rhode Island
Shipping a superload or an over-dimensional load in Rhode Island requires a partnership with a leading escort car company. Your chosen operator must understand the shipping business and the legal requirements for providing Rhode Island pilot vehicle services. At Heavy Haulers, we are committed to providing safety to your cargo and the logistics crew undertaking the shipment. We have a professional piloting team that can examine your freight and decide whether to deploy one escort vehicle or multiple cars for seamless transport.
It is a legal requirement in Rhode Island to have pilot cars and, sometimes, police escort when shipping oversized loads. Our team of piloting experts is certified and licensed to ensure that they clear the path for your cargo to pass undisturbed. When we send out Rhode Island escort cars to guide your shipment, our primary goal is to make ground transport safer for the oversized freight. We also ensure the roads and highways are in good condition and that the shipping process causes minimal disruption to normal traffic flow. When you contact your local Heavy Haulers offices in Rhode Island, you can be sure that you will be working with professionals with over ten years of experience. All our pilot-car drivers are well-educated and knowledgeable about traffic regulations in the state. They are trained, licensed, and insured to transport heavy loads, from oversized trailers to 100-meter long plane wings.
Contact Our Expert Shipping Specialist's
(954) 302-9094
Pilot Car Services That Meet Rhode Island's Legal Requirements
Heavy Haulers escort vehicle operations are conducted by professionals who've been providing piloted shipping solutions in Rhode Island for years. We understand when to acquire a permit and deploy pilot vehicles. In most cases, oversized loads and superloads will be over 8 ft. wide, 48 ft. long, and 13 ft. high. That's when we will retrieve the permit. We will also have any special information that the authorities might require, including the registered cargo weight and the trailer's license plate.
In Rhode Island, you require pilot cars when shipping oversized cargoes with a width exceeding 12 ft. up to 14 ft., 6 in. and a length above 80 ft. up to 90 ft. We will be legally compelled to provide escort cars when the cargo width is over 14 ft., 6 in. and a length exceeding 90 ft.
Furthermore, our fleet of pilot cars comprises pickups, compact passenger cars, and trucks. We've also invested in the necessary equipment and tools to make the shipment successful. For that reason, we have state-of-the-art 2-way radio communication systems that allow our pilot car drivers and the transportation crew to communicate effectively to ensure the load reaches the intended destination in the same conditions we picked it. Let's get started! (954) 302-9094
Common Over-Dimensional Loads that Require Pilot Cars in Rhode Island:
• Boats


• Planes and plane wings


• Power Plant Engines


• Bridge beams


• Mobile homes


• Front end loaders


• Modular power plants


Pilot Cars and Escort Vehicles Near Me in Rhode Island
Heavy Haulers provides pilot cars and escort vehicles everywhere in Rhode Island. We're ready to go in every town and city. We make sure to provide the best oversize load pilot cars. All escort vehicles in Rhode Island are vetted to make sure they have the proper credentials for a safe wide load journey. Whether you're moving a load to or from Rhode Island, we always have "pilot cars near me" to get you where you need to go. Call now! (954) 302-9094
See what you need?
Call us for a FREE Shipping Estimate at (954) 302-9094
HEAVYHAULERS.COM
START YOUR SHIPMENT TODAY!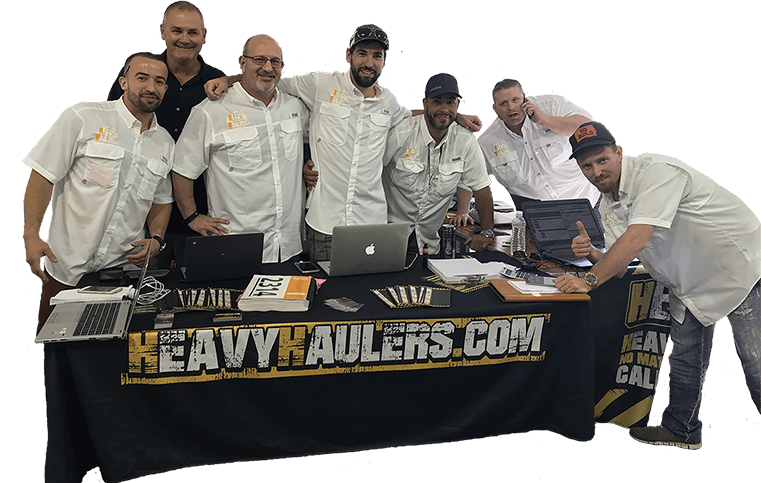 We Are Ready To Help You Haul Your Equipment!
Common Equipment Heavy Haulers Transports
Trust Heavy Haulers to transport any brand of equipment you own. Most of our drivers are experienced heavy-machinery operators who can safely maneuver your loads aboard our trailers. Some of the brands we have shipped include:
Looking For Transport
With a Specific Trailer?

Max Weight: 150,000+ lbs. | Main Deck Length 29 ft.
| Well Width 8.5 ft. | Legal Height Limit 11.6 ft.

Max Weight: 48,000 lbs. | Max Length 53 ft.
| Max Width 8.5 ft. | Max Height 8.5 ft.
Max Weight: 48,000 lbs. Max Length 53 ft. |
Max Width 8.5 ft. | Max Height 11 ft.
Max Weight: 45,000 lbs. | Max Length 29 ft.
| Max Width 8.5 ft. | Max Height 11.5 ft.
See what you need?
Call us for a FREE Shipping Estimate at (954) 302-9094