Our Comprehensive Pilot Vehicle Transport Services
Heavy Haulers offers the most comprehensive choice of escort car transport in Maryland. Over the last decade, we've assisted many customers transport oversized agricultural, construction, and industrial shipments throughout the state, many of which required the use of at least one escort car to ensure a secure delivery. Heavy Haulers pilot car services were created to help you transport all types of oversized loads, no matter your end destination. Our state-wide collection of pilot vehicle transport experts, experienced drivers, and logistics professionals are readily available to assist with the coordination of pilot vehicle transport in Maryland.
Pilot vehicle transport is an integral aspect of coordinating heavy machinery deliveries, and our haulers are some of the most knowledgeable you'll find. As a dedicated pilot car transport company, you can rely on our professionals to efficiently source and deliver a suitable pilot vehicle, no matter where you are in Maryland. You might need to coordinate escort vehicle travel through Baltimore, Annapolis, or Salisbury's city limits, or route equipment from the busiest ports and airports in the state. You may even be traveling across the border to Pennsylvania or Delaware. Wherever you need your pilot car, we'll make sure you receive it! We'll also take care of the nitty-gritty, including the permits and route planning, if you need us to! Call now! (954) 302-9094
Contact Our Expert Shipping Specialist's
(954) 302-9094
Escort Car Requirements in Maryland
We make sure that all of our pilot vehicle services in Maryland not only offer an outstanding service to all of our customers, but we also ensure that every shipment is conducted responsibly. We'll only supply you with suitably experienced, appropriately licensed, and insured pilot car transport operators, and vehicles that meet all of Maryland DOT's escort regulations. In comparison to some U.S. states, Maryland has fewer restrictions on the type of car that can be used as an escort. It must display oversize load or wide load signs and bear a yellow oscillating or rotating roof lamp that is visible from both the front and rear. Flashing warning lamps are also required if the transport will be traveling 20 mph or less than the speed limit. As part of our escort vehicle delivery services, we'll always source an appropriate vehicle with the correct lighting.
Route stipulations for escort transport in Maine can vary, so you must choose the right route and travel times. Call our experts, and we'll recommend the right Heavy Haulers pilot cars to accompany your delivery, as well as determine permitted routes, travel schedule, and whether State Police escorts are necessary. If your trailer weighs more than 60 tons, is broader than 16ft, or is traveling a route where diversions or traffic stoppage is needed, then police escorts need to be incorporated into your escort car delivery request. We'll make sure that your oversized equipment delivery receives all of the support that it needs. Call us to arrange it today! (954) 302-9094
HEAVYHAULERS.COM
START YOUR SHIPMENT TODAY!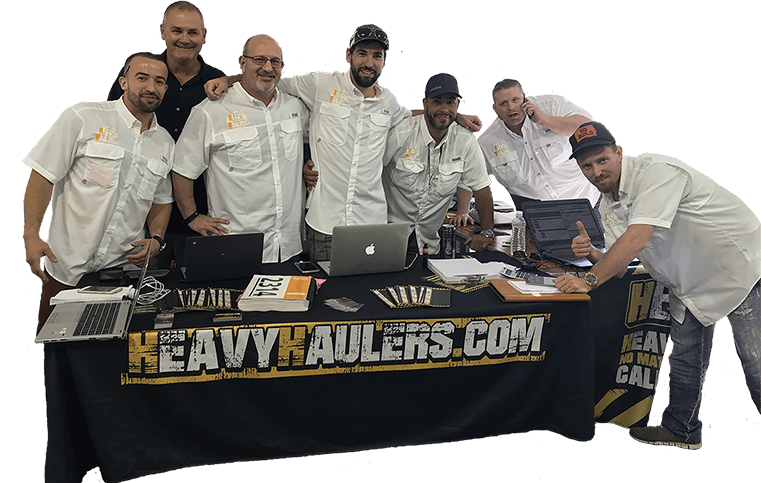 We Are Ready To Help You Haul Your Equipment!
Common Equipment Heavy Haulers Transports
Trust Heavy Haulers to transport any brand of equipment you own. Most of our drivers are experienced heavy-machinery operators who can safely maneuver your loads aboard our trailers. Some of the brands we have shipped include:
Looking For Transport
With a Specific Trailer?

Max Weight: 150,000+ lbs. | Main Deck Length 29 ft.
| Well Width 8.5 ft. | Legal Height Limit 11.6 ft.

Max Weight: 48,000 lbs. | Max Length 53 ft.
| Max Width 8.5 ft. | Max Height 8.5 ft.
Max Weight: 48,000 lbs. Max Length 53 ft. |
Max Width 8.5 ft. | Max Height 11 ft.
Max Weight: 45,000 lbs. | Max Length 29 ft.
| Max Width 8.5 ft. | Max Height 11.5 ft.
See what you need?
Call us for a FREE Shipping Estimate at (954) 302-9094