Comprehensive Escort Vehicle Transport from Heavy Haulers
Looking for an escort car in Connecticut? Allow the team of experts at Heavy Haulers to handle your pilot vehicle needs. Heavy Haulers pilot vehicle services have been operating in Connecticut for more than a decade, and we are proud to present all-encompassing pilot vehicle services. From determining the safest, quickest route for your escort car delivery to coordinating the best time of day to travel, we take care of all the little things so that your oversized delivery is as stress-free as possible. Our pilot car services are tailored for each request, so you'll always get a personalized quote and comprehensive service.
Your Heavy Haulers pilot car service can be booked at short notice. Thanks to our vast network of dedicated escort car transport providers, we serve every location in Connecticut. Whether you need an escort car delivery service in Hartford, Bridgeport, New Haven or Stamford, we've got you covered. We're a pilot car transport company that serves the entire United States, so even if your delivery is scheduled to leave or enter Connecticut from another state, our escort car delivery service is still available. You won't need to worry about sourcing multiple pilot car service providers for long-haul transport, we'll take care of the logistics for the entire journey. Let's get started! (954) 302-9094
Contact Our Expert Shipping Specialist's
(954) 302-9094
Dependable Pilot Vehicle Services in Connecticut
When you need a reliable escort vehicle to assist your oversized delivery, look no further than the Heavy Haulers escort car company. Heavy Haulers escort vehicles are fully equipped with the latest and safest technology to provide a smooth pilot vehicle service. Every escort vehicle we provide meets the Connecticut regulations of max. weight capacity of less than 1.5 tons. We also make sure your pilot car is outfitted with the correct wide load, oversize load, or long load road signs, top mounted lights, flags, and 2-way radios. In Connecticut especially, the amber lighting needs to be visible for 1000', whereas in other U.S. states, visibility only needs to be 500'.
Escort vehicle services are required when your delivery is more than 14' high and over 12' wide. Sometimes you'll need a single escort vehicle transport, other times you'll need more than one to meet Connecticut pilot vehicle transport requirements. Regulations differ depending on if your pilot car delivery will travel on routes with divided highways on undivided highways. At Heavy Haulers, we pride ourselves on knowing and abiding by all Connecticut shipping regulations. For any queries regarding pilot car transport in Connecticut, contact our friendly representatives. Call now! (954) 302-9094
See what you need?
Call us for a FREE Shipping Estimate at (954) 302-9094
HEAVYHAULERS.COM
START YOUR SHIPMENT TODAY!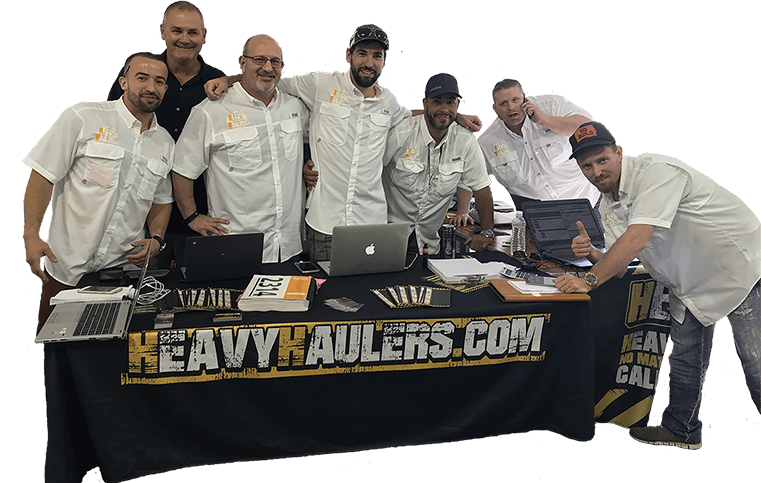 We Are Ready To Help You Haul Your Equipment!
Common Equipment Heavy Haulers Transports
Trust Heavy Haulers to transport any brand of equipment you own. Most of our drivers are experienced heavy-machinery operators who can safely maneuver your loads aboard our trailers. Some of the brands we have shipped include:
Looking For Transport
With a Specific Trailer?

Max Weight: 150,000+ lbs. | Main Deck Length 29 ft.
| Well Width 8.5 ft. | Legal Height Limit 11.6 ft.

Max Weight: 48,000 lbs. | Max Length 53 ft.
| Max Width 8.5 ft. | Max Height 8.5 ft.
Max Weight: 48,000 lbs. Max Length 53 ft. |
Max Width 8.5 ft. | Max Height 11 ft.
Max Weight: 45,000 lbs. | Max Length 29 ft.
| Max Width 8.5 ft. | Max Height 11.5 ft.
See what you need?
Call us for a FREE Shipping Estimate at (954) 302-9094