Escort Vehicle Services Across South Carolina
Heavy Haulers provide quality, reliable and affordable pilot vehicle services to get your oversized and overweight load to any destination in South Carolina. We boast an extensive network of escort car services across the state, and we can cater to your needs, whether you require a single car or multiple vehicles. Sometimes the shipment might only require a transport permit; don't worry, we can also handle that. With Heavy Haulers, you work with knowledgeable and dedicated pilot car professionals. They're passionate about heavy equipment, and providing safety to your in-transit load is our number one priority.
Heavy Haulers has been providing piloted heavy-freight and superload transport in the United States for over a decade. Our pilot crew knows how to effectively provide traffic control and prepare the way for the advancing shipment. Whether it's a single load or multiple cargoes, our escort vehicle professional can effectively clear traffic and alert the public about the freight to ensure that the cargo transport goes seamless, safe, and hassle-free.
Our job is also to check and prevent unfavorable road conditions and prevent road damage. In case there's heavy traffic due to an accident or a felled tree, our pilot cars can redirect traffic with high adherence to safety protocols. That ensures protection, not only of the load but also the driver and the transport crew.
Contact Our Expert Shipping Specialist's
(954) 302-9094
We Meet South Carolina's Pilot Car Requirements
While South Carolina's DOT requirements might be pretty lax, authorities are usually determined to reinforce them. Heavy Haulers South Carolina has shipping and pilot car professionals who understand the state's heavy-cargo transport policies. Therefore, you can rest assured that your cargo will pass every checkpoint without any legal implications.
In South Carolina, any oversized freight with a width of 12 ft. to 14 ft. moving on a double-lane road will require a single-pilot vehicle leading on the front. If the width exceeds 14 ft. up to 16 ft., we'll deploy two pilot vehicles, one in the front and one on the rear. Any cargo with a width exceeding 16 ft. will require a lead pilot car, rear escort vehicle, and a police escort. Height restrictions depend on the route we choose. In most cases, the transport department requires a height pole car when piloting cargo over 13 ft. 7 in. high. Call now for a free shipping estimate! (954) 302-9094
Heavy Haulers agents cover every step of the process, including:
• Pre-planning


• Safety protocols


• Communication channels


• Road conditions and hazard analysis


• Emergency preparedness and recovery procedures


Pilot Cars and Escort Vehicles Near Me in South Carolina
Heavy Haulers provides pilot cars and escort vehicles everywhere in South Carolina. We're ready to go in every town and city. We make sure to provide the best oversize load pilot cars. All escort vehicles in South Carolina are vetted to make sure they have the proper credentials for a safe wide load journey. Whether you're moving a load to or from South Carolina, we always have "pilot cars near me" to get you where you need to go. Call now! (954) 302-9094
See what you need?
Call us for a FREE Shipping Estimate at (954) 302-9094
HEAVYHAULERS.COM
START YOUR SHIPMENT TODAY!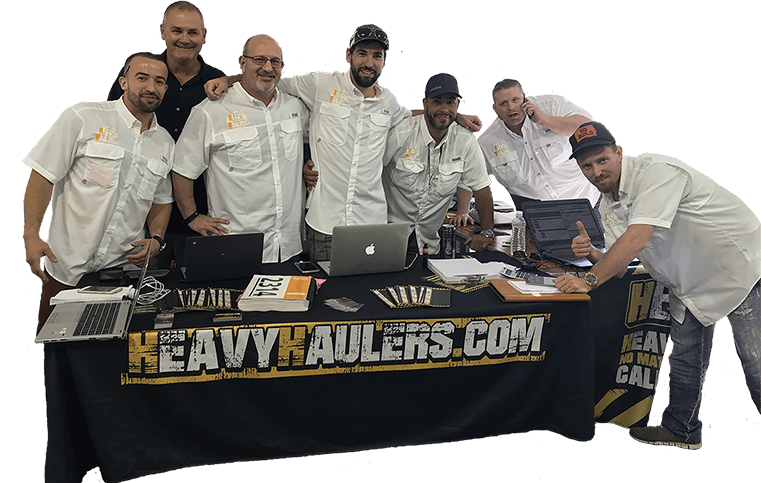 We Are Ready To Help You Haul Your Equipment!
Common Equipment Heavy Haulers Transports
Trust Heavy Haulers to transport any brand of equipment you own. Most of our drivers are experienced heavy-machinery operators who can safely maneuver your loads aboard our trailers. Some of the brands we have shipped include:
Looking For Transport
With a Specific Trailer?

Max Weight: 150,000+ lbs. | Main Deck Length 29 ft.
| Well Width 8.5 ft. | Legal Height Limit 11.6 ft.

Max Weight: 48,000 lbs. | Max Length 53 ft.
| Max Width 8.5 ft. | Max Height 8.5 ft.
Max Weight: 48,000 lbs. Max Length 53 ft. |
Max Width 8.5 ft. | Max Height 11 ft.
Max Weight: 45,000 lbs. | Max Length 29 ft.
| Max Width 8.5 ft. | Max Height 11.5 ft.
See what you need?
Call us for a FREE Shipping Estimate at (954) 302-9094