Michigan's Premier Escort Vehicle Provider
Heavy Haulers escort vehicle services can range in complexity, depending on your oversized shipping project's requirements. Whether you're shipping solely within Michigan or looking for a cross-border escort car service, we've got it covered. For more than a decade, we've been helping residents of the Wolverine State and those just passing through. Our pilot car shipping professionals are highly experienced, have local transport knowledge, and are eager to assist you. With the knowledge of our Heavy Haulers escort vehicle providers on your side, you'll quickly get your oversized equipment safely traveling along even Michigan's busiest roads.
Our escort car transport drivers can be made available any time, anywhere, and our accompanying delivery services can be as far-reaching as you need. We serve all major cities, including Detroit, Grand Rapids, Warren, Ann Arbor, and Flint, as well as remote destinations. Michigan's highways are a familiar sight to Heavy Haulers pilot vehicle drivers, and we can safely escort a wide variety of agricultural, industrial, and mining equipment. One of the many reasons we're considered a premier pilot car provider is because we derive great satisfaction in providing timely escort vehicle services. We have supported heavy equipment transport deliveries in Michigan for several years by providing the necessary escort transport and dedicating our expertise to assisting clients both great and small to complete big shipping projects. Let's get started! (800) 908-6206
Contact Our Expert Shipping Specialist's
(800) 908-6206
Meeting Pilot Car Requirements in Michigan
Adhering to pilot car requirements is crucial if you intend to travel through Michigan with an oversized shipment. Pilot cars in Michigan are required if your over-dimensional machinery or equipment exceeds 12' width, 90' length, 14'5" high, or has an overhang of more than 15'. If the equipment is more than 14' wide, 100' long, or 15' tall, both front and rear escort vehicles are needed. There are also different regulations pertaining to mobile homes and modular loads; they require a permit and an escort car if between 12' and 14' wide.
In Michigan, you may utilize any passenger car or pickup truck for the escort vehicles themselves. Oversize loads, 5' by 12" with 8" high black lettering on a yellow background, must be displayed atop the roof of the pilot vehicle accompanying the transport. There must also be a top-mounted amber light that either flashes or rotates, which is visible for at least 500'. Height poles are also a requirement if the load being escorted is taller than 14'6". To be sure you're meeting Michigan pilot car regulations, source vehicles from reputable escort car companies, such as the Heavy Haulers escort vehicle division. Let's get started! (800) 908-6206
HEAVYHAULERS.COM
START YOUR SHIPMENT TODAY!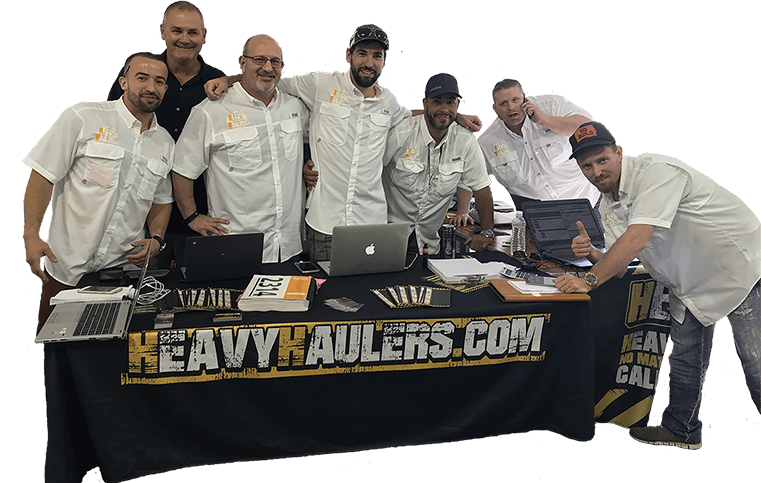 We Are Ready To Help You Haul Your Equipment!
Common Equipment Heavy Haulers Transports
Trust Heavy Haulers to transport any brand of equipment you own. Most of our drivers are experienced heavy-machinery operators who can safely maneuver your loads aboard our trailers. Some of the brands we have shipped include:
Looking For Transport
With a Specific Trailer?

Max Weight: 150,000+ lbs. | Main Deck Length 29 ft.
| Well Width 8.5 ft. | Legal Height Limit 11.6 ft.

Max Weight: 48,000 lbs. | Max Length 53 ft.
| Max Width 8.5 ft. | Max Height 8.5 ft.
Max Weight: 48,000 lbs. Max Length 53 ft. |
Max Width 8.5 ft. | Max Height 11 ft.
Max Weight: 45,000 lbs. | Max Length 29 ft.
| Max Width 8.5 ft. | Max Height 11.5 ft.
See what you need?
Call us for a FREE Shipping Estimate at (800) 908-6206