On Time Delivery with Heavy Haulers Virginia Escort Vehicles
Heavy Haulers is nationally recognized for providing quick pilot car solutions for heavy cargo shipments in Virginia. We are branched in more than 50 states in the continental US, including Virginia. We boast an extensive network of pilot car specialists within the state to help you haul your oversized load to any destination within the state. Even with a cross-country shipment, Heavy Haulers can organize a seamless transition through the Virginia to your intended destination. We always ensure that our escort vehicle services are up-to-date with the latest DOT requirements within Virginia.
Take advantage of our professional Virginia pilot car specialist and experience comprehensive service delivery from the pre-planning stage to the moment we arrive at the receiving location. Our Virginia crew of escort and pilot vehicle experts will handle everything on your behalf, leaving you to run businesses important to you. That said, we will retrieve the necessary transport permit, conduct road surveys, and create contingency protocols if any issue arises.
With our Virginia lead vehicle services, you can be guaranteed that we will clear the path for the load-bearing trailer effectively. Our route surveillance team carefully assesses the road conditions and any barriers that can hinder the heavy cargo's smooth movement on the road. That might mean clearing any fell trees across the path or holding high utility lines so that the load can pass smoothly beneath. We can even organize police escort if the superload is labeled hazardous to control traffic with minimal disruption to regular vehicle movements effectively. Call now for a free estimate on Virginia escort vehicles!
Contact Our Expert Shipping Specialist's
(954) 302-9094
Providing Legal Pilot Vehicle Services in Virginia
In Virginia, we transport oversized and overweight cargo through the day and night so long the width and length of freight do not exceed 14 ft. 1 in. and 85 ft., respectively. The overhang must be less than 10 ft. During the weekends, shipping is only possible from one hour before sunrise to one hour after sunset on Saturday. Heavy cargo shipping is not allowed on Sunday.
Our professional escorting crew also understands the laws regulating the number of pilot cars, depending on the load's dimensions. When moving a freight measuring a width of 12' 1'' to 14'; 85' to 119' 11' (length); and an overhand of 10' and above on primary or secondary roads, we may deploy one or two pilot cars as per Virginia transport laws. When moving heavy equipment with a height exceeding 14' 5", we will provide a height pole pilot car in front. Additionally, we will adjust the height pole about 3" above the maximum cargo height to ensure the cargo travels easily under bridges and toll gantries. Call now! (954) 302-9094
Common Equipment that Requires Escort Vehicle Services
• Boats


• Bulldozers


• Mining haul trucks


• Excavators


• Industrial generators


• Gas Tank


• Thermal power plant motors


• Transformers


Pilot Cars and Escort Vehicles Near Me in Virginia
Heavy Haulers provides pilot cars and escort vehicles everywhere in Virginia. We're ready to go in every town and city. We make sure to provide the best oversize load pilot cars. All escort vehicles in Virginia are vetted to make sure they have the proper credentials for a safe wide load journey. Whether you're moving a load to or from Virginia, we always have "pilot cars near me" to get you where you need to go. Call now! (954) 302-9094
See what you need?
Call us for a FREE Shipping Estimate at (954) 302-9094
HEAVYHAULERS.COM
START YOUR SHIPMENT TODAY!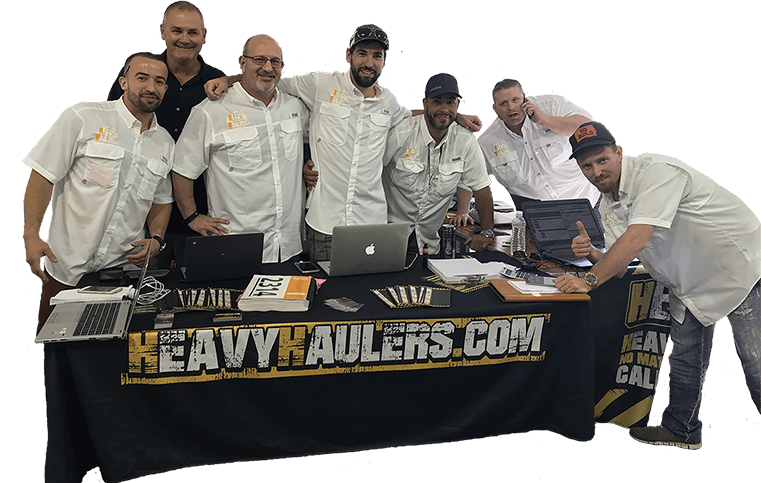 We Are Ready To Help You Haul Your Equipment!
Common Equipment Heavy Haulers Transports
Trust Heavy Haulers to transport any brand of equipment you own. Most of our drivers are experienced heavy-machinery operators who can safely maneuver your loads aboard our trailers. Some of the brands we have shipped include:
Looking For Transport
With a Specific Trailer?

Max Weight: 150,000+ lbs. | Main Deck Length 29 ft.
| Well Width 8.5 ft. | Legal Height Limit 11.6 ft.

Max Weight: 48,000 lbs. | Max Length 53 ft.
| Max Width 8.5 ft. | Max Height 8.5 ft.
Max Weight: 48,000 lbs. Max Length 53 ft. |
Max Width 8.5 ft. | Max Height 11 ft.
Max Weight: 45,000 lbs. | Max Length 29 ft.
| Max Width 8.5 ft. | Max Height 11.5 ft.
See what you need?
Call us for a FREE Shipping Estimate at (954) 302-9094