Vermont Pilot Cars for Oversize Loads
Are you looking for professional pilot car services in Vermont? Heavy Haulers is your trusted escort vehicle provider with over a decade of experience in the industry. We are a nationally recognized heavy equipment shipping company with a full-service portfolio that includes piloted shipping solutions.
Transporting a heavy, over-dimensional cargo or superload in Vermont requires proper knowledge of the DOT regulations for pilot cars. Our offices in Vermont have trained, experienced, and knowledgeable pilot car specialists who understand the laws. They'll handle everything, from obtaining the transport permits and the related documents to arranging police escort. Our escort vehicles include state-of-the-art trucks, vans, SUVs, and compact passenger vehicles. All the rigs feature the necessary equipment to ensure that your cargo and the transportation crew are all safe.
At Heavy Haulers, we have a passion for transporting heavy and oversized equipment in Vermont, and safeguarding them while in transit is our No. 1 priority. That's why we only work with a professional team of pilot and escort vehicle drivers who've been piloting superload shipments for years. They are trained, learned, and insured. Therefore, they know what to do to ensure that they effectively control the traffic. They will follow standard piloting procedures, research the routes, and ensure that the vehicles and rigs adhere to the state's DOT policies. When you choose Heavy Haulers Vermont pilot car services, you get safety and dependability that guarantees a safe delivery, regardless of the intended destination.
Contact Our Expert Shipping Specialist's
(954) 302-9094
Our Escort Car Services Adhere to Vermont's Rules and Regulations
Our professional Vermont pilot car specialists have studied and understood the DOT requirements for pilot car vehicles. Hence, they can measure the heavy equipment's weight, length, and height and tell whether to obtain a permit and when to deploy an escort car. In case the cargo requires multiple lead cars and a police escort, we can also cater to that.
In Vermont, the same travel time restrictions apply as in most states. Travel time is restricted between ½ an hour to sunrise to ½ an hour after sunset. Any loads measuring over 8 ft. 6 in. wide, 13 ft. 6 in. high, and 68 ft. long will require a transport permit. However, we will provide one pilot car when the cargo exceeds 12 ft. in width, 80 ft. in length, and 15 ft. overhang. For superloads determined to be hazardous and complex, we will use one pilot car in front, another in the rear, and a police escort. Call now! (954) 302-9094
Common Heavy-Equipment that Require Pilot Car Services
• Mobile Homes


• Toll Gantries


• Industrial Transformers


• Mining Transport Trucks


• Tanker Trunks


• Concrete Beams


• Windmill Turbines


Pilot Cars and Escort Vehicles Near Me in Vermont
Heavy Haulers provides pilot cars and escort vehicles everywhere in Vermont. We're ready to go in every town and city. We make sure to provide the best oversize load pilot cars. All escort vehicles in Vermont are vetted to make sure they have the proper credentials for a safe wide load journey. Whether you're moving a load to or from Vermont, we always have "pilot cars near me" to get you where you need to go. Call now! (954) 302-9094
See what you need?
Call us for a FREE Shipping Estimate at (954) 302-9094
HEAVYHAULERS.COM
START YOUR SHIPMENT TODAY!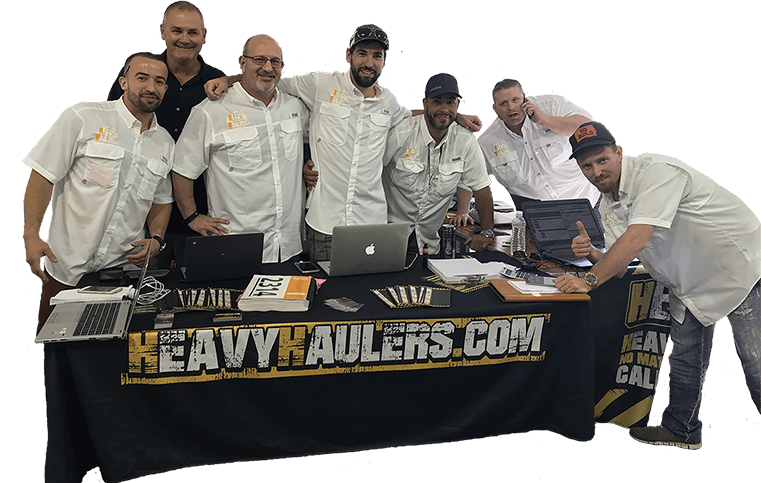 We Are Ready To Help You Haul Your Equipment!
Common Equipment Heavy Haulers Transports
Trust Heavy Haulers to transport any brand of equipment you own. Most of our drivers are experienced heavy-machinery operators who can safely maneuver your loads aboard our trailers. Some of the brands we have shipped include:
Looking For Transport
With a Specific Trailer?

Max Weight: 150,000+ lbs. | Main Deck Length 29 ft.
| Well Width 8.5 ft. | Legal Height Limit 11.6 ft.

Max Weight: 48,000 lbs. | Max Length 53 ft.
| Max Width 8.5 ft. | Max Height 8.5 ft.
Max Weight: 48,000 lbs. Max Length 53 ft. |
Max Width 8.5 ft. | Max Height 11 ft.
Max Weight: 45,000 lbs. | Max Length 29 ft.
| Max Width 8.5 ft. | Max Height 11.5 ft.
See what you need?
Call us for a FREE Shipping Estimate at (954) 302-9094