Providing Pilot Car Delivery in Colorado and Beyond
Pilot car transport is a necessary precaution when shipping oversized equipment, machinery, or construction materials. The Heavy Haulers pilot car service is here to assist you, whether you're traveling solely inside of Colorado or further afield. We provide pilot vehicle transport in all 50 states, and can even help your shipments to travel into Canada and Mexico. We understand that oversized equipment deliveries may include long-haul journeys between states, and our nationwide network is perfect for ensuring that your pilot vehicle service safely crosses borders where required.
Your escort vehicle operator is required to be certified for travel in Colorado. As part of our escort car delivery service, we'll provide licensed, insured, and experienced pilot car drivers who will safely travel alongside your shipment. You can't ask just anyone to provide a pilot car service. You'll need a pilot car transport company that you can trust to handle your escort car delivery. And that's where Heavy Haulers comes in; Heavy Haulers escort vehicles are provided by experts with more than a decade of experience coordinating Colorado travel. We have an excellent reputation for handling pilot vehicle transport, and you won't regret choosing our pilot car delivery service. Call now! (954) 302-9094
Contact Our Expert Shipping Specialist's
(954) 302-9094
Reliable Pilot Cars in Colorado
Heavy Haulers pilot vehicle services will provide you with an escort car that meets all of Colorado's oversized delivery requirements. Colorado has blue, yellow, green, and white transport routes that each have different pilot car transport requirements. With this in mind, you may find it troublesome to identify precisely which pilot vehicle services you'll need when traveling through Colorado, particularly if you have not traveled the route before. Our escort car delivery service knows which rules and regulations apply to each route, and won't hesitate to provide you with a reliable pilot vehicle to help facilitate your oversized shipment's journey.
Escort vehicle transport requirements vary according to each major city. If you're looking for pilot car services in Denver, Colorado Springs, Grand Junction, the regulations will vary. For a truly accurate assessment of pilot car delivery requirements, you can contact the Heavy Haulers transport professionals at any time. We'll know when height poles are required, when you'll need more than one escort car transport alongside your equipment delivery, and when pilot cars are legally able to travel. And that's not all! You can depend on us to provide a safe passenger vehicle or 2-axle truck that weighs less than the maximum weight restrictions.
See what you need?
Call us for a FREE Shipping Estimate at (954) 302-9094
HEAVYHAULERS.COM
START YOUR SHIPMENT TODAY!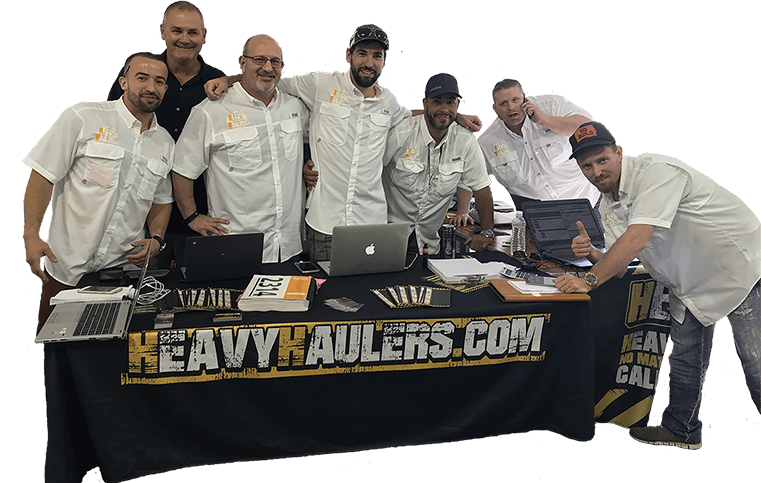 We Are Ready To Help You Haul Your Equipment!
Common Equipment Heavy Haulers Transports
Trust Heavy Haulers to transport any brand of equipment you own. Most of our drivers are experienced heavy-machinery operators who can safely maneuver your loads aboard our trailers. Some of the brands we have shipped include:
Looking For Transport
With a Specific Trailer?

Max Weight: 150,000+ lbs. | Main Deck Length 29 ft.
| Well Width 8.5 ft. | Legal Height Limit 11.6 ft.

Max Weight: 48,000 lbs. | Max Length 53 ft.
| Max Width 8.5 ft. | Max Height 8.5 ft.
Max Weight: 48,000 lbs. Max Length 53 ft. |
Max Width 8.5 ft. | Max Height 11 ft.
Max Weight: 45,000 lbs. | Max Length 29 ft.
| Max Width 8.5 ft. | Max Height 11.5 ft.
See what you need?
Call us for a FREE Shipping Estimate at (954) 302-9094