Oregon Pilot Car Transport for Oversize Loads
We provide all pilot car and escort vehicle services in Oregon. Heavy Haulers understands the importance of ensuring your valuable cargo's safety. It's critical to keep the entire crew accompanying the load safe too. Our professionals are ready to help you plan, budget, and map out the shortest route with the lower transportation tolls. We will handle everything on your behalf, from pre-planning, safety, and communications protocols to hazard analysis and emergency preparedness. We have been providing escort vehicle solutions in Oregon for over ten years. Therefore, we are knowledgeable about the state's DOT requirements and policies governing pilot car shipping.
Are you in need of high-pole escort vehicles for your excessively high load in Oregon? Heavy Haulers promises to safely escort your high load to ensure it reaches your intended destinations within the agreed-upon time and in the condition that you left it in. Our escorting crew is experienced in piloting superloads and can easily coordinate with the local police department and traffic authorities for seamless heavy- and superload transport in Oregon. Heavy Haulers' escort vehicle services have state-of-the-art communication protocols, enabling our pilot crew to coordinate the shipping process effectively.
The Heavy Haulers pilot car transport experts provide a pilot vehicle service throughout Oregon and beyond. Whether you're looking to travel the busiest highways or need an escort car delivery service that can accompany your shipment to remote destinations, our pilot car services are here to help. All of our pilot vehicle drivers are experienced, insured, and highly-skilled escorts. Call now and let's get started! (954) 302-9094
Contact Our Expert Shipping Specialist's
(954) 302-9094
Oregon Escort Vehicles for Safe Transport
Our Oregon pilot car services alert the public and any oncoming traffic that there is an oversized load advancing on the road. Even as we strive to provide the best possible escort services, we do that with high adherence to Oregon's heavy-cargo pilot services. We will start by retrieving the transportation permit, which requires a meeting or communication with the state's transportation department.
We know when to deploy escort cars in Oregon. The number of vehicles escorting your in-transit heavy cargo depends on the size, weight, length of the load. We will send one lead vehicle for oversized equipment with over 14 ft. of width. All our pilot cars, pickups, and passenger vehicles will have the "OVERSIZED LOAD" sign with eligible letters for enhanced visibility and safety. We also understand the legal requirements when including amber strobing and flashing lights in case we need to pilot an overweight cargo at night. (954) 302-9094
Over the decade that we've provided Oregon heavy-cargo shipping and escort vehicle solutions, we have invested in state-of-the-art and legally required equipment to ensure that your oversized and overweight cargo is successfully and safely transported. The equipment includes:
• Full-sized "OVERSIZED LOAD" sign racks


• LED full- and mini-bar warning lights


• Beacon lenses


• Red flags


• Certified escort badges


• Fire extinguishers


• Hardhats and reflective vests


• Industrial Furnaces


• STOP/SLOW paddle


• Reflectors and Cones


Pilot Cars and Escort Vehicles Near Me in Oregon
Heavy Haulers provides pilot cars and escort vehicles everywhere in Oregon. We're ready to go in every town and city. We make sure to provide the best oversize load pilot cars. All escort vehicles in Oregon are vetted to make sure they have the proper credentials for a safe wide load journey. Whether you're moving a load to or from Oregon, we always have "pilot cars near me" to get you where you need to go. Call now! (954) 302-9094
See what you need?
Call us for a FREE Shipping Estimate at (954) 302-9094
HEAVYHAULERS.COM
START YOUR SHIPMENT TODAY!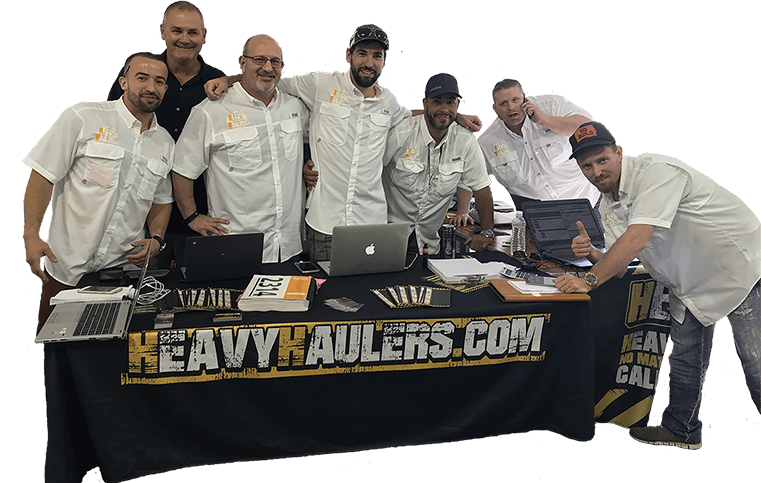 We Are Ready To Help You Haul Your Equipment!
Common Equipment Heavy Haulers Transports
Trust Heavy Haulers to transport any brand of equipment you own. Most of our drivers are experienced heavy-machinery operators who can safely maneuver your loads aboard our trailers. Some of the brands we have shipped include:
Looking For Transport
With a Specific Trailer?

Max Weight: 150,000+ lbs. | Main Deck Length 29 ft.
| Well Width 8.5 ft. | Legal Height Limit 11.6 ft.

Max Weight: 48,000 lbs. | Max Length 53 ft.
| Max Width 8.5 ft. | Max Height 8.5 ft.
Max Weight: 48,000 lbs. Max Length 53 ft. |
Max Width 8.5 ft. | Max Height 11 ft.
Max Weight: 45,000 lbs. | Max Length 29 ft.
| Max Width 8.5 ft. | Max Height 11.5 ft.
See what you need?
Call us for a FREE Shipping Estimate at (954) 302-9094