Top-Notch Montana Escort Vehicle Services
The escort vehicle services we offer in Montana are provided by an experienced team that knows the ins and outs of large delivery projects. In Montana, in addition to standard over dimensional travel, there is also scope for the movement of large and unusual objects that exceed dimensions in the following ways:
Between 18'-34' wide, 17'-24' high, or 150' and 200' long (Class 1)
Over 34' wide, 24' high, or over 200' long (Class 2)
Less than 18' width, 17' in length, and 150' long, but weight is subject to approval (Class 3)
Deliveries that fall into one of the above categories may require additional specialized services, including power line cutting and Bridge Bureau approvals. Allow our expert team to direct you towards the most appropriate pilot car transport and take care of any specialized requirements that your shipment requires. We pride ourselves on providing comprehensive pilot car services that will help you to get your heavy load moving along its next Montana route safely with a minimal amount of fuss. Let our years of experience handling oversized equipment transport in Montana that require a pilot car benefit you, and call Heavy Haulers to arrange. Call now and let's get started! (800) 908-6206
Contact Our Expert Shipping Specialist's
(954) 302-9094
Meeting Montana's Pilot Car Regulations with Heavy Haulers
Obtaining pilot vehicles that meet the requirements set out by Montana's DOT is a breeze when you choose a Heavy Haulers pilot car transport service. The permit office needs a variety of special information if you're escorting equipment that is more than 8'6" wide, 14'6" high, or using a trailer that is more than 53' long. The DOT will need insurance information, registered weight, US DOT number, limits of liability, overhang details, and more. There are also travel restrictions that apply, including restricted movement times for oversized equipment, and regulations vary based on the type of equipment you're transporting. Don't get lost in the minefield that is Montana's considerable permit requirements. Trust the Heavy Haulers escort car division to assess the number of vehicles required, and make sure your shipping project conforms to the DOT standards.
Our escort vehicle transport quotes are accurate and comprehensive. When you're ready to go ahead and book our pilot car service, call our friendly service representatives who will help you to obtain compliant escort vehicles for use in Montana. Our chosen pilot vehicles are readily available and outfitted with the appropriate signs, lights, flags, and additional equipment necessary for hassle-free, DOT-approved heavy equipment deliveries. Every passenger car or 2-axle truck we provide weighs less than the 2 tons GVW and is at least 60" wide, as required by Montana's regulations. Get more info by giving us a call! (800) 908-6206
See what you need?
Call us for a FREE Shipping Estimate at (954) 302-9094
HEAVYHAULERS.COM
START YOUR SHIPMENT TODAY!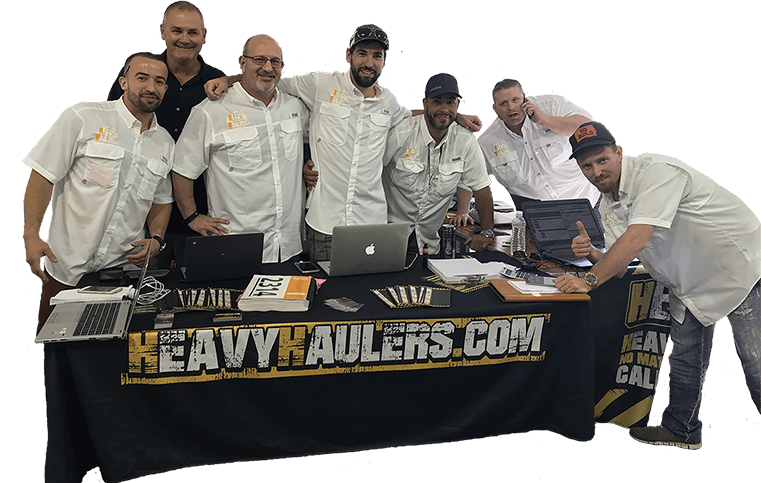 We Are Ready To Help You Haul Your Equipment!
Common Equipment Heavy Haulers Transports
Trust Heavy Haulers to transport any brand of equipment you own. Most of our drivers are experienced heavy-machinery operators who can safely maneuver your loads aboard our trailers. Some of the brands we have shipped include:
Looking For Transport
With a Specific Trailer?

Max Weight: 150,000+ lbs. | Main Deck Length 29 ft.
| Well Width 8.5 ft. | Legal Height Limit 11.6 ft.

Max Weight: 48,000 lbs. | Max Length 53 ft.
| Max Width 8.5 ft. | Max Height 8.5 ft.
Max Weight: 48,000 lbs. Max Length 53 ft. |
Max Width 8.5 ft. | Max Height 11 ft.
Max Weight: 45,000 lbs. | Max Length 29 ft.
| Max Width 8.5 ft. | Max Height 11.5 ft.
See what you need?
Call us for a FREE Shipping Estimate at (954) 302-9094