Escort Car Services in Kentucky
Obtaining escort car transport doesn't have to be a stressful undertaking. If you choose our pilot car services, you'll be working with an escort vehicle transport provider with more than a decade of experience handling heavy equipment deliveries and associated pilot car transport throughout Kentucky. We're an escort vehicle transport company that offers a comprehensive service when it comes to all types of over-dimensional transport requests. Not only do we provide timely escort car delivery services, but the pilot car service you choose can incorporate route surveys, DOT permits, and much more.
Our entire range of Heavy Haulers pilot car services in Kentucky is at your fingertips. We'll work with you to create a suitable travel schedule, source appropriate pilot vehicles, complete all necessary paperwork, and more. Your escort car delivery can be ready to transport loads anywhere in Kentucky, from Louisville to Lexington, Eddyville to Owensboro, and further afield. We can coordinate shipping requests from Kentucky's busiest inland ports on the Ohio, Cumberland, and Tennessee Rivers, as well as accompany deliveries to and from all major airports. No matter where you are in Kentucky, or where your escort delivery is headed, our nationwide pilot car delivery service is here to support you. We've cultivated a vast network that connects all of our customers with local expertise for the best experience when using our escort vehicle shipping services. Even if you're traveling out-of-state, our pilot vehicle services can provide an escort vehicle to go with you. Let's get started! (954) 302-9094
Contact Our Expert Shipping Specialist's
(954) 302-9094
Meeting Kentucky Pilot Car Shipping Requirements
Heavy Haulers pilot vehicle services will provide you with an escort car that meets oversized delivery requirements set by the DOT in Kentucky. Pilot car shipping regulations are less restrictive than some other U.S. states, with there being no holiday restriction unless the delivery is classed as a superload or a house move. However, some counties, such as Boone, Jefferson, and Fayette, have travel restrictions in place between 7-9 am and 4-6 pm Monday through Friday. To determine which restrictions might apply to your travel route, rely on our logistics experts to plan the route and offer up-to-date, accurate advice for loads that require a pilot car delivery. Our escort car delivery service is provided by experienced Kentucky drivers that know which regulations apply to each route and will always provide you with the safest delivery options.
Safety is critical, and our escort vehicle services will always connect you with pilot vehicles and drivers that match Kentucky's stipulations. Appropriate signs need to be posted on the car, there must be a top-mounted amber flashing light or amber strobe light, and every vehicle driver needs access to a 2-way radio to maintain constant communication on routes throughout Kentucky. The number of vehicles required will vary depending on the size of your shipment and the desired travel route. 2-lane highway driving has different regulations to 4-lane or more divided highways, especially if the heavy load is traveling at less than the average driving speed of traffic. Contact the Heavy Haulers escort vehicle services team at any time for a comprehensive quote and advice regarding your escort car shipping journey. Call now! (954) 302-9094
HEAVYHAULERS.COM
START YOUR SHIPMENT TODAY!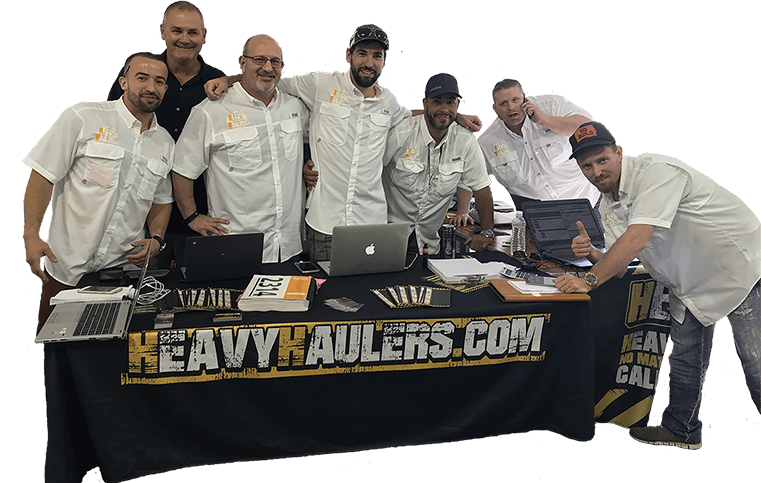 We Are Ready To Help You Haul Your Equipment!
Common Equipment Heavy Haulers Transports
Trust Heavy Haulers to transport any brand of equipment you own. Most of our drivers are experienced heavy-machinery operators who can safely maneuver your loads aboard our trailers. Some of the brands we have shipped include:
Looking For Transport
With a Specific Trailer?

Max Weight: 150,000+ lbs. | Main Deck Length 29 ft.
| Well Width 8.5 ft. | Legal Height Limit 11.6 ft.

Max Weight: 48,000 lbs. | Max Length 53 ft.
| Max Width 8.5 ft. | Max Height 8.5 ft.
Max Weight: 48,000 lbs. Max Length 53 ft. |
Max Width 8.5 ft. | Max Height 11 ft.
Max Weight: 45,000 lbs. | Max Length 29 ft.
| Max Width 8.5 ft. | Max Height 11.5 ft.
See what you need?
Call us for a FREE Shipping Estimate at (954) 302-9094