Quality Escort Vehicle Services in Minnesota
If you need an escort vehicle in Minnesota to accompany your oversized delivery, you've come to the right place. We've been serving all Minnesota areas with escort vehicle services for more than a decade. Heavy Haulers' escort cars are available to book online or over the phone, and we pride ourselves on providing a hassle-free escort car service. Our escort car services are designed to prioritize the safety of oversize equipment traveling through the North Star State. Regardless of your end destination, whether it's elsewhere in Minnesota, the U.S., Canada, or Mexico, we can supply you with local expertise and professionally-equipped escort cars to make sure your transport project meets all transport regulations.
At the Heavy Haulers pilot vehicle company, we do more than provide you with the required escort cars. Our pilot vehicle services are all provided by trustworthy, experienced shipping professionals who will help to coordinate your shipping project so that your equipment arrives on time without compromising the safety of anyone involved. Call now for a free quote! (800) 908-6206
Contact Our Expert Shipping Specialist's
(954) 302-9094
Minnesota's Pilot Car Transport Regulations
If you need a pilot vehicle in Minnesota to accompany your oversized equipment, Heavy Haulers escort vehicle transport services are here to help you find the right car. We offer a variety of pilot car services that prioritize the secure movement of oversized cargo throughout the land of 10,000 Lakes by providing safe, modern pilot vehicles that meet all of Minnesota's escort vehicle requirements set out by the state's DOT. Pilot transport vehicles are required in several scenarios, for example:
On two-lane highways if cargo wider than 14'6"
On multi-lane divided highways if equipment between 14'6" and 16'
On all highways, if the shipment is more than 16' wide
On all highways, if the shipment is more than 95' long
On all highways, if the shipment is more than 15'6" high
There are numerous requirements attributed to the escort vehicles themselves, but in general, they may be a passenger car, station wagon, or pickup. Pilot cars must display appropriate 'wide load' or 'long load' signs on the roof of the vehicle. The sign must be a minimum of 12" by 60", with black text at least 8" high on a yellow background. The sign should not extend beyond the vehicle's fenders. Single or dual amber lights are also required. They should be mounted either on top of or to the sign's side. Lights may be disc, rotating, or strobe types, but they are required to operate at least 60-90 flashes per minute and visible from 500' away. At night, the lights must be in continual operation. Additional stipulations include 2-way radios fitted in all escort vehicles and pilot drivers at least 18 years of age. Let's get started! (800) 908-6206
See what you need?
Call us for a FREE Shipping Estimate at (954) 302-9094
HEAVYHAULERS.COM
START YOUR SHIPMENT TODAY!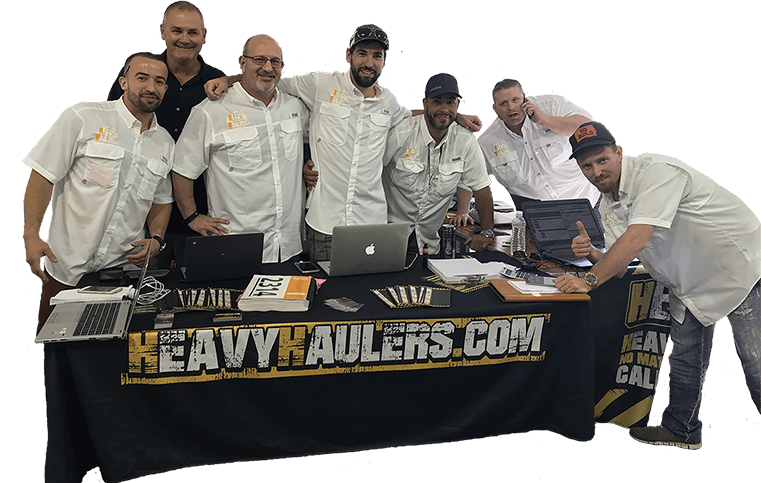 We Are Ready To Help You Haul Your Equipment!
Common Equipment Heavy Haulers Transports
Trust Heavy Haulers to transport any brand of equipment you own. Most of our drivers are experienced heavy-machinery operators who can safely maneuver your loads aboard our trailers. Some of the brands we have shipped include:
Looking For Transport
With a Specific Trailer?

Max Weight: 150,000+ lbs. | Main Deck Length 29 ft.
| Well Width 8.5 ft. | Legal Height Limit 11.6 ft.

Max Weight: 48,000 lbs. | Max Length 53 ft.
| Max Width 8.5 ft. | Max Height 8.5 ft.
Max Weight: 48,000 lbs. Max Length 53 ft. |
Max Width 8.5 ft. | Max Height 11 ft.
Max Weight: 45,000 lbs. | Max Length 29 ft.
| Max Width 8.5 ft. | Max Height 11.5 ft.
See what you need?
Call us for a FREE Shipping Estimate at (954) 302-9094