Professional Pilot Car Transport Company in Kansas
If you need a pilot car in Kansas to accompany your bulky equipment delivery, Heavy Haulers escort vehicles are available to book online or over the phone. We pride ourselves on professional pilot car services that prioritize the safety of oversized machinery, regardless of your end destination. Whether you need escort car transport to move equipment in Wichita, Topeka, Lawrence, or other major Kansas cities, we can supply a local escort vehicle that serves your location. Our nationwide network of pilot cars can also support your bulky machinery deliveries to remote or out-of-state destinations.
Obtaining escort vehicle transport can be daunting if you're unfamiliar with the escort requirements of your particular shipment. At the Heavy Haulers pilot car company, we do more than provide you with suitable escorts. Our escort car services are all operated by trustworthy, professional, and knowledgeable drivers that you can rely on to get your shipment delivered on time. We offer escort car delivery services suitable for accompanying all oversized loads. When you speak to our pilot car delivery team, we'll help you to determine which service meets your requirements. Not only that, but we'll also take care of all of the arrangements, so you're guaranteed to receive a hassle-free pilot car service. Call now! (954) 302-9094
Contact Our Expert Shipping Specialist's
(954) 302-9094
Escort Vehicle Requirements in Kansas
To make sure your oversized equipment delivery can safely and legally travel throughout Kansas, knowledge of pilot vehicle requirements is essential. The logistics team at Heavy Haulers knows precisely when pilot cars will be required, and you can depend on us to provide appropriate vehicles for any delivery that requires a Kansas pilot car escort. Our Heavy Haulers pilot car services are designed to connect you with escort transport that meets all requirements quickly.
Pilot vehicle transport in Kansas must be a passenger vehicle or two-axle truck with a maximum 1-ton carrying capacity, to qualify as suitable for escort delivery services. For loads exceeding 8ft6" width, 14ft height, or 59ft6" in length, permits are also required for transport. On all Kansas highways, mobile homes and superloads need both front and rear escort car services. On roads with less than 4-lanes, front and rear escorts are only required if alternative shipments are more than 14ft wide. Compared to some states, Kansas has extensive pilot car regulations. Every car needs to be fitted with oversized loads signs that are visible at 500ft, amber flashing or rotating lights visible at 1000ft, and a multitude of safety equipment, including jack, spare tire, eight reflective triangles or flares, fluorescent clothing, and more. For more information regarding Kansas pilot escort delivery requirements, contact us for a personalized quote. (954) 302-9094
Common Equipment that Requires Escort Vehicles in Kansas:
• Aircraft Frames


• Bridge Beams


• Bulldozer Machines


• Cranes


• Construction Scraper


• Excavators


• Front End Loaders


• Industrial Furnaces


• Tugboats


• Wheel Loaders


See what you need?
Call us for a FREE Shipping Estimate at (954) 302-9094
HEAVYHAULERS.COM
START YOUR SHIPMENT TODAY!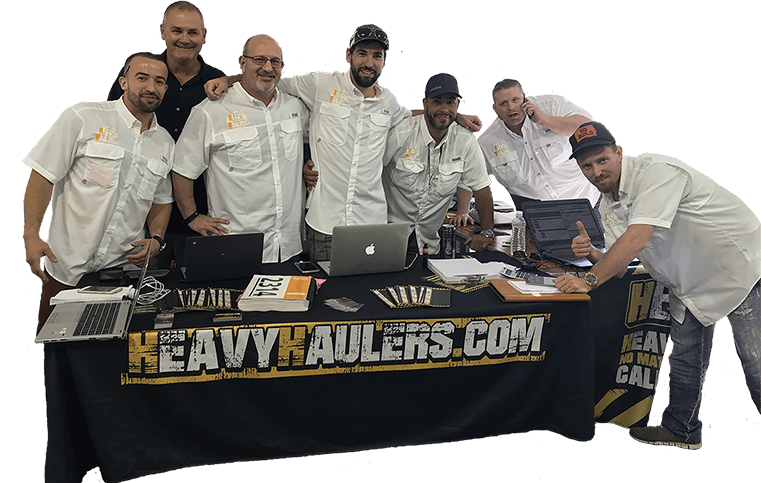 We Are Ready To Help You Haul Your Equipment!
Common Equipment Heavy Haulers Transports
Trust Heavy Haulers to transport any brand of equipment you own. Most of our drivers are experienced heavy-machinery operators who can safely maneuver your loads aboard our trailers. Some of the brands we have shipped include:
Looking For Transport
With a Specific Trailer?

Max Weight: 150,000+ lbs. | Main Deck Length 29 ft.
| Well Width 8.5 ft. | Legal Height Limit 11.6 ft.

Max Weight: 48,000 lbs. | Max Length 53 ft.
| Max Width 8.5 ft. | Max Height 8.5 ft.
Max Weight: 48,000 lbs. Max Length 53 ft. |
Max Width 8.5 ft. | Max Height 11 ft.
Max Weight: 45,000 lbs. | Max Length 29 ft.
| Max Width 8.5 ft. | Max Height 11.5 ft.
See what you need?
Call us for a FREE Shipping Estimate at (954) 302-9094