Your Premier Escort Vehicle Company in Maine
Ask the professionals at Heavy Haulers for an escort vehicle, and you'll be connected with a reliable, trustworthy pilot car delivery expert. Your escort vehicle delivery will arrive on-site in perfect condition, ready to travel alongside your chosen heavy equipment trailer. Our pilot vehicle transport services integrate perfectly into any heavy equipment moving project, as we have designed them to be highly customizable, comprehensive, and readily available. With us, you can seamlessly ship over-dimensional loads anywhere in Maine, even at short notice. We serve all major cities, the state's busiest Atlantic Ocean ports, and also all of Maine's general aviation and international airports. One reason we're considered the premier escort vehicle company in Maine is because no location is out of reach when it comes to pilot vehicle escort availability.
With over a decade of experience in the heavy equipment transport industry, you can depend on us to know what it takes to coordinate oversized shipments that require the use of a pilot car in Maine. Our pilot vehicle services are easily accessible to anyone looking for escort vehicles in the Pine Tree State, and we're ready to craft a genuinely comprehensive, personalized escort vehicle delivery service for you. We can efficiently arrange the necessary escort vehicle permits, suitable pilot car transport, as well as plan a suitable delivery route that ensures your heavy machinery gets to its next destination promptly. We pride ourselves on creating a hassle-free experience for anyone needing oversized or superload escorts. Contact us to find out more about why we're the premier pilot vehicle company in Maine. Let's get started! (954) 302-9094
Contact Our Expert Shipping Specialist's
(954) 302-9094
Meeting Maine's Pilot Car Transport Regulations
Many deliveries in Maine require escort vehicle services to ensure the safe transit of expensive heavy equipment loads. If your planned route involves 2-lane or multi-lane highways, we'll provide the appropriate number of front and rear escort pilot cars. State police escorts may also need to be brought in to accompany your shipment if the load is more than 124ft in length, extremely tall, or more than 16ft wide. The Heavy Haulers pilot car service is here to provide you with the full extent of escort vehicle services that match your requirements. All of Heavy Haulers escorts are automobile or light trucks fitted with oversized load signs, which can be displayed on roofs, or front and rear bumpers. We also provide 2-4 amber flashing, rotary, or strobe warning lights. One key stipulation of escort travel in Maine is the provision of a 2-way radio with at least a 1-mile radius. At Heavy Haulers, our escort delivery service makes sure that no stipulation is missed and that your shipment is up-to-code.
We'll also supply drivers with appropriate experience to help your oversized load transition to its new location. With at least two years of operator experience and local driving knowledge, you can be sure that your Heavy Haulers escort is appropriately trained to handle Maine escort delivery requirements. Trust us to know which pilot vehicle service you'll need and save yourself the hassle of finding a qualified driver and vehicle. We can quickly handle the process for you! Call now! (954) 302-9094
HEAVYHAULERS.COM
START YOUR SHIPMENT TODAY!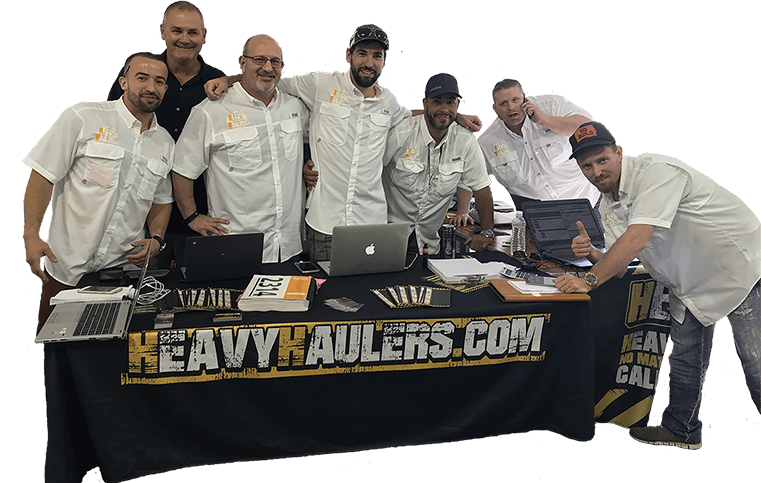 We Are Ready To Help You Haul Your Equipment!
Common Equipment Heavy Haulers Transports
Trust Heavy Haulers to transport any brand of equipment you own. Most of our drivers are experienced heavy-machinery operators who can safely maneuver your loads aboard our trailers. Some of the brands we have shipped include:
Looking For Transport
With a Specific Trailer?

Max Weight: 150,000+ lbs. | Main Deck Length 29 ft.
| Well Width 8.5 ft. | Legal Height Limit 11.6 ft.

Max Weight: 48,000 lbs. | Max Length 53 ft.
| Max Width 8.5 ft. | Max Height 8.5 ft.
Max Weight: 48,000 lbs. Max Length 53 ft. |
Max Width 8.5 ft. | Max Height 11 ft.
Max Weight: 45,000 lbs. | Max Length 29 ft.
| Max Width 8.5 ft. | Max Height 11.5 ft.
See what you need?
Call us for a FREE Shipping Estimate at (954) 302-9094