Pilot Cars Available Across New York
Ask the Heavy Haulers transport team for a pilot vehicle, and we'll put you in touch with a reliable, trustworthy escort car delivery driver and car appropriate for even the most awkward New York routes. Your escort car transport will arrive on-site in excellent condition, ready to travel alongside your heavy equipment trailer. Our pilot car vehicle services integrate easily into any moving project that includes oversized loads, enabling you to move bulky equipment to a new location seamlessly. Our secure escort vehicle services serve every area in New York, whether you're traveling to the United States' largest city or delivering to remote locations. Our escort cars can even safely accompany your delivery outside of the Empire State if that's what you need.
With over a decade of heavy equipment shipping experience in the U.S., we know what it takes to coordinate safe, legal transport. Our escort vehicles are readily available for projects that involve the shipping of oversized equipment and machinery, thanks to our dedicated network of escort vehicle specialists that operate not just statewide but throughout America. We can quickly arrange for the right travel permits, get pilot vehicles to your location, and plan effective transport routes for even the most awkward transport projects. Let's get started! (800) 908-6206
Contact Our Expert Shipping Specialist's
(954) 302-9094
Escort Vehicle Requirements in New York
New York State is home to some of the largest cities in the U.S. and some of the busiest highways. Many heavy machinery moving projects in New York require escort vehicles for safe transport. The provision of pilot cars not only protects your equipment en route, but they help to warn other road users of the potential oncoming hazard. Suppose your delivery is more than 12' wide, 80' long, over 14' high, or has a 10' overhang, and your delivery route involves 2-lane or 4-lane highways. In that case, an escort is not just a valuable safety device but a legal requirement. In some cases, such as when the gross vehicle weight exceeds 200,000, a police escort is also necessary.
The Heavy Haulers escort vehicle service is here to supply you with the number of pilot vehicles that match your individual project's requirements. New York regulations stipulate that cars used to accompany oversized loads must have been registered in 1997 or later, with a 100" wheelbase, unless it is a utility vehicle. Our escort vehicles are all fitted with the necessary oversize load signs, a top-mounted flashing strobe, or warning light bar, with 360-degree visibility from up to 1000', and include all regulatory safety equipment. Emergency flares, cell phones, 2-way radios, emergency triangles, fluorescent vests, stop paddles, red or orange flags, and a fire extinguisher of at least BC class is necessary. To avoid the hassle of sourcing all of this equipment yourself, choose our pilot car services. Call today! (800) 908-6206
See what you need?
Call us for a FREE Shipping Estimate at (954) 302-9094
HEAVYHAULERS.COM
START YOUR SHIPMENT TODAY!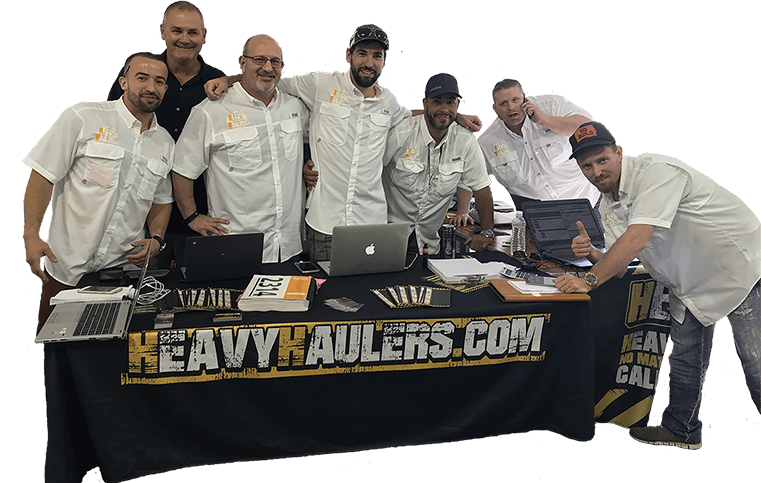 We Are Ready To Help You Haul Your Equipment!
Common Equipment Heavy Haulers Transports
Trust Heavy Haulers to transport any brand of equipment you own. Most of our drivers are experienced heavy-machinery operators who can safely maneuver your loads aboard our trailers. Some of the brands we have shipped include:
Looking For Transport
With a Specific Trailer?

Max Weight: 150,000+ lbs. | Main Deck Length 29 ft.
| Well Width 8.5 ft. | Legal Height Limit 11.6 ft.

Max Weight: 48,000 lbs. | Max Length 53 ft.
| Max Width 8.5 ft. | Max Height 8.5 ft.
Max Weight: 48,000 lbs. Max Length 53 ft. |
Max Width 8.5 ft. | Max Height 11 ft.
Max Weight: 45,000 lbs. | Max Length 29 ft.
| Max Width 8.5 ft. | Max Height 11.5 ft.
See what you need?
Call us for a FREE Shipping Estimate at (954) 302-9094