Our One-Stop-Shop for Missouri Escort Vehicle Services
At Heavy Haulers, we believe that obtaining the right pilot car transport for your Missouri equipment shipping project shouldn't be a stressful experience. That's why, throughout our decade of experience completing heavy equipment shipping projects, we have focused on providing comprehensive escort transport services for oversized deliveries traveling through the Show-Me State. We're a pilot car transport company that has refined its heavy equipment expertise and one that is proud of its vital array of comprehensive escort transport services. Not only do we offer time escort car delivery, but our pilot vehicle services can include a variety of additional services, including route surveys, route planning, applying for DOT permits, and much more.
If you choose our Heavy Haulers pilot car service, you'll get access to a team of dedicated escort car shipping professionals. Our team will create appropriate travel schedules, arrange for route surveys, ensure all pilot vehicles match Missouri DOT's regulations, and connect you and your equipment to any destination within Missouri. You may request our pilot car delivery service from anywhere in Missouri, whether you're in Kansas City, St. Louis, Springfield, Columbia, Independence, or further afield. Our team can accommodate your escort vehicle requirements, no matter where you are. We don't just deliver within state lines either; we can help your shipment enter or exit Missouri, regardless of if you're passing through or Missouri is home to your equipment's final destination. Let's get started! (800) 908-6206
Contact Our Expert Shipping Specialist's
(954) 302-9094
Sourcing Compliant Pilot Cars in Missouri
If your cargo is oversize, you may find that the state of Missouri requires multiple escort vehicles to accompany it. You'll find that different rules apply, depending on if your route involves 2-lane and undivided highways or interstate and divided multi-lane highways. Our experienced escort vehicle transport team knows all about Missouri's DOT regulations. You can rely on us to provide the requisite number of compliant pilot vehicles as part of our delivery services. Whether one rear escort car is required, a state patrol escort is necessary, or you should have both front and rear pilot cars, our team will know. You'll find our Heavy Haulers escort vehicle delivery service perfectly matches the requirements specified by the DOT.
You don't need to worry about what classifies as an appropriate pilot vehicle with us on your side. Our comprehensive pilot vehicle services take care of that for you. We provide access to properly licensed and insured autos, pickups, utility vehicles, and station wagons suitable as Missouri escorts. They'll be equipped with the required oversized load signs, red or orange warning flags mounted in the correct locations, and include height poles and 2-way radios to ensure safe transit. Call now! (800 908-6206
See what you need?
Call us for a FREE Shipping Estimate at (954) 302-9094
HEAVYHAULERS.COM
START YOUR SHIPMENT TODAY!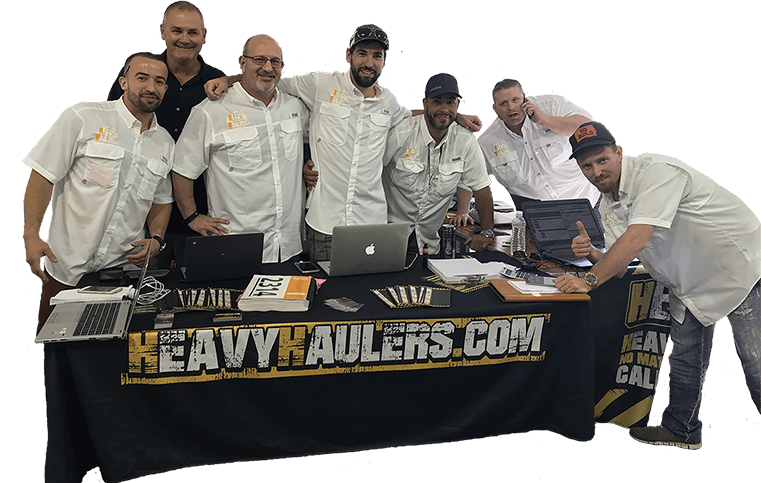 We Are Ready To Help You Haul Your Equipment!
Common Equipment Heavy Haulers Transports
Trust Heavy Haulers to transport any brand of equipment you own. Most of our drivers are experienced heavy-machinery operators who can safely maneuver your loads aboard our trailers. Some of the brands we have shipped include:
Looking For Transport
With a Specific Trailer?

Max Weight: 150,000+ lbs. | Main Deck Length 29 ft.
| Well Width 8.5 ft. | Legal Height Limit 11.6 ft.

Max Weight: 48,000 lbs. | Max Length 53 ft.
| Max Width 8.5 ft. | Max Height 8.5 ft.
Max Weight: 48,000 lbs. Max Length 53 ft. |
Max Width 8.5 ft. | Max Height 11 ft.
Max Weight: 45,000 lbs. | Max Length 29 ft.
| Max Width 8.5 ft. | Max Height 11.5 ft.
See what you need?
Call us for a FREE Shipping Estimate at (954) 302-9094