Georgia Escort Vehicles for Oversize Loads
Most oversize loads require escort vehicles or pilot cars. Heavy Haulers provides the best Georgia pilot car services in the industry. Our dedicated transport specialists will make sure that your oversize load or wide load has the perfect escort vehicles for transport. Our pilot car service has provided pilot car transport to every Georgia city, including Atlanta, Augusta, Columbus, Macon, Savannah, Roswell, and Brunswick. Heavy Haulers escort vehicles regularly travel the state's major highways, including the I-16, I-59, and I-75. If you need an escort car delivery, contact our friendly customer service team who can arrange a suitable pilot vehicle for you.
We specialize in safe, reliable pilot cars for transport. At Heavy Haulers we put the safety of the crew and your equipment above all. We provide escort vehicle transport for all oversize loads, wide loads, and super loads. We make sure your equipment transport doesn't violate traffic laws while on the road and reaches its goal safely. Every one of our pilot car drivers is trained to safely move heavy loads, and you can trust us to get your equipment to its end destination intact. Let's get started! (954) 302-9094
Contact Our Expert Shipping Specialist's
(954) 302-9094
Providing The Best Pilot Cars in Georgia
Every state has laws that dictate how large a load can be before it requires a pilot car. If you're new to long-haul oversized transport, it can be hard to keep track of all the different rules that apply to oversized load shipping. However, the Heavy Haulers escort car company can make your job easier by coordinating all of your pilot car transport needs and making sure your delivery is compliant. We know the rules for each state, including Georgia. We make sure all our pilot cars and escort vehicles are ready to move your oversize load in Georgia the right way.
Our escort car delivery comes with a seasoned driver that will make sure your shipment travels safely and legally through Georgia. A different number of pilot cars is required, depending on the size of the load being transported. When over 75' long, a heavy equipment trailer requires at least one pilot car. If more than 125' long, your pilot car service will include front and rear escorts.
In Georgia, your pilot vehicle must be a pickup or auto with appropriately mounted signs. In addition, pickups or autos used as pilot vehicle transport must be equipped with suitable amber roof-mounted lighting. The amber lights need a permit from Georgia's Department of Public Safety that can't be neglected. Luckily, when you choose Heavy Haulers escort vehicles, we make sure that all necessary permits are in place before your heavy equipment journey starts. Call now! (954) 302-9094
Common Equipment that Requires Escort Vehicles in Georgia
• Aircraft Frames


• Bridge Beams


• Bulldozer Machines


• Cranes


• Construction Scraper


• Excavators


• Front End Loaders


• Industrial Furnaces


• Tugboats


• Wheel Loaders


See what you need?
Call us for a FREE Shipping Estimate at (954) 302-9094
Pilot Cars and Escort Vehicles Near Me in Georgia
Georgia, known for peaches and magnolia trees, is a gorgeous state with vast mountains and great towns. Heavy Haulers provides pilot cars in every corner of Georgia, no matter how rugged the terrain. We're here to make sure your equipment is transported through Georgia safely with escort vehicles. Our drivers are experienced, so you feel confident in transport. So if you need Georgia escort vehicles "near me" give us a call. We're here to get you moving! (954) 302-9094
HEAVYHAULERS.COM
START YOUR SHIPMENT TODAY!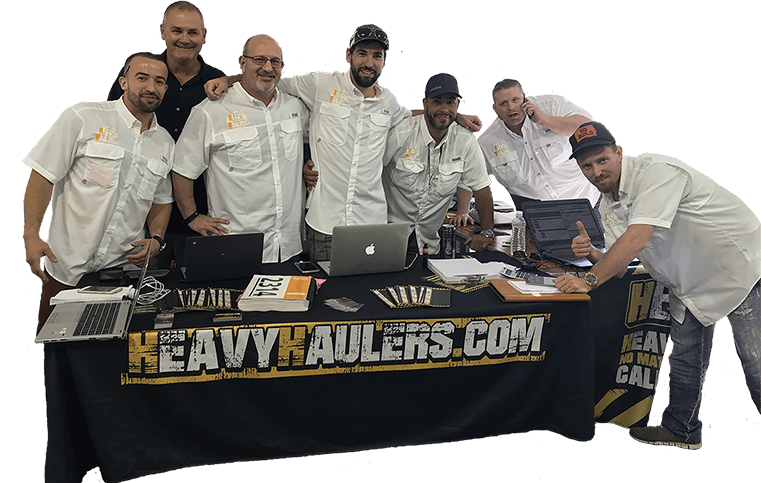 We Are Ready To Help You Haul Your Equipment!
Common Equipment Heavy Haulers Transports
Trust Heavy Haulers to transport any brand of equipment you own. Most of our drivers are experienced heavy-machinery operators who can safely maneuver your loads aboard our trailers. Some of the brands we have shipped include:
Looking For Transport
With a Specific Trailer?

Max Weight: 150,000+ lbs. | Main Deck Length 29 ft.
| Well Width 8.5 ft. | Legal Height Limit 11.6 ft.

Max Weight: 48,000 lbs. | Max Length 53 ft.
| Max Width 8.5 ft. | Max Height 8.5 ft.
Max Weight: 48,000 lbs. Max Length 53 ft. |
Max Width 8.5 ft. | Max Height 11 ft.
Max Weight: 45,000 lbs. | Max Length 29 ft.
| Max Width 8.5 ft. | Max Height 11.5 ft.
See what you need?
Call us for a FREE Shipping Estimate at (954) 302-9094