Trustworthy Pilot Car Services in New Mexico
Heavy Haulers is a genuinely dependable choice if you're looking for pilot car transport in New Mexico. Over the last decade, we've helped many of our customers ship oversized vehicles, including construction machinery, agricultural tractors, industrial equipment, and bulky raw materials, many of which have needed at least one pilot escort to guarantee safe, legal delivery. We built our pilot vehicle services to help you transport all types of oversized, overweight loads. Escort vehicles are an integral component of heavy equipment transport. Our vehicle crews include some of the most knowledgeable drivers, haulers, and logistics people you'll find in the delivery business.
As a company that has offered a dedicated pilot car delivery service in New Mexico for many years, you can rely on Heavy Haulers to provide a proven reliable escort car delivery service. No matter where you're based in New Mexico, our pilot car service is accessible. No origin or destination is too remote, and we'll even provide the pilot car right to your doorstep. Even if the final destination of your oversized transport is outside the confines of New Mexico, we'll accompany your shipment along its entire route to make sure it gets there safely. No matter how long or short your pilot vehicle's journey, the Heavy Haulers team will offer great rates and excellent pilot services that you can trust. Call free shipping estimate! (800) 908-6206
Contact Our Expert Shipping Specialist's
(954) 302-9094
Responsible Escort Vehicles For Oversize Loads
As a heavy machinery transport company with a conscience, we make sure that our escort vehicle services in New Mexico are conducted responsibly. We'll provide you with suitably experienced pilot car transport drivers who know all of Delaware's rules and regulations that apply to oversized deliveries. Call our experts, and we'll put forward the best Heavy Haulers vehicles available for the job at hand.
New Mexico escort car requirements may seem more restrictive compared to some states. Pilot cars used to escort oversize loads must undergo annual DOT inspections, and you must provide certification proof at all NMPOE. You must also carry insurance proof in the car. The wheelbase needs to be at least 100", and the GVW must not exceed 1.5 tons in weight. We make sure that every pilot car we supply meets all of New Mexico's safety requirements and that every vehicle is provisioned with:
Appropriately sized 'oversized load' signs either top-mounted or at front and rear
Two rotating amber lights that flash or exhibit strobe functionality
Lights visible at a minimum distance of 1000' in daylight
Two red or fluorescent orange flags, either top-mounted or at front and rear
2-ways radios
Rearview mirrors on the right and left
2.5 lb capacity fire extinguisher of suitable type
ID signs
Red flares
Reflectors
See what you need?
Call us for a FREE Shipping Estimate at (954) 302-9094
HEAVYHAULERS.COM
START YOUR SHIPMENT TODAY!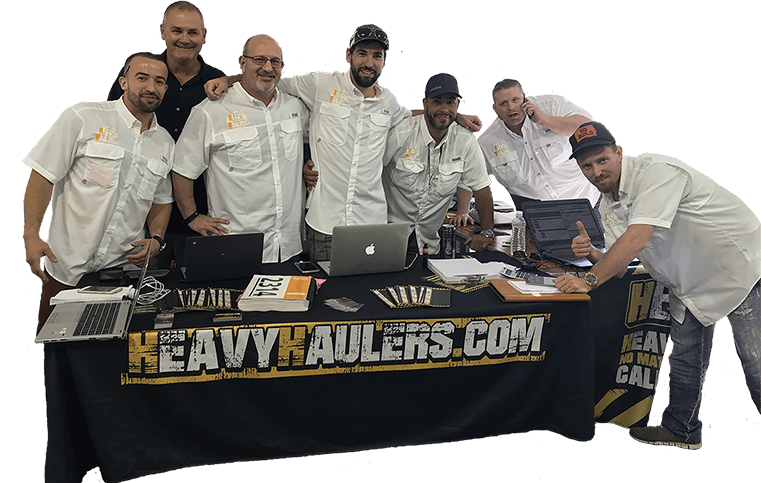 We Are Ready To Help You Haul Your Equipment!
Common Equipment Heavy Haulers Transports
Trust Heavy Haulers to transport any brand of equipment you own. Most of our drivers are experienced heavy-machinery operators who can safely maneuver your loads aboard our trailers. Some of the brands we have shipped include:
Looking For Transport
With a Specific Trailer?

Max Weight: 150,000+ lbs. | Main Deck Length 29 ft.
| Well Width 8.5 ft. | Legal Height Limit 11.6 ft.

Max Weight: 48,000 lbs. | Max Length 53 ft.
| Max Width 8.5 ft. | Max Height 8.5 ft.
Max Weight: 48,000 lbs. Max Length 53 ft. |
Max Width 8.5 ft. | Max Height 11 ft.
Max Weight: 45,000 lbs. | Max Length 29 ft.
| Max Width 8.5 ft. | Max Height 11.5 ft.
See what you need?
Call us for a FREE Shipping Estimate at (954) 302-9094