The Heavy Haulers Arkansas Pilot Car Services
Our pilot cars in Arizona are dispatched by a specialist team of escort car delivery professionals. Allow our expert team to direct you towards the right escort vehicle transport, and we'll help you to get your heavy load where it needs to be using the appropriate vehicles. Arizona pilot car services are easy when you call Heavy Haulers. We pride ourselves on being able to minimize the amount of time and energy you need to spend on sourcing the right escort vehicle, by providing a comprehensive Heavy Haulers pilot car service. We have pilot cars and escort vehicles for all oversize and wide loads in Arkansas. We make sure that the drivers are experienced, and ready to go, so your equipment has a safe transport.
We're a reliable pilot car transport company with years of experience handling oversized equipment and superload transport in Arkansas. We provide pilot cars for any load. At Heavy Haules we believe in putting together the most experienced crew to haul your freight. That includes the escort car drivers. We find the best in Arkansas. Whether your equipment is going to or from the Port of Tucson, traveling along any of the major trade corridors in the state, or moving out-of-state, we can provide pilot vehicle services that are suitable for your transport route. Heavy Haulers pilot vehicle services are an all-encompassing series of escort vehicle services that are designed to provide a safe, reliable delivery option. Let's get started! (954) 302-9094
Contact Our Expert Shipping Specialist's
(954) 302-9094
The Best Escort Car Company in Arkansas
If your cargo has unique requirements for transport that need to be taken into account, our experienced pilot vehicle transport professionals will know about it. We'll provide compliant escort transport in Arkansas whenever it's needed. If you're looking to transport equipment that's over 8'6" wide, 13'6" tall, more than 53'6 long, or weighing over 80,000 lbs through Arkansas, you'll need a pilot car service. Heavy Haulers escort vehicles provided as part of our escort car delivery service perfectly match the requirements specified by the DOT. With us on your side, you won't need to worry about what classifies as a suitable pilot vehicle, our pilot car services take care of that.
Permits are required for oversized transport deliveries, and there are travel restrictions that apply. Multiple escort vehicles are required when over-dimensional shipments travel through Arkansas, and the delivery takes between 2 and 4 lanes of transport. Call our friendly service team at the Heavy Haulers escort car company, and we'll assess the number of vehicles that you need, providing an accurate, comprehensive escort vehicle transport quote that you can use to obtain compliant cars. Our chosen vehicles are always outfitted with the appropriate signs, lights, flags, and additional safety equipment. Every truck we use as an escort vehicle weighs less than 20,000 lbs, has a suitably rated load capacity, and is licensed in Arizona. Call today! (954) 302-9094
See what you need?
Call us for a FREE Shipping Estimate at (954) 302-9094
Pilot Cars and Escort Vehicles Near Me in Arkansas
Arkansas borders the great Mississippi River and has vast wilderness and rough terrain. A lot of heavy equipment is moved in or through Mississippi, which is why Heavy Haulers provides the best pilot cars in the area. We have escort cars ready to go from the most country areas right into the cities. If you need escort vehicles "near me" in Arkansas, give us a call! (954) 302-9094
HEAVYHAULERS.COM
START YOUR SHIPMENT TODAY!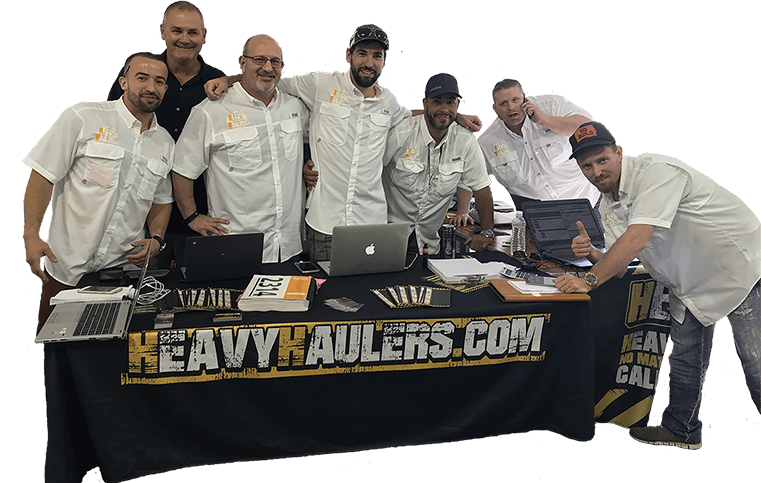 We Are Ready To Help You Haul Your Equipment!
Common Equipment Heavy Haulers Transports
Trust Heavy Haulers to transport any brand of equipment you own. Most of our drivers are experienced heavy-machinery operators who can safely maneuver your loads aboard our trailers. Some of the brands we have shipped include:
Looking For Transport
With a Specific Trailer?

Max Weight: 150,000+ lbs. | Main Deck Length 29 ft.
| Well Width 8.5 ft. | Legal Height Limit 11.6 ft.

Max Weight: 48,000 lbs. | Max Length 53 ft.
| Max Width 8.5 ft. | Max Height 8.5 ft.
Max Weight: 48,000 lbs. Max Length 53 ft. |
Max Width 8.5 ft. | Max Height 11 ft.
Max Weight: 45,000 lbs. | Max Length 29 ft.
| Max Width 8.5 ft. | Max Height 11.5 ft.
See what you need?
Call us for a FREE Shipping Estimate at (954) 302-9094