Safe and Reliable Wyoming Pilot Car Services
Are you shipping a heavy piece of equipment in Wyoming and require professional pilot car services? You can leverage Heavy Haulers escort vehicle solutions and get your cargo to your intended destination in one piece and in time. We understand that the rules and regulations governing superload shipments in the US vary from state to state, and that's why our Wyoming branch is staffed with experienced escort vehicle specialists who can provide unmatched solutions within the state's requirements. Moreover, we maintain a state-of-the-art fleet with the necessary equipment, enabling us to offer dependable, safe, and reliable lead car services.
Having the required rigs and equipment are not enough to provide safe escort car services. The safety of the cargo ultimately lies in the hands of the drivers piloting the shipment. Heavy Haulers only works with industry-seasoned drivers who have escorted loads for many years. They are educated, trained, and knowledgeable about the Wyoming DOT requirements for pilot car operators. Still, our services are steeped in safety protocols to make sure that we carefully assess any safety risks that might hamper the smooth travel of the cargo. We back that up with a contingency insurance cover. It simply demonstrates our commitment to offering safety to your in-transit heavy machinery.
Contact Our Expert Shipping Specialist's
(954) 302-9094
Escort Vehicle Services That Satisfy Wyoming DOT Requirements
We confine our Wyoming pilot-car service delivery within the transport regulation in the state. According to Wyoming DOT rules and regulations, any heavy freight with over 110' in length will need two pilot cars, one in front and one in the rear. If the shipment measures 14' in width and moves on a two-lane road, it will require one lead escort and another following behind. When it comes to weight, the state's transport department recommends pilot cars after assessing the weight. Our state professionals have been providing lead car services for years; they know when the weight warrants escort car deployment.
At Heavy Haulers, we understand that you need your cargo in time to handle critical business. That's why we offer efficient pilot vehicle solutions, whether the receiving area lies in an urban neighborhood or a remote location. We promise to arrive at the pick-up (departure) point at the agreed-upon time to make sure we stick to the schedule. Call now! (954) 302-9094
With Heavy Haulers, your cargo is in good hands. We take every measure to ensure that, including:
• Thorough pre-planning


• Emergency preparedness


• Contingency routes


• Road hazard analysis


• Safety protocols


• Streamlining communications


Pilot Cars and Escort Vehicles Near Me in West-Virginia
Heavy Haulers provides pilot cars and escort vehicles everywhere in West-Virginia. We're ready to go in every town and city. We make sure to provide the best oversize load pilot cars. All escort vehicles in West-Virginia are vetted to make sure they have the proper credentials for a safe wide load journey. Whether you're moving a load to or from West-Virginia, we always have "pilot cars near me" to get you where you need to go. Call now! (954) 302-9094
See what you need?
Call us for a FREE Shipping Estimate at (954) 302-9094
HEAVYHAULERS.COM
START YOUR SHIPMENT TODAY!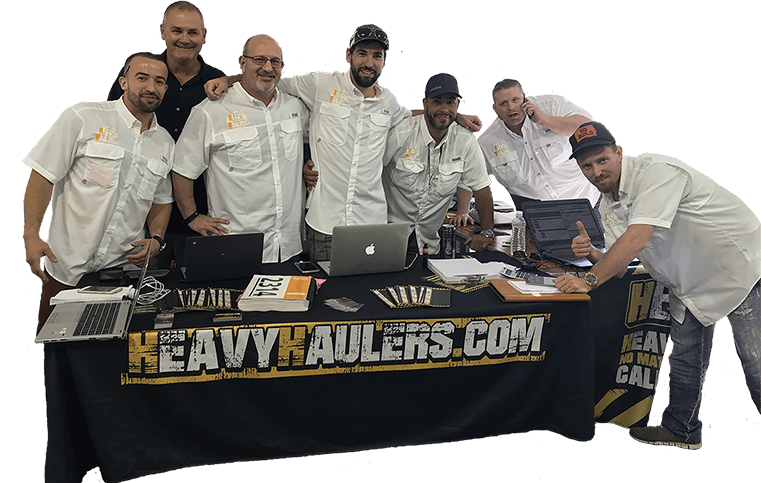 We Are Ready To Help You Haul Your Equipment!
Common Equipment Heavy Haulers Transports
Trust Heavy Haulers to transport any brand of equipment you own. Most of our drivers are experienced heavy-machinery operators who can safely maneuver your loads aboard our trailers. Some of the brands we have shipped include:
Looking For Transport
With a Specific Trailer?

Max Weight: 150,000+ lbs. | Main Deck Length 29 ft.
| Well Width 8.5 ft. | Legal Height Limit 11.6 ft.

Max Weight: 48,000 lbs. | Max Length 53 ft.
| Max Width 8.5 ft. | Max Height 8.5 ft.
Max Weight: 48,000 lbs. Max Length 53 ft. |
Max Width 8.5 ft. | Max Height 11 ft.
Max Weight: 45,000 lbs. | Max Length 29 ft.
| Max Width 8.5 ft. | Max Height 11.5 ft.
See what you need?
Call us for a FREE Shipping Estimate at (954) 302-9094